Vikings: Valhalla Trailer: Everyone's Out For Blood In The Netflix Spin-Off Series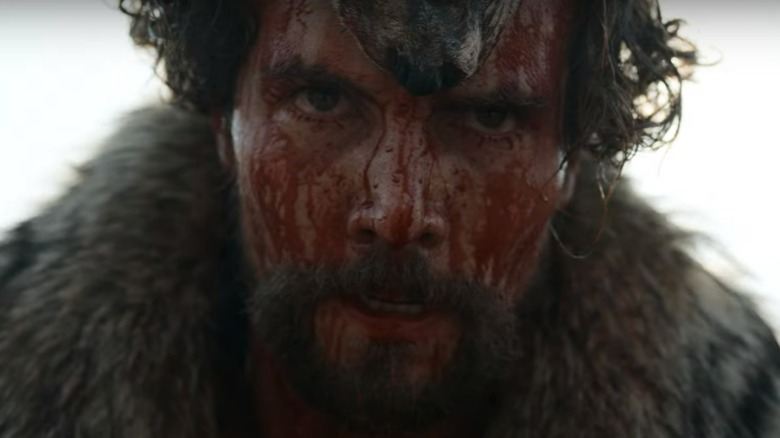 Netflix
Vikings are so in these days, people. Not only has indie film fan favorite (say that five times fast) Robert Eggers chosen this epic subject for his next film, "The Northman," Netflix is always attempting to capitalize on even the faintest whiff of a trend, which likely explains their interest in reviving the History Channel "Vikings" series with a brand-new spin-off series. Sure, you might think that Henry Cavill's "The Witcher" would be enough to satisfy the fantasy cravings of eager subscribers, but fans will need to be somewhat patient as they wait for the next season to arrive. In the meantime, "Vikings: Valhalla" looks set to fill that niche for action, angst, and brooding main characters bent on revenge.
"Valhalla" takes place a century after the events of the original series, bringing several legends of Norse myth on a collision course with England at large. Our newest look at the spin-off show puts classic figures like Leif Erikson, Freydis, Harald Hardrada, and the Norman King William the Conqueror at the center of the bloody and frenetic action. Oh, and somebody should probably light a candle for the London Bridge. Anyone even vaguely familiar with the children's song likely knows what happens next. Check out the explosive trailer below.
Vikings: Valhalla Trailer
The original "Vikings" series ran for six total seasons, with the first five (and a half) airing on The History Channel before the final 10 episodes pivoted to Amazon Prime Video exclusively. The spin-off series, "Vikings: Valhalla," is now making its home over at Netflix, and it appears to have lost exactly none of its energy, hard-edged tone, and tendency to indulge in big, show-stopping speeches on the eve of battle. Add the usual scope and scale associated with Netflix's deep pockets reserved for the budget of high-profile shows, and "Valhalla" looks like yet another can't-miss event.
The last hundred or so years haven't exactly gone well for the community of Viking warriors, if the desperation woven throughout this new footage is any indication, and they are now out for blood and for revenge against their bitter English enemies. "Vikings: Valhalla" tells a whole new story and stars an entirely new cast of characters, including Jóhannes Haukur Jóhannesson as Olaf Haraldsson, Sam Corlett as Leif Eriksson, Pollyanna McIntosh as Queen Ælfgifu, Frida Gustavsson as Freydis Eriksdotter, David Oakes as Earl Godwin, Leo Suter as Harald Sigurdsson, Laura Berlin as Emma of Normandy, Bradley Freegard as King Canute, Julian Seager as Jarl Gorm, and more. The spin-off series is created by Michael Hirst (creator and writer of the original "Vikings") and screenwriter Jeb Stuart, with a writing team that includes Vanessa Alexander, Declan Croghan, and Eoin McNamee.
"Vikings: Valhalla" premieres on Netflix on February 25, 2022.