The Best Fights In Cobra Kai Ranked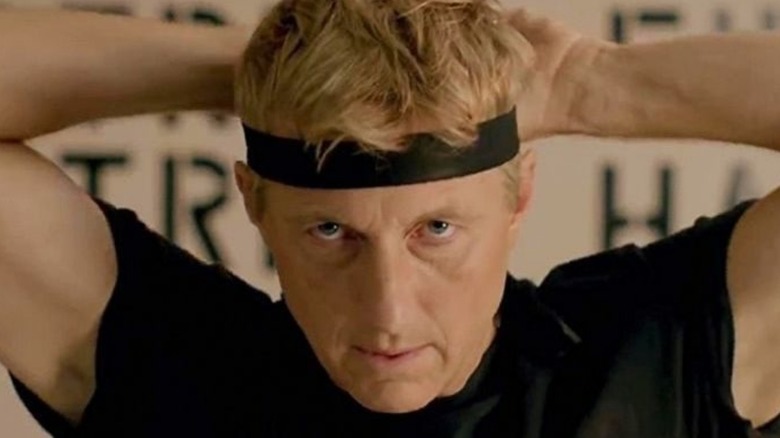 Netflix
With its 4th electrifying season, Netflix's "Cobra Kai" has established itself as one of the most beloved TV shows currently streaming. Whether you're an old-school "Karate Kid" fan or a newcomer to this ever-evolving franchise, the series truly has something for everybody. 
But one of the best aspects of "Cobra Kai" (aside from its fantastic cast of characters) is the combat at the center of every thrilling episode. From the casual rumbles outside of the show's various dojos to the epic brawls inside malls and schools to the ultra-tense tournament showdowns, "Cobra Kai" is full of action-packed karate battles that everyone should enjoy.
But which of the series' fights is the greatest? That's something that Johnny Lawrence and Daniel LaRusso would never be able to agree on. Maybe, just maybe, this list could help both of them — and you — pick the best rumble from this beloved show. Put on your gi, tighten your belt, and discover which of these battles is the greatest in "Cobra Kai" history.
15. Johnny saves Miguel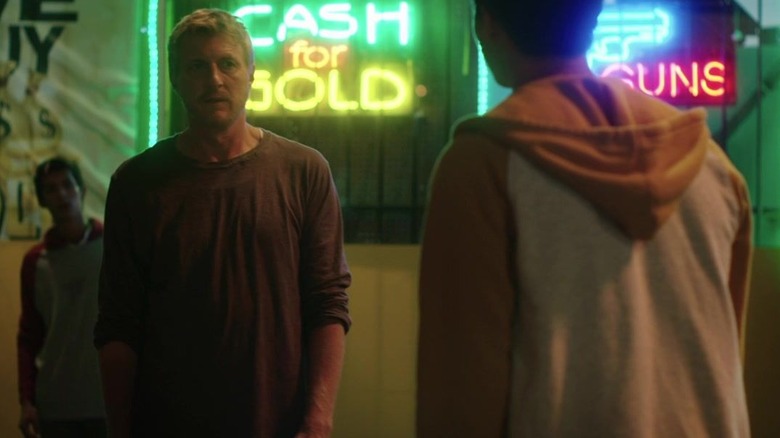 Netflix
Right from the beginning, "Cobra Kai" established itself as an action-packed show with this memorable battle. In it, the down-on-his-luck Johnny Lawrence (William Zabka) finds himself outside of a strip mall, which will eventually become the home of the Cobra Kai dojo. After correcting Homeless Lynn about his financial status, he notices Miguel (Xolo Maridueña) getting into a confrontation with some bullies (led by Kyler Park). But when Miguel is pushed onto Johnny's car, his eventual sensei throws an epic kick to the bully's face that leads to one heck of a rumble.
While there are many memorable confrontations in "Cobra Kai" season 1, this battle is significant for several factors. First, it introduces the tone of the show, establishing its stakes and showing the thrilling risks that "Cobra Kai" is willing to take. In addition, every young protagonist, including Miguel, needs a moment that begins their journey towards becoming a hero. This scene also serves as a pivotal point in Johnny and Miguel's budding teacher-student relationship.
14. Miguel defends Sam
In every good high school story, there's a memorable scene set in the school cafeteria. In "Cobra Kai," it comes early in season 1. The sequence occurs after Kyler Park (Joe Seo) spreads a nasty rumor about Sam LaRusso. As Kyler continues to harass her, Miguel leaps to Sam's defense — and when Kyler disses Miguel's "lame" karate skills, Miguel takes control, showing his bully that he's not to be messed with. See, he learned how to fight at Cobra Kai.
One of the earliest examples of Miguel's prowess as a fighter, this scene has everything. From Maridueña's incredible line delivery to excellent uses of a cafeteria tray as a weapon, this fight is a significant moment in many of the characters' arcs, especially Miguel's. It showcases his evolution from a nerdy outsider to a genuine hero, and, thanks to onlookers recording the brawl on their smartphones, it's also responsible for attracting more students to Cobra Kai. Besides, when a fight makes you look this fantastic in the eyes of your crush, it's obviously worth it.
13. The mall brawl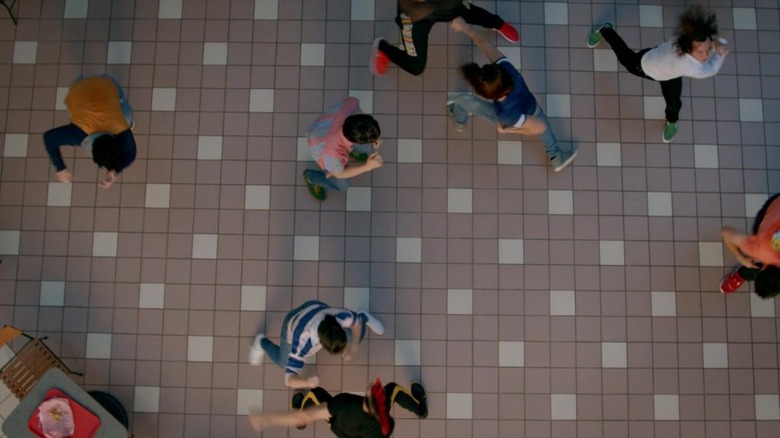 Netflix
Speaking of fights at specific locations, it's impossible to forget this epic showdown at the local mall from season 2. Starting off at the comic book shop and spilling out into the food court, what begins as a thrilling chase between Cobra Kai and Demetri transforms into one of the most outlandish battles in the series' history. See, when Robby (Tanner Buchanan) and Sam (Mary Mouser) step up to protect Demetri from Hawk and his gang, this typical teen movie scenario turns into a full-on "Power Rangers"-style smackdown.
With great music cues from composers Leo Birenberg and Zach Robinson, the mall fight becomes a power fantasy from start to finish. Does it make a lot of logical sense? Absolutely not. But that's half the fun of "Cobra Kai": seeing these wacky fights play out with little to no real consequences. With the fighting skills of Buchanan and Mouser on full display, along with some clever edits that play up their past training, it's hard to not get pumped during this heart-pounding sequence.
12. Robby fights back in juvie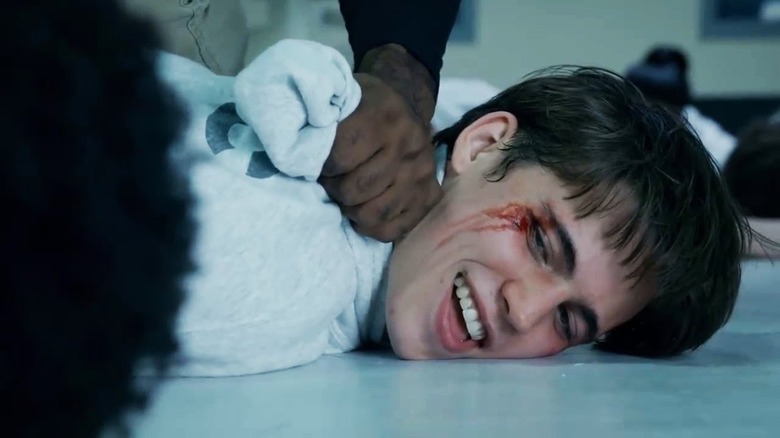 Netflix
Throughout "Cobra Kai," Robby Keene goes on quite an emotional journey. Look at season 3, during which Robby is placed in jail following the epic school fight. At first, Robby tries to make the best of his situation. Unfortunately, the other young prisoners won't let him off the hook, creating an incredible amount of drama. When Robby finally has enough of their threats, his unleashed anger leads to one of the more brutal battles seen in "Cobra Kai" yet.
The jailhouse rumble represents the next step in Robby's transformation to his final, tortured form, as the goodwill he gained by training with Daniel at Miyagi-Do slowly fades into the background, proving that Robby is becoming more offensive than defensive. And yet, this battle doesn't have a totally negative outcome; afterwards, Robby's prison rival, Shawn, respects him and his boundaries. It would have been nice if they could have resolved their differences without fists, but that isn't the "Cobra Kai" way.
11. Hawk takes down Brucks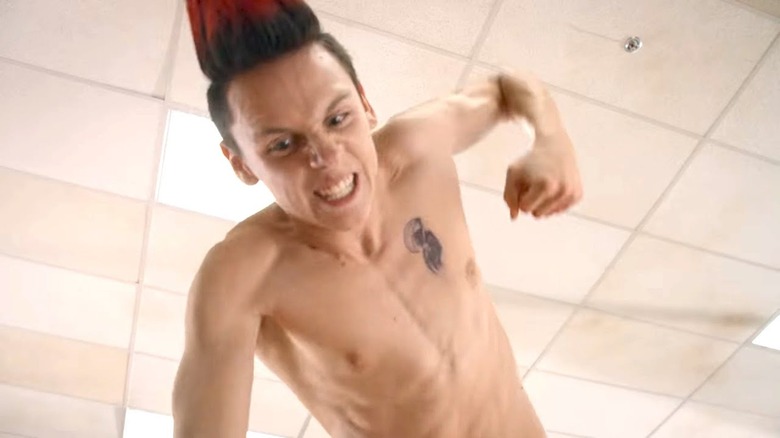 Netflix
One of the more complex characters on "Cobra Kai" is Eli "Hawk" Moskowitz (Jacob Bertrand). Starting out as an introvert only to become one of Cobra Kai's star pupils, Hawk constantly shifts between being a hero and a villainous threat. No battle shows off that evolution better than a certain season 3 smackdown. During a recruiting session at the Cobra Kai dojo, Sensei Kreese picks Hawk to fight Brucks. While Hawk's one-time bully thinks nothing of this choice, he's in for a rude awakening — this is the moment that Hawk has been waiting for.
From the sound of Hawk's signature battle cry to the bloody conclusion, this scene serves as yet another example of how brilliantly "Cobra Kai" uses its fights. It's not just about the action. This moment is also crucial to Hawk's ever-evolving story, showing how much the character has changed since season 1. This is a kid who is no longer afraid of his past, but is instead hungry for vengeance. He wants to be the hero of his own story, but doesn't see how destructive he's become in the process. It's a stunning sequence, and one that deserves to be on the list for brilliantly communicating all of these disparate narrative elements.
10. Miguel faces Robby at the All Valley Tournament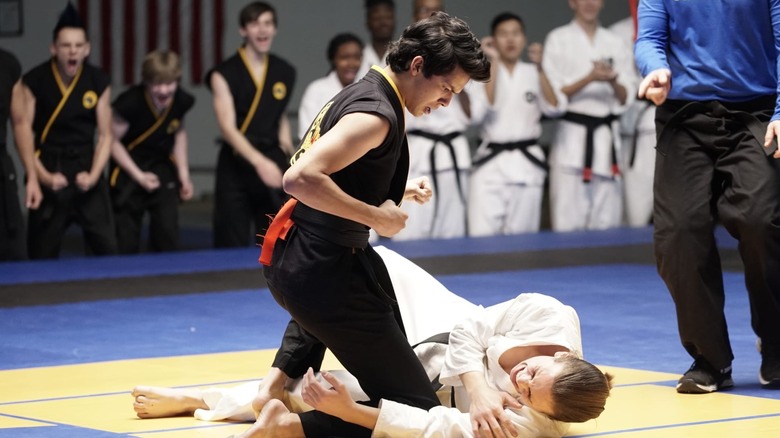 Netflix
The first of many fights at various All Valley Tournaments, this battle is a showcase of the many strengths of "Cobra Kai," particularly how it plays up the parallels between Johnny Lawrence and Daniel LaRusso's long-standing rivalry and the tension between Miguel and Robby. Sure, these young fighters are beyond impressive, but it's the efforts of their senseis and the history that the two men share that make this sequence thrilling from beginning to end.
From the well-crafted cinematography to the beautiful musical cues, this scene absolutely set the standard for future All Valley battles to come. Yet, what really makes this fight unique is how it pays tribute to the first "Karate Kid" movie. Ever since the end of the original film, fans have wanted to see Johnny have a rematch with Daniel. However, when the moment arrives, with the two students serving as proxies for their mentors, William Zabka's outstanding performance reveals Jonny's inner conflict: Yes, Miguel wins, but Johnny's son is injured in the process. Ultimately, this scene proves that "Cobra Kai" knows how to balance great storytelling with fantastic action in perfect measure.
9. The battle in the LaRusso house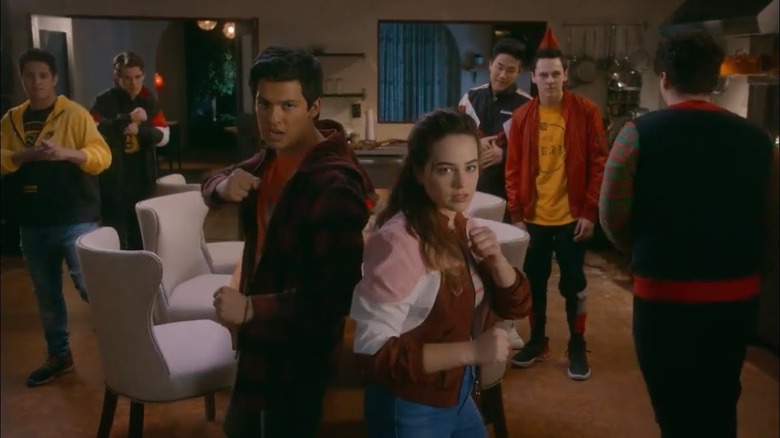 Netflix
When it comes to memorable "Cobra Kai" smackdowns, none are quite as wild as the season 3 battle at the LaRusso household. During what should be the most wonderful time of the year, the members of Eagle Fang and Miyagi-Do agree to join forces. Then, Cobra Kai attacks, throwing Bert through the kitchen window and kicking off one of the most intense, fan service-filled battles in the "Karate Kid" franchise.
This extended fight sequence contains everything. Our heroes get to fight their greatest foes. The LaRusso house suffers incredible amounts of property damage. It truly is a battle for the "Cobra Kai" ages. And yet, the best part of this extended sequence is how it movies the plot forward. Miguel regains his skills as a fighter, Hawk realizes the error of his ways, and more or less every frame of this showdown results in some significant narrative shifts.
8. Robby fights Eli at the All Valley Tournament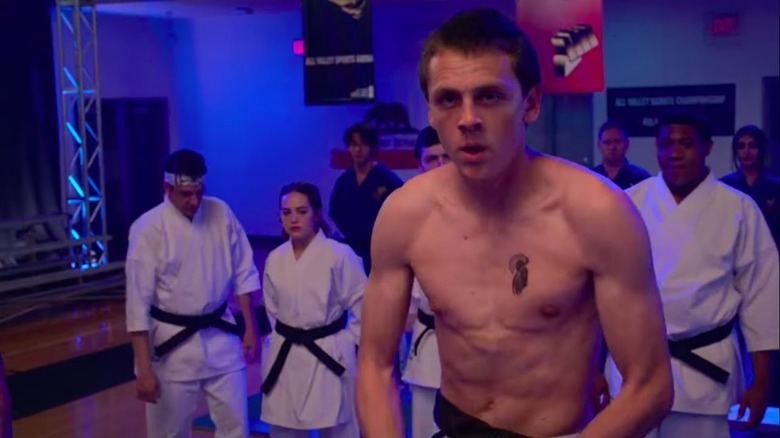 Netflix
Fans were given fights full of fan service in "Cobra Kai" season 4, but one of the final battles during the All Valley Tournament — specifically, the one between Eli and Robby — is among the most poignant and impactful matches of the season, if not the entire show. Not only does this duel feature some of the best fight choreography seen on "Cobra Kai" thus far, but it also leads to one of its most crowd-pleasing moments, especially given Eli's growth as a character.
Earlier in the season, Robby shaves off Eli's signature mohawk, making him feel like he can't do karate anymore. However, with encouragement from Demetri, Eli returns to fight for Miyagi-Do. So, when he's matched against Robby, Daniel encourages Eli not to fight for revenge, but rather to battle his inner demons. When Eli allows himself to become the confident fighter he always was meant to be, he's able to find Robby's weakness without resorting to his "Hawk" persona, resulting in one of the most thrilling matches in the series.
7. Johnny and Daniel battle for sensei supremacy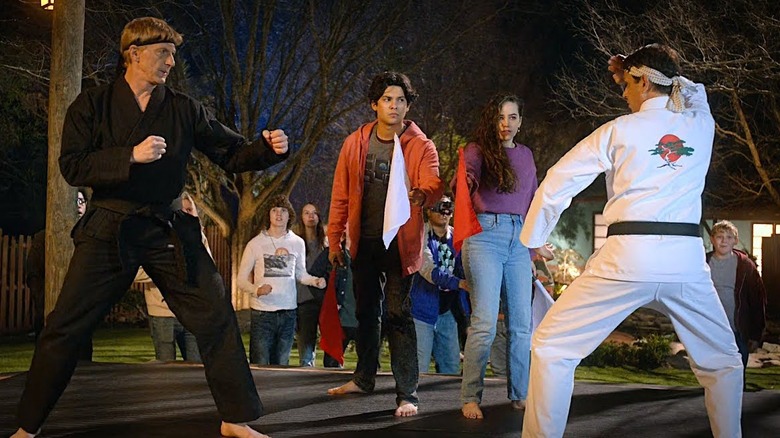 Netflix
One of the ongoing highlights of "Cobra Kai" has been the constant teases of a legitimate showdown between Johnny Lawrence and Daniel LaRusso, and season 4 is where their on-again, off-again animosity goes into hyperdrive. During this fight, Johnny and Daniel battle to see who will take over as the sensei for their newly combined dojo. Although their students are hoping that the pair will bury their grudges and move on from the past, Johnny in particular is obsessed with beating his long-time rival.
What makes this mid-season rumble an essential addition on this list are the performances, along with its narrative significance. "Cobra Kai" has given fans glimpses of a rematch between Johnny and Daniel, but after they decided to collaborate at the end of season 3, it seemed like the real deal would never happen. However, when it comes to these two, friendship is far from a foregone conclusion, and the resulting battle is a highlight of the season, thanks in large part to the performances from Macchio and Zabka and its unexpected, hilarious conclusion.
6. Tory versus Sam at the All Valley Tournament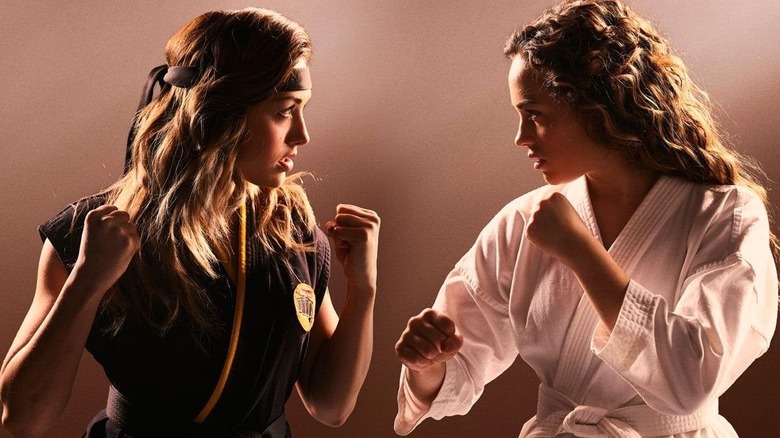 Netflix
Fans were anxious to see the results of Tory and Sam's vengeance-driven rumble at season 4's All Valley Tournament. After all of the tension that had built up between the two, it finally seemed like the right time to settle the score. But this is more than just a grudge match. In typical "Cobra Kai" fashion, there's much more to this fight than first meets the eye.
Yes, the editing is impressive and the fight choreography is beautiful, but this sequence also shows just how far Mary Mouser and Peyton List have come as both fighters and actresses since they started on the show. The same can be said for their characters as martial artists. Tory and Sam have honed their craft to such a degree that it only makes sense that their showdown would be the conclusion to the tournament. With a surprise twist at the end, this match is a fantastic example of the magic that "Cobra Kai" can produce with its battles.
5. The battle at Golf N' Stuff
Throughout the history of "Cobra Kai," many fights have taken place at eccentric locales. One such battle occurs at classic "Karate Kid" location Golf N' Stuff, where Sam and the rest of Miyagi-Do want payback for what Cobra Kai did to their friend, Chris. However, when Tory enters the fight, which is intercut with Robbie's brawl in prison, this memorable encounter becomes one of the more important smackdowns in the franchise.
From the beautiful use of slow motion to unique cinematography that pays tribute to fun house battles like the one in 2014's "The Guest," this fight has a lot to admire. Yet it's Mary Mouser's emotional performance as Sam and Peyton List's intimidating presence as Tory that really sell the intensity of the moment. We get to witness the all-to-believable PTSD that many of these characters struggle with, and we feel every ounce of the fear within them. With the final, painful blow that Hawk administers to Demetri, this scene becomes the very definition of haunting.
4. The West Valley High School karate riot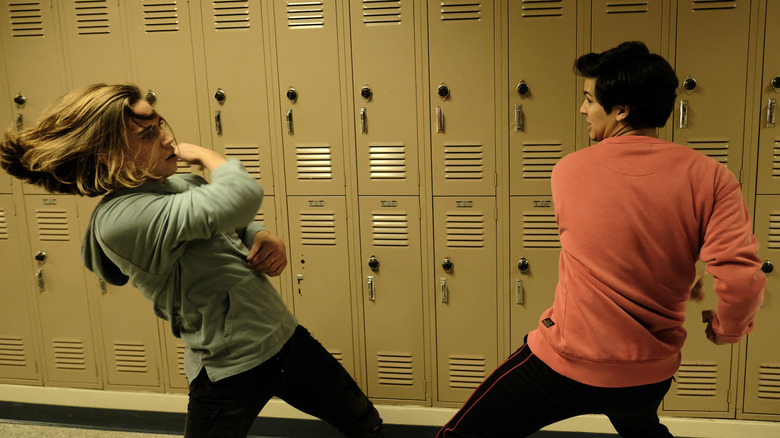 Netflix
"Cobra Kai" is known for many things, including the absolutely ridiculous, nonsensical premises underlying certain fights. Perhaps the series' most outlandish brawl of all takes place within the walls of West Valley High School. Serving as the thrilling conclusion of season 2, this battle between Cobra Kai and Miyagi-Do leaves many characters (especially Miguel) in terrifying situations, and lays the groundwork for the character arcs of the 3rd and 4th seasons.
Beginning with the threat from Tory over the school's PA system, this sequence proves that "Cobra Kai" doesn't hold anything back when it comes to its lavish, character-driven action scenes. It pushes the tension between Tory and Sam to a boiling point, fleshes out the complicated relationship between Demetri and Eli, and checks off many other narrative boxes. Without a doubt, though, the most memorable moment is the fight's conclusion, when Robby kicks Miguel off the top of the school staircase. With that single action, Robby changed the dramatic direction for the show's entire ensemble.
3. Daniel and Chozen's rematch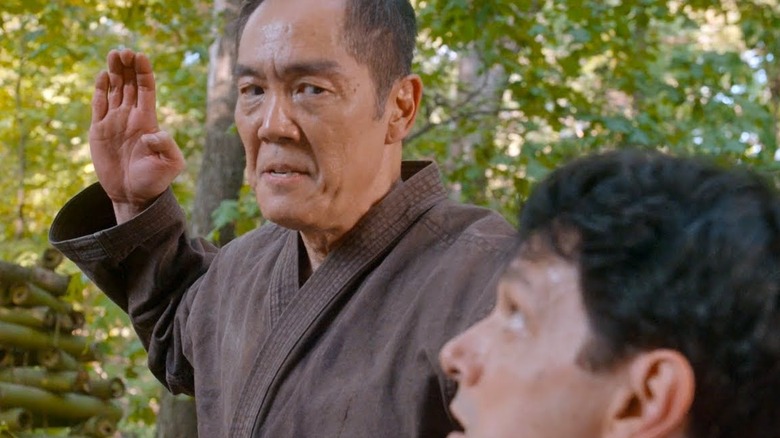 Netflix
Many old-school "Karate Kid" fans never dreamed that Daniel and Chozen (Yuji Okumoto) would battle again after the events of "The Karate Kid Part II." But, somehow, showrunners Josh Heald, Jon Hurwitz, and Hayden Schlossberg made the impossible possible by getting these two rivals back together in season 3. When Daniel returns to Japan in order to save his business, his old flame Kumiko reunites him with Chozen, and the two ultimately put aside their past — but that doesn't mean that they can't learn new tricks from each other via a memorable, combat-filled montage.
Even after 30-plus years, it's fantastic to see Ralph Macchio and Yuji Okumoto go at it again. Even more impressive is seeing Chozen as a teacher, rather than a cartoonish teenage villain. In addition to the remarkable moves that Chozen dishes out as the battle concludes, the magic of this action-packed montage comes from how it develops the relationship between these two former enemies.
2. Johnny and Daniel fight in the garage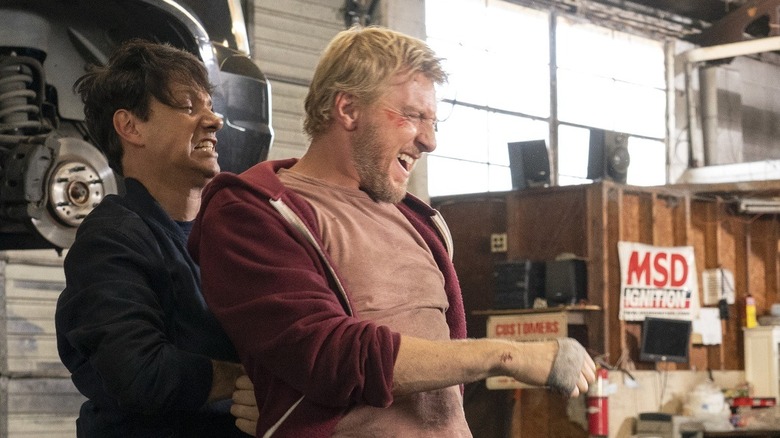 Netflix
Early in season 3, Johnny and Daniel team up to find Robby. They eventually end up at a garage in the middle of nowhere, leading them to fight a collection of thugs inside the shady auto shop. While Johnny instigates the fight, what makes this smackdown place so high on this list is the collaboration between Daniel and Johnny, and the results they can produce when they work together as a team.
Often, "Cobra Kai" shows fans why Johnny and Daniel aren't meant to be friends. And yet, there is something truly enchanting about watching these two put aside their differences to fight towards a common goal. Sure, the sequence ends with them back at square one, disagreeing as they always do. Still, this moment offers a peek at the potential these two have as a team, something that will hopefully come to pass as the show progresses.
1. Daniel and Johnny try to save Robby from Kreese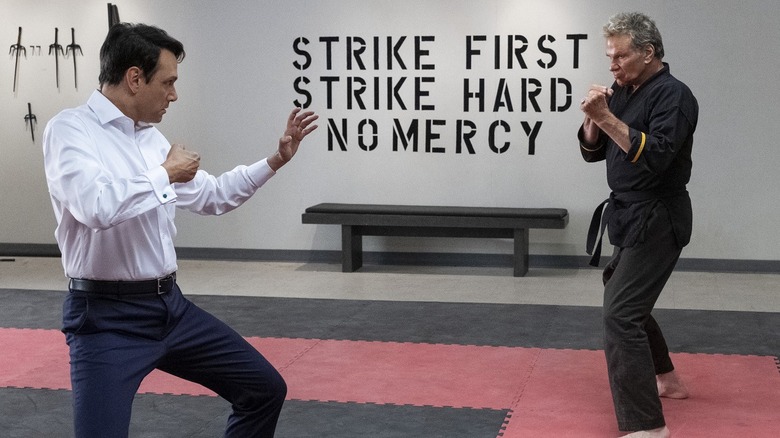 Netflix
In "Cobra Kai" season 3, Daniel and Johnny are pushed to the emotional brink by their long-time foe, Sensei John Kreese (played by the deliciously perfect Martin Kove). Yet, no battle is quite as heart-wrenching as the one that concludes the season. After the battle at the LaRusso house, Johnny finds out that Robby is now being trained by Kreese, which sends Johnny into an impassioned whirlwind. However, it's when Daniel enters the scene that the drama dial is turned up to an 11.
Evoking theatrical levels of tragedy, with elements of "Star Wars" thrown in for good measure, this fight is a beautiful example of what makes "Cobra Kai" so special. Even with all the silliness, it's a show with character arcs that border on Shakespearean, and stories that explore the complicated, never-ending struggle between good versus evil. When combined with incredible camera work, a heart-pounding score, and the perfect narrative set up for season 4, it's easy to see why this outstanding sequence had to be at the top of our list.