Squid Game Is The First Foreign-Language Nominee At The SAG Awards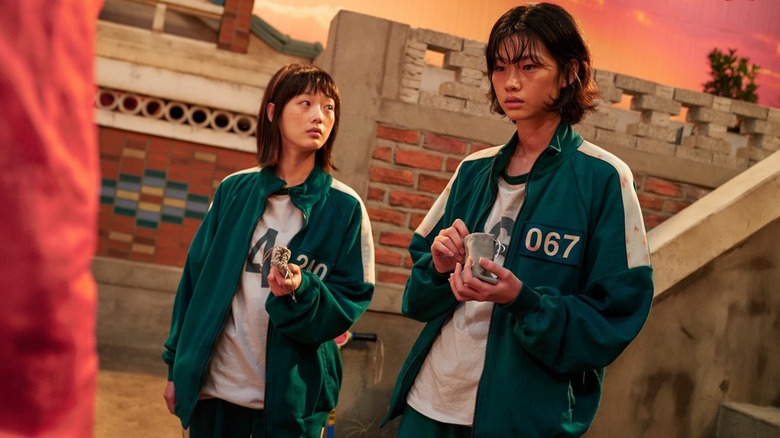 Netflix
After becoming the biggest show in Netflix history, the South Korean survival thriller "Squid Game" has continued to break down barriers and rethink the way the American award show qualification process functions in an era where streaming reigns supreme. The SAG Awards nominations for 2022 were revealed yesterday, with "Squid Game" nabbing a nomination for Outstanding Cast in a Drama. The show is against "Succession," "Yellowstone," "The Morning Show," and "The Handmaid's Tale," so while the competition is stiff, they could very well bring home a win. The ensemble was also nominated for stunt work and Lee Jung-jae (Seong Gi-hun / Player 456) and Jung Ho-yeon (Kang Sae-byeok / Player 067) were nominated for Best Actor and Actress in a Drama series, respectively.
Last week "Squid Game" brought home three Golden Globes including Best Television Drama, a Gotham Award win for Breakthrough series, and earned three Critics Choice Awards nominations. "Squid Game" was one of the most watched shows of the year, so it's not a surprise that the show was given so many nominations. However, the SAG nominations are especially historic as "Squid Game" is the first non-English-language series and first Korean series to nab a nomination. I mean this with no disrespect to any of the other nominees, but "Squid Game" can and should win.
'Truly a Great Honor'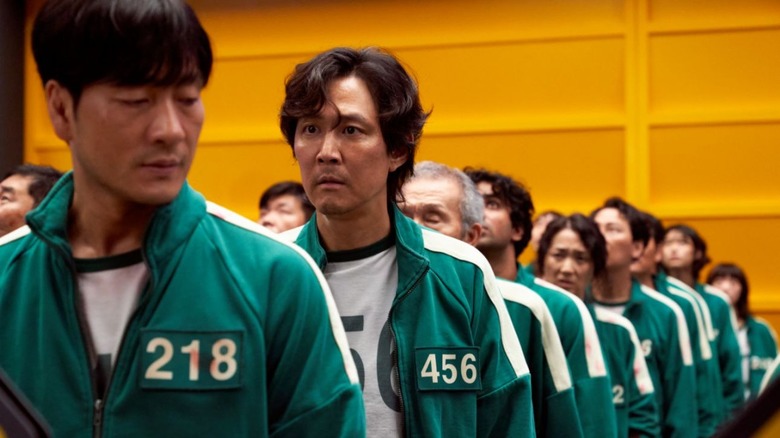 Netflix
Creator and director Hwang Dong-hyuk really made something magical with "Squid Game," a dystopian look at a secret organization of wealthy elites that encourage down-on-their-luck and impoverished people to play children's games to the death in order to alleviate their financial woes. In an interview with Variety, he expressed his appreciation for the nominations.
Since we released the show "Squid Game," we have experienced many surprising events. But today's nomination for four categories with the SAG has to be one of the most surprising, and one of the happiest moments we've experienced. I'm especially honored in that it's not only one or two lead actors that were recognized, but the entire ensemble was nominated, as well as the stunt ensemble, which is truly a great honor. And it's great that I'm able to thank every single one of the crew and the cast that I've worked so hard on "Squid Game."
"Squid Game" is just the latest in groundbreaking South Korean entertainment, with Bong Joon-ho's "Parasite" winning the 2020 SAG Award for cast in a motion picture, becoming the first non-English-language film ensemble to take home the award. In 2021, Youn Yuh-jung became the first Korean actress to ever win the award for Best Supporting Actress for her work in "Minari" at last year's SAG Awards.