Every Emma Watson Role Ranked Worst To Best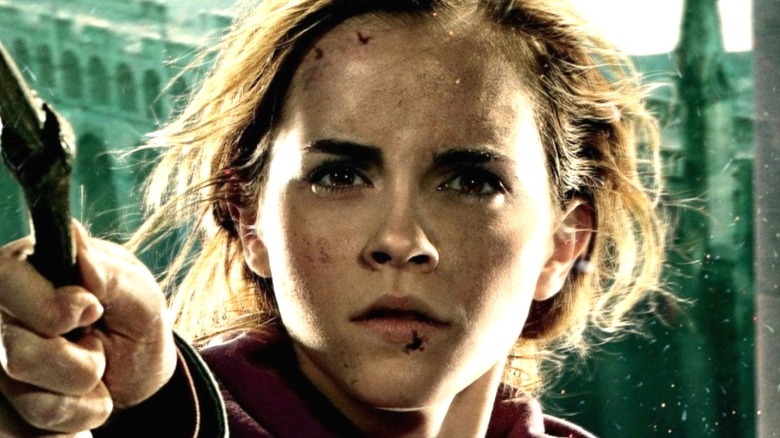 The audience discovered Emma Watson when she was only 11 years old. The role of Hermione Granger didn't just launch Watson's acting career, but made it, as she spent a decade filming the eight-movie series. In the following decade, the young Brit then proved she could do more than play a teenage wizard, appearing in almost a dozen movies and trying her hand at different types of characters and genres, building on the reputation that Hermione gave her.
Acting isn't Watson's only passion, though. Activism and advocacy played a big part in Watson's life after she wrapped up the Harry Potter films. In 2014, Watson became a UN Women Goodwill Ambassador and launched the HeForShe initiative. She's an outspoken feminist and uses her fame to advocate for the cause: She started a feminist book club called Our Shared Shelf, and was an outspoken supporter of the Time's Up movement. She also stood behind causes such as Black Lives Matter and climate change in recent years.
As an audience, we've seen Emma Watson grow up both on screen and in real life. While she may remain Hermione Granger in our hearts, she's accomplished far more than that one part. Let's take a look at all her roles over the years, and rank them from worst to best.
13. Angela Gray — Regression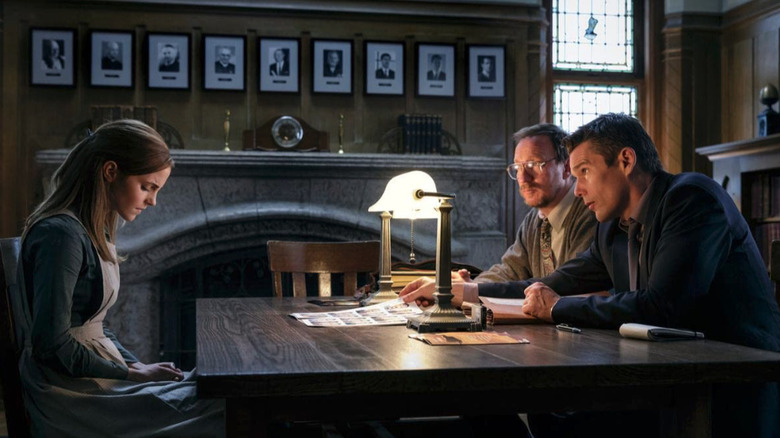 Radius-TWC
Spanish director Alejandro Amenábar's "Regression" is a thriller that explores the Satanic cult scare of the 1980s, as well as the questionable practice of regression therapy, a widely debunked psychoanalytic technique focused on recovering repressed memories. Watson plays Angela Gray, a young 17-year-old whose father admits to sexually abusing her in what she describes as a black-mass-type satanic ritual. The thing is that her dad, John Gray (David Dencik), has no memory of the abuse. Cop Bruce Kenner (Ethan Hawke) hires psychoanalyst Kenneth Raines (David Thewlis) to use regression therapy on John to uncover the truth.
While the movie starts to build a spooky plot, it fails to deliver the twists and turns it promises. Watson has little to do during the movie other than play the victim; her character, Angela, is built around her ability to look vulnerable. That's certainly well within Watson's abilities, but her overall performance suffers for it. "Regression" is not the only horror-adjacent thriller in which Watson fails to shine, so it's possible that this simply isn't her genre.
12. Mae Holland — The Circle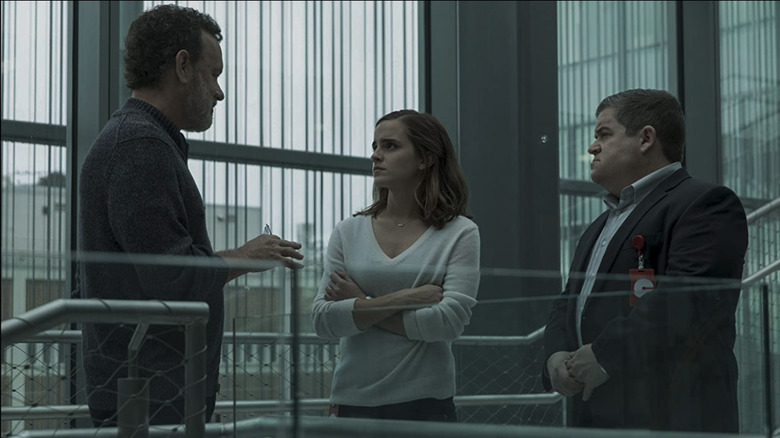 STX Entertainment
Based on a novel of the same name by Dave Eggers, "The Circle" is a techno-thriller about a fictional company that resembles Google. It follows new employee Mae Holland (Watson), who received some help from a friend (Karen Gillian) to get a foot in the door of the prestigious tech giant. She's handpicked by company leaders Eamon Bailey (Tom Hanks) and Tom Stenton (Patton Oswalt) to lead an experiment around transparency called SeeChange. Mae's entire life is broadcast using cameras; soon, politicians start participating as well. Another Circle employee, Ty Latiffe (John Boyega), befriends Mae and tries to warn her about the consequences of the invasive tech as it starts negatively impacting her family and friends.
If this plot sounds like a dystopian privacy nightmare, that's exactly the point. Unfortunately, "The Circle" doesn't deliver. What could have been a fully-fledged horror thriller gets bogged down by heavy dialogue, unnecessary exposition, and unbelievable relationships between the characters. Watson is not bad per se, but her character is gullible and flat. Watson isn't able to bring Mae to life and, in the end, neither the character nor the movie are engaging or satisfying.
11. Lena — Colonia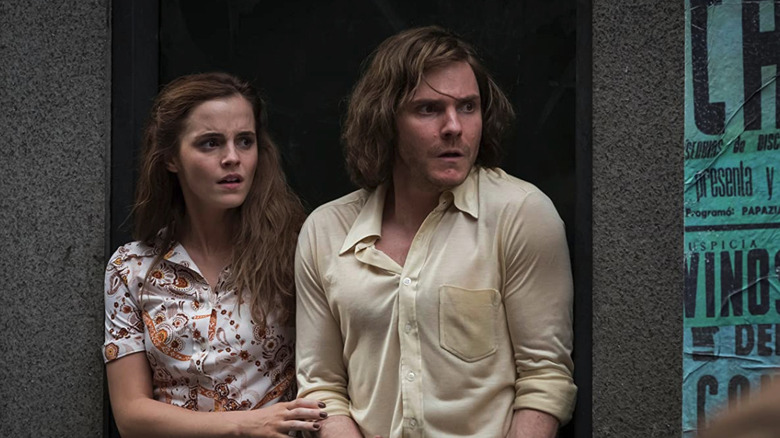 Crackle Plus
Based on real-life events, "Colonia" is another ambitious thriller that doesn't quite deliver. Set in Chile in the '70s, the movie depicts the story of the colony-turned-cult Colonia Dignidad (via The Guardian), which was started by fugitive Nazis after World War II. It later became an internment camp for the Pinochet dictatorship, with activists and political enemies imprisoned and tortured on the colony's grounds.
Watson plays Lena, a stewardess for the German airline Lufthansa, who becomes involved with German activist Daniel (Daniel Brülh) while on a layover in Santiago. Things turn sour very quickly after Daniel is caught by the militia and sent to Colonia Dignidad. Lena finds out where he's being held captive and infiltrates the colony by fooling Colonia's intimidating and unforgiving leader, Paul Schäfer (Michael Nyqvist), to help Daniel escape. 
"Colonia" tries to tackle too many things at once and gets lost along the way. A tragic romance, human rights abuses, cults, thrilling chase scenes, and daring escapes all become jumbled together by the end, along with Watson's performance.
10. Lucy — My Week with Marilyn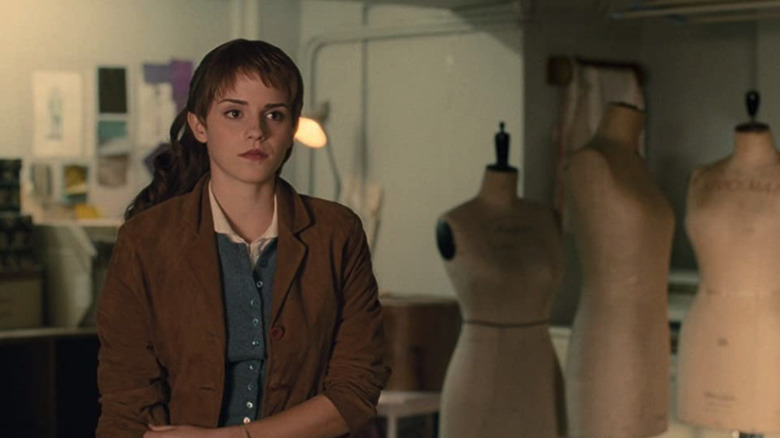 The Weinstein Company
"My Week with Marilyn" is based on a memoir by Colin Clark (Eddie Redmayne), who worked as an assistant to Laurence Olivier (Kenneth Branagh) back when he filmed "The Prince and the Showgirl" with Marylin Monroe (Michelle Williams). Clark was assigned to guide Monroe around London, and she took a liking to him, which led to her inviting him to a cottage for a week-long getaway while filming was paused. Watson plays Lucy, a wardrobe assistant on the set of "The Prince and the Showgirl" whom Clark starts dating before meeting Monroe; she breaks up with him when she notices their connection.
Watson's role as Lucy in "My Week with Marilyn" was her first foray into a live-action feature film after the Harry Potter saga, although not her first project overall (she'd made a TV movie as well as an animated one, but more on those later). However, the role is a tiny one that doesn't make much of an impression, mostly because Watson is dwarfed by Oscar-nominated performances by Williams and Branagh.
9. Herself — This Is the End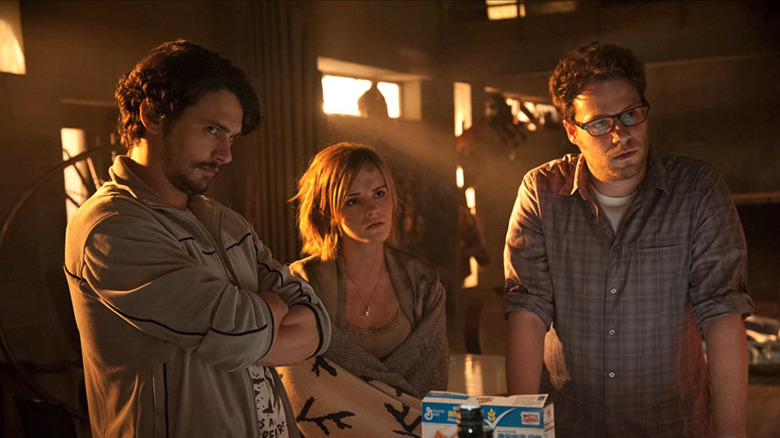 Columbia Pictures
You read that right: One of Watson's movie roles is herself (or a romanticized, fictionalized version of herself, anyway). "This Is the End," which was written and directed by Seth Rogen and Evan Goldberg, centers around Jay Baruchel and Seth Rogen (also playing themselves), as Jay comes to Los Angeles to visit. They head to James Franco's mansion for a star-studded party, but the celebration is interrupted by the end of the world. Some bystanders are beamed up in blue light into Heaven, while others fall into fiery sinkholes to Hell. Seth and Jay manage to find their way back to James' place, where they hunker down with Jonah Hill, Craig Robinson, and Danny McBride.
Once again, Watson has a small role, but it's a pretty funny one. She shows up at the house with an ax, seeking refuge with the men until she overhears them arguing. She misunderstands them, thinking they're talking about sexually assaulting her, and promptly smashes Seth's face with the ax handle and runs off with their water supply. To see Watson in such a funny, unassuming movie is refreshing, and "This Is the End" is a hilarious movie for that same reason: It's full of Hollywood stars having fun and not taking themselves seriously.
8. Pauline — Ballet Shoes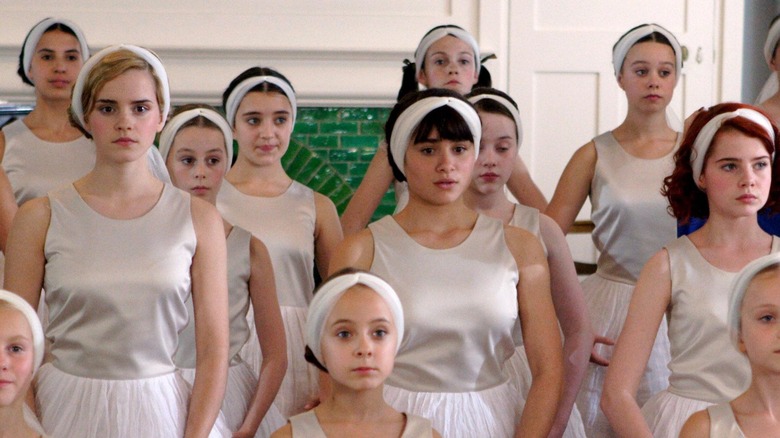 Screenvision
A TV movie produced for the 2007 Christmas season by the BBC, "Ballet Shoes" is based on the classic 1936 children's novel of the same name by Noel Streatfeild. The film follows three young girls, Pauline (Watson), Petrova (Yasmin Paige), and Posy (Lucy Boynton), who were adopted by an eccentric paleontologist they call Great Uncle Matthew, or Gum for short. They're raised by Gum's niece Sylvia and her old nanny Nana while Gum goes on adventures around the world. After one of their lodgers, a dance teacher, notices Pauline and Posy's natural talent for the stage, all three girls enroll in the Children's Academy of Dancing and Stage Training. There, they learn about more than mere theater and dance.
While the movie isn't a great adaptation of the novel, which highlights the importance of determination and grit over beauty, talent, and wealth, it's not terrible, and boasts great art direction and production design. Watson is in her element here, with a role that feels quite close to both her public persona and the only other role she'd played thus far, Hermione Granger.
7. Princess Pea — The Tale of Despereaux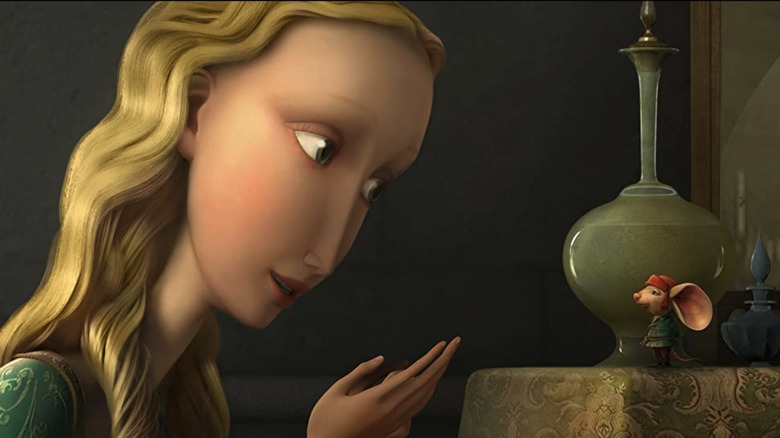 Universal Pictures
Based on a series of children's novels by Kate DiCamillo, "The Tale of Despereaux" is an ambitious, even if uneven, animated feature featuring a star-studded cast. In the titular role is Matthew Broderick, with narration by Sigourney Weaver. Other characters are played by the likes of Dustin Hoffman, Kevin Kline, Tracey Ullman, and more. Watson plays the human Princess Pea, who befriends the courageous little mouse Despereaux.
In this world, rats have been banished from the kingdom after one accidentally fell in the queen's soup, killing her in the process. A society of mice also exists, although apart from Despereaux they keep to themselves; even if Despereaux is much smaller than the rest of his brethren, he has the spirit of a knight, which is why he decides to stand up to the fearsome rats after they kidnap the princess.
"The Tale of Desperaux" is Watson's only animated film. While the animation is beautiful, the story is both contrived and hard to follow. As far as voice work goes, Watson manages to make the most out of the sweet and gentle Princess Pea. It must have been good practice for her bigger princess role, Belle, a decade later!
6. Nicki — The Bling Ring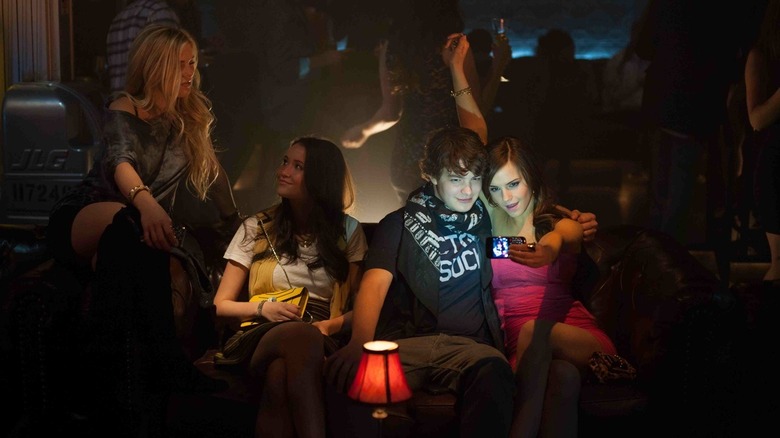 A24
Watson's role as Nicki in Sofia Coppola's "The Bling Ring" is probably the closest we've seen her get to playing an uncomplicated villain. "The Bling Ring" is based on a true story about a group of California teenagers who stole designer items and cash from celebrity homes in 2008 and 2009 (via Vanity Fair).
All of the characters' names are changed from their real-life counterparts. High school friends Marc (Israel Bouchard) and Rebecca (Katie Chang) start robbing parked cars and wealthy acquaintances before moving on to stalking celebrities on the internet and entering their homes while they're away. Their victims include Paris Hilton, Orlando Bloom, Rachel Bilson, and many more. Other teenagers from the duo's circle get involved as well, like Nicki (Watson) and her little sister Sam (Taissa Farmiga), and the burglaries get bigger, until the gang is recognized on security cameras and ends up getting caught.
Watson's Valley accent is impressive, and she gives her character a vapid, empty personality to match her interests. Nicki is a superficial girl on the lookout for fame, wealth, and immediate satisfaction, and while Watson could have made her a bit more rounded, she still nails the stereotype on the head.
5. Belle — Beauty and the Beast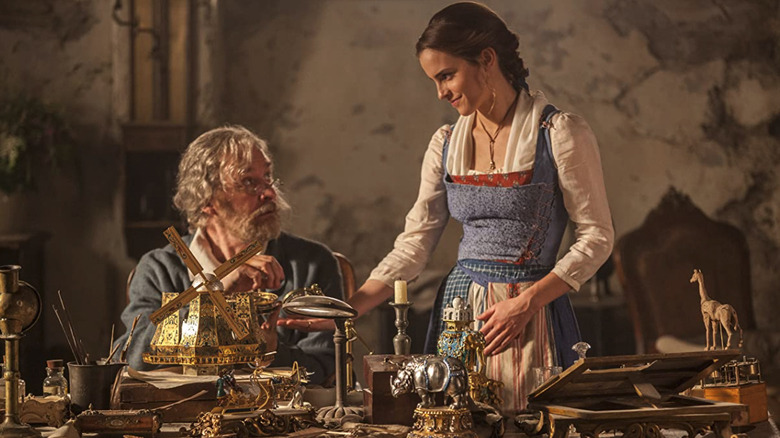 Disney
Disney's line of live-action remakes of its animated classics includes a lot of misfires, and a few gems. Bill Condon's remake of "Beauty and the Beast" falls somewhere in the middle: It has a lot of promise, but feels overstuffed with new songs and a lot of CGI. The original story hasn't changed much. Belle is still the daughter of an inventor named Maurice (Kevin Kline), who is detained by a mysterious figure in an abandoned castle. When Belle goes to rescue him, she takes his place and gets to know the Beast (Dan Stevens) and his staff of mismatched, singing furniture.
Watson had originally been in talks to star in the live-action "Cinderella," but turned it down before being offered the role of Belle, which suited her better. Belle's backstory was reworked for the live-action film, giving Belle some of her father's technical ingenuity, and Watson gifted the character with some of the same qualities that made Hermione such a compelling bookworm. The only downside might be the fact that "Beauty and the Beast" called for singing as well as acting, and Watson's voice apparently wasn't up to the task; she ended up sounding auto-tuned, which is disappointing.
4. Hermione Granger — Harry Potter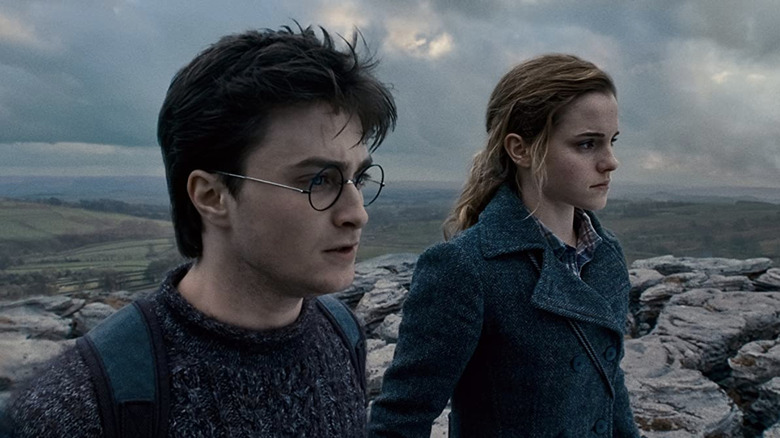 Warner Bros.
If you're not familiar with the Harry Potter series, you must have been living under a rock for at least two decades. The first movie, "Harry Potter and the Sorcerer's Stone," was released in 2001; the last, "Harry Potter and the Deathly Hallows: Part 2," in 2011. Over the course of 10 years and eight movies, Watson played the role of Hermione Granger, an incredibly talented young witch who becomes friends with the titular hero and accompanies him through his adventures.
Even if Watson's role as Hermione makes up about a decade of her career, it hasn't always been among her best performances. After all, she was cast very young, and largely learned the craft of acting on those sets. Nevertheless, as the saga progressed, so did her skills as well as those of her costars, making her into the actor she is today. In the end, Watson's portrayal of Hermione was that of a bold and brilliant young woman, and made the character iconic for millions of fans.
3. Sam — The Perks of Being a Wallflower
Summit Entertainment
"The Perks of Being a Wallflower" is one of those rare instances where an author got to bring his own book to the screen. Stephen Chbosky, who wrote the young adult novel "The Perks of Being a Wallflower" in 1999, held on to the adaptation rights for over a decade in order to make sure that he could direct the film himself (via Filmmaker Magazine). The result was worth waiting for. Set in the '90s, "The Perks of Being a Wallflower" submerges the audience in the nostalgia of mixtapes and midnight screenings of "The Rocky Horror Picture Show," sending them on a heart-wrenching, emotional rollercoaster.
Charlie (Logan Lerman) is a clinically depressed misfit, and starting high school is making him very anxious. Thankfully, he quickly makes friends with two eccentric seniors, Sam (Watson) and her stepbrother, Patrick (Ezra Miller). They quickly integrate Charlie into their friend group, and he soon discovers everything that his teenage years have to offer. Watson's performance as Sam feels like a coming-of-age moment for the actress, as she gets to act out normal teenager stuff without all of the magic. Her portrayal of Sam is sweet and tender, yet simultaneously wild and carefree.
2. Meg March — Little Women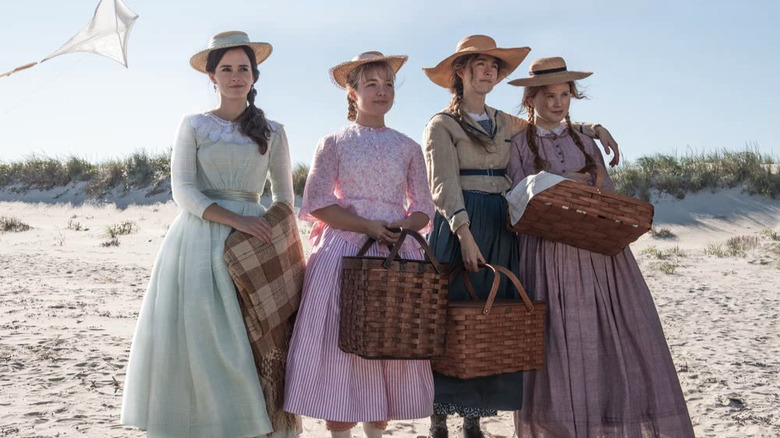 Columbia Pictures
Adapted and directed by Greta Gerwig, 2019's "Little Women" is based on the classic 1868 Louise Alcott novel. It follows the four March sisters, who all have very different personalities and desires: Meg (Watson), the eldest, is level-headed and responsible; Jo (Saoirse Ronan) is a tempestuous aspiring writer; Beth (Elizabeth Scanlen) is a sweet and shy pianist; and, finally, Amy (Florence Pugh), the youngest, is a temperamental painter. Their transition from childhood to adulthood is wrought with conflict and challenges, as well as endearing moments of tenderness and charity.
While she's not a big presence in "Little Women," Watson breathes life and complexity into Meg, who could easily be the most boring of the sisters. She struggles with wanting a life full of luxuries as well as having more traditional desires for her future, and, in a strong feminist take by Gerwig, stands up to her furiously independent sister Jo, defending the validity of her desires for a husband and a family. Meg is not the only character afforded such understanding; Gerwig also recontextualizes Amy in a similarly powerful way.
1. Ila — Noah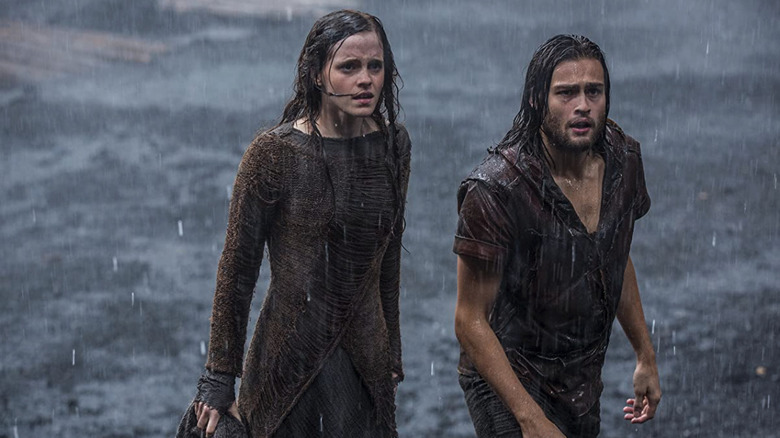 Paramount Pictures
In this modern retelling of the story of Noah's Ark, director Darren Aronofsky leaves no major blockbuster stones unturned — and makes major changes along the way. "Noah" is a movie of epic proportions: It stars Russel Crowe as the titular character, Jennifer Connely as Noah's wife, Naameh, and Anthony Hopkins as Noah's father, Methuselah. Watson plays Ila, Noah's adoptive daughter who ends up in a relationship with Shem (Douglas Booth), one of Noah's sons; a big deal is made of her infertility until Methuselah cures her, which doesn't please Noah. You see, Aronofsky's version of Noah believes that God's plan was for him to eradicate humanity. When Ila becomes pregnant, he is certain that he needs to do the unthinkable and murder his own grand-children.
Ila emerges as the film's strongest character and its true heroine, with a spectacular performance from Watson. It's unlike anything she'd done before — she's the emotional driving force behind the entire movie. Even with A-listers like Crowe, Connely, and Hopkins doing some of their best work, Watson steals the show.