Find Out Why Emma Watson Turned Down 'Cinderella'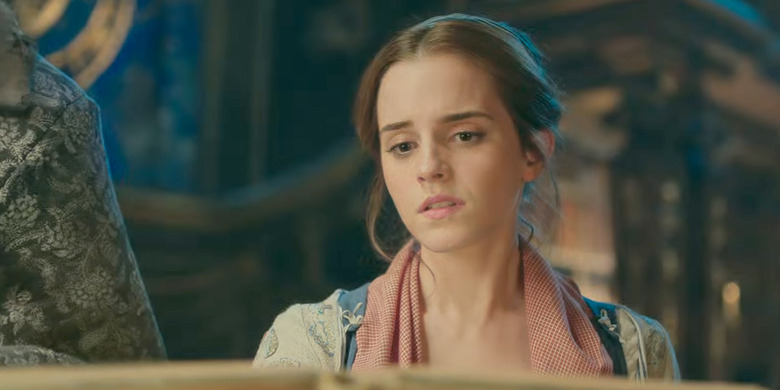 In March, we'll get to see Emma Watson become a Disney princess in the live-action adaptation of Beauty and the Beast. We've already heard her belt out one of the signature tunes from the movie in the most recent TV spot for the movie, and she just looks perfect as Belle, whether it's her simple blue and white dress, or the elegant yellow ballgown she wears when she dances the night away with the Beast.
But before Emma Watson took on the role of Belle, you might remember that she was in talks to play Cinderella in Kenneth Branagh's live-action adaptation of Disney's animated classic that came out back in 2015. Lily James ended up landing the role of that Disney princess after Watson passed on the role back in 2013, but we never found out why. That changes today as an interview reveals why Emma Watson turned down Cinderella.
Speaking to Total Film Magazine (via E! News), Emma Watson explains that Cinderella wasn't a character that resonated as much with her as much as Belle:
I didn't know they were going to make Beauty and the Beast at the time I turned down Cinderella, but when they offered me Belle, I just felt the character resonated with me so much more than Cinderella did. She remains curious, compassionate and open-minded. And that's the kind of woman I would want to embody as a role model, given the choice.
That's not to say that Cinderella isn't a role model, since she does inspire and promote goodness, kindness and resilience. But Watson had a more personal connection to Belle in Beauty and the Beast:
I don't feel like I particularly fitted in when I was younger. There's this kind of outsider quality that Belle had, and the fact she had this really empowering defiance of what was expected of her. In a strange way, she challenges the status quo of the place she lives in, and I found that really inspiring. She manages to keep her integrity and have a completely independent point of view. She's not easily swayed by other people's perspective—not swayed by fear-mongering or scapegoating.
In addition, Belle ends up being a little more of an active, stronger female character, even more so than she was in the animated version Disney released in 1991. When Emma Watson joined, part of the deal was collaborating with director Bill Condon to make Belle even more of an independent woman.
The original animated movie gave her a taste for knowledge and interesting stories with her passion for reading, and it also gave her independence in her lack of interest by not having her waiting around for some suitor (least of all Gaston). But in the live-action adaptation, she's even more active. While the animated movie let her father be an inventor, that's something Belle will also be as well. In fact, she has created a kind of washing machine that saves her time and allows her to read even more.
Belle already felt like she was a much more progressive Disney princess, but it sounds like she'll be even more of a role model for young girls to look up to. We'll get to see what other changes Emma Watson inspired in Belle when Beauty and the Beast hits theaters on March 17.