Belle Has A New Backstory In Bill Condon's 'Beauty And The Beast'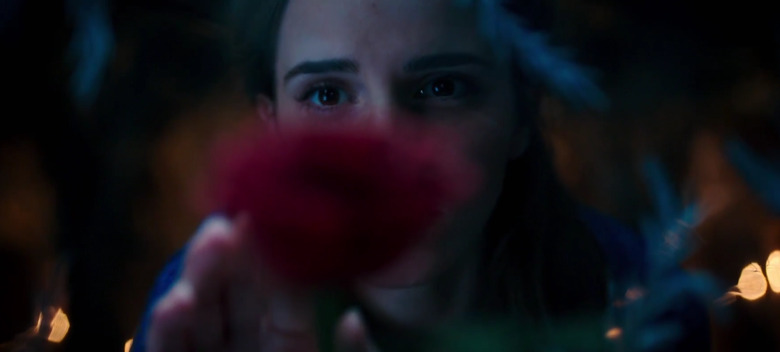 Yesterday brought us our first real good look at Bill Condon's live-action remake of Disney's Beauty and the Beast. A batch of new photos showed off Gaston, Lefou, Maurice, Cogsworth, Lumiere, Plumette, and Mrs. Potts, in addition to a recreation of one of the animated film's most famous sequences featuring Belle (Emma Watson) and the Beast (Dan Stevens). How faithful Condon's film is to the 25-year-old animated musical we'll have to wait and see, but one welcome change has been made to Belle's backstory.
Below, learn Belle's new backstory.
There's no crazy new backstory involving a life of crime or anything like that, but Condon, Watson, and all involved decided Belle's background from the animated film could use some punching up. According to Emma Watson, Beauty and the Beast begins by defining Belle as more than a bookworm (Source: EW):
In the animated movie, it's her father who is the inventor, and we actually co-opted that for Belle. I was like, 'Well, there was never very much information or detail at the beginning of the story as to why Belle didn't fit in, other than she liked books. Also what is she doing with her time?' So, we created a backstory for her, which was that she had invented a kind of washing machine, so that, instead of doing laundry, she could sit and use that time to read instead. So, yeah, we made Belle an inventor.
The great Kevin Kline (In & Out) plays Belle's father, Maurice. In Condon's film, Maurice is overly protective because of the loss of Belle's mother. Set decorator Katie Spencer says the character spends his time making music boxes representing different countries, which tease an adventurous life that Belle is missing out on.
When you think back on Beauty and the Beast, Belle's life before meeting the Beast probably doesn't immediately spring to mind, but the animated movie is under 85 minutes long. There isn't a lot of room for setup and backstory in that story. However, screenwriters Evan Spiliotopoulos (Hercules) and Stephen Chbosky (The Perks of Being a Wallflower) will likely have more time to explore Belle as a character at the start of Condon's film. And, in case you forgot as I did, yes, the author, screenwriter, and director behind The Perks of Being a Wallflower – a lovely book and film — co-wrote this live-action Disney remake.
Here's the official synopsis:
Disney's "Beauty and the Beast" is a live-action adaptation of the studio's animated classic which refashions the classic characters from the tale as old as time for a contemporary audience, staying true to the original music while updating the score with several new songs. "Beauty and the Beast" is the fantastic journey of Belle, a bright, beautiful and independent young woman who is taken prisoner by a beast in his castle. Despite her fears, she befriends the castle's enchanted staff and learns to look beyond the Beast's hideous exterior and realize the kind heart and soul of the true Prince within.
Beauty and the Beast opens in theaters on March 17th, 2017.