Daily Podcast: The Book Of Boba Fett Spoiler Discussion - Chapter 3 'The Streets Of Mos Espa'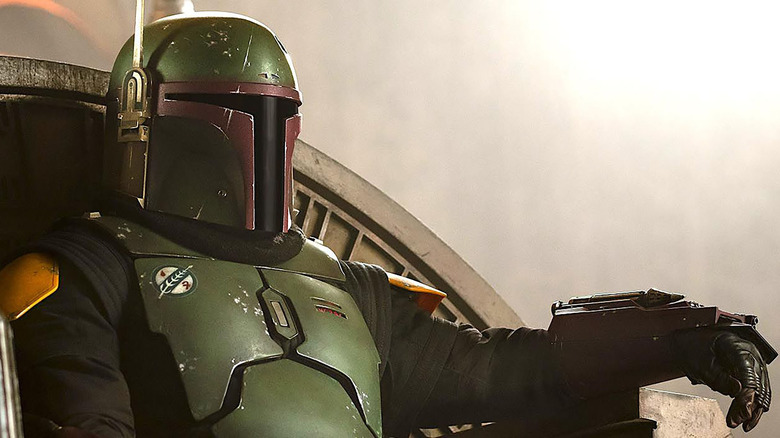 Lucasfilm
On the January 12, 2022 episode of /Film Daily, /Film editorial director Peter Sciretta is joined by /Film editor Brad Oman and Star Wars expert Bryan Young to have a spoiler-filled discussion about "The Book of Boba Fett" Chapter 3, "The Streets of Mos Espa".
In The Spoiler Room: The Book of Boba Fett Chapter 3 "The Streets of Mos Espa"
Feedback

Matthew F wrote in: Last episode the question was asked why it took so long for Hutts to get involved again with Tatooine after the death of Jabba. In the Star Wars comics there has recently been a crossover event called "War of the Bounty Hunters". This takes place between Empire Strikes Back and Return of the Jedi and in this story, Darth Vader kills all of the Grand Hutt Council except for Jaba. ... I imagine it took some time for the Hutt family to sort itself out from this huge power vacuum and that there was likely some jockeying for position among the Hutts. Perhaps, Bib Fortuna was working for the Twins or wasn't working with the Hutts but considered too low priority compared to getting other things sorted out.

Matt also speculated that something bad would happen to the tuskens in this weeks episode and boy was he right but also that he thinks the "Tuskens will be eventually seen in the "present day" part of the episode. To use a Dune reference, I think the Tuskens will be Boba's "desert power"."

James h writes in to point out that Before they changed the setting of the train heist in Solo: a Star Wars story to Vandor, it took place in some kind of desert and the concept art in the art of book looks almost exactly like what we saw in last weeks episode.

Brief reactions
Breakdown

Speculation
Also mentioned:
All the other stuff you need to know:
You can find more about all the stories we mentioned on today's show at slashfilm.com, and linked inside the show notes.
/Film Daily is published every weekday, bringing you the most exciting news from the world of movies and television as well as deeper dives into the great features from slashfilm.com.

You can subscribe to /Film Daily on Apple Podcasts, Google Podcasts, Overcast, Spotify and all the popular podcast apps (RSS).

Send your feedback, questions, comments and concerns to us at peter@slashfilm.com. Please leave your name and general geographic location in case we mention the e-mail on the air.

Please rate and review the podcast on Apple Podcasts, tell your friends and spread the word!

Thanks to Sam Hume for our logo.