What Really Drew George Takei To His Star Trek Role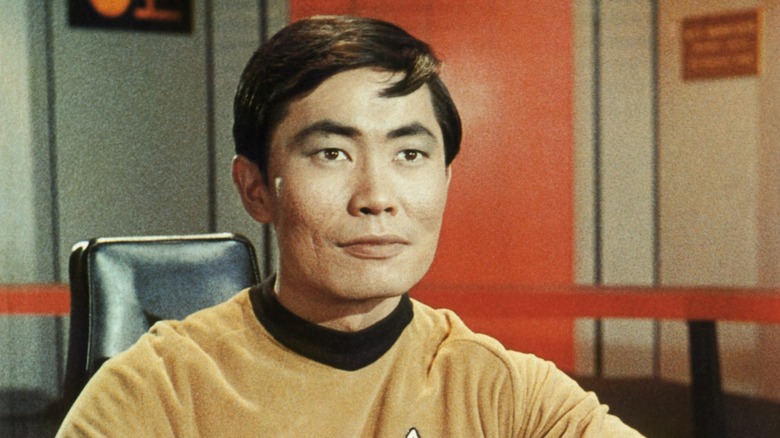 Paramount
Long before Ernie Reyes Jr., Jacob Batalon, and other Asian or Asian American entertainers were out there representing their cultures in film and television, there was George Takei. Just like his "Star Trek" co-star Nichelle Nichols did for the Black community, the Japanese actor and activist was out there being a champion for diversity and representation when those things were practically unheard of in Hollywood. And both stars were able to do this thanks to the vision of the series creator Gene Roddenberry.
Target That Explosion And Fire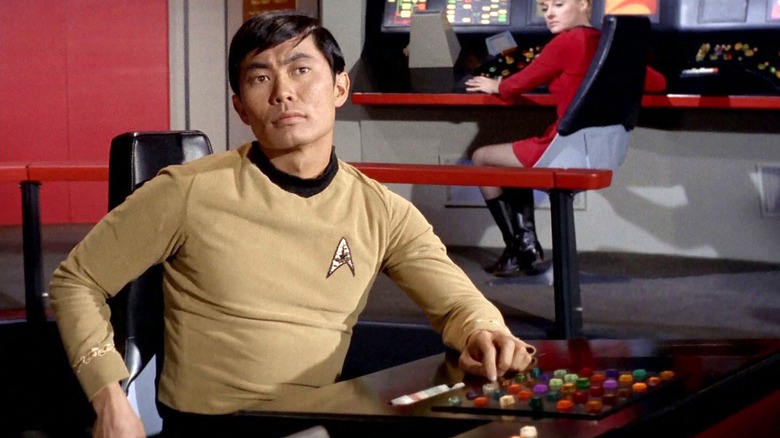 Paramount
After spending part of his youth in an internment camp during World War II, George Takei graduated from UCLA in 1964 with a Masters in theater. He also studied at the Shakespeare Institute in England, Sophia University in Tokyo, and the Desilu Workshop in Hollywood. But before he pursued a career in acting and eventually landed the role of Sulu in "Star Trek: The Original Series," he was pressured to become an architect by his father. However, as he revealed to The Guardian in an interview about his career and his history of activism for the LGBTQ+ and immigrant communities, he wasn't about to succumb to cultural and societal expectations like that:
"My father wanted me to be an architect. I was an architecture student at UC Berkeley. I lasted two years, but my real passion was acting. My father said: 'Look at television, look at the movies, look at Broadway. Those roles for Asians are terrible; all the stereotypes. Is that what you want to be?' I took that as a challenge to prove him wrong."
As his father predicted, Takei's early career was a bit rocky. It was initially filled with one-shots on shows like "Mission: Impossible" and "Perry Mason" or voiceover work for Japanese monster films like "Godzilla Raids Again." He even starred in a 1964 episode of "Twilight Zone" that was removed from syndication for being "too disturbing" due to it's portrayal of US-Japan hatred. After it's initial air date, it wasn't seen again until it was released on video in 1992.
Warp Speed, Mr. Sulu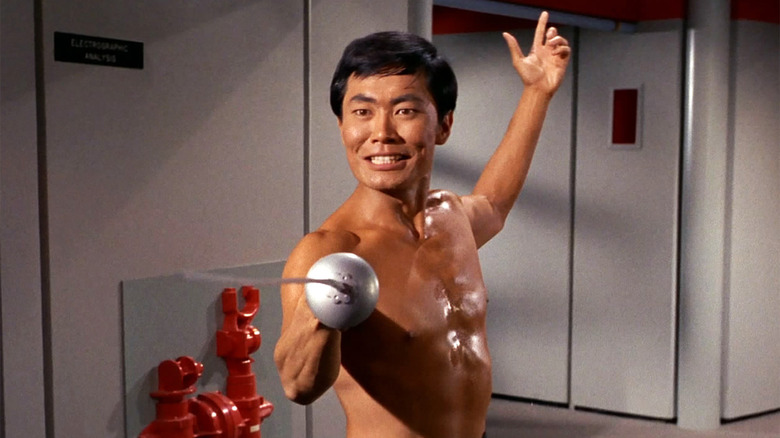 Paramount
But everything changed in 1965. That's when Roddenberry brought in Takei to play Sulu. While the character was just meant to be an astrosciences physicist in the second pilot of the series, he was promoted to the helmsman of the starship Enterprise when NBC officially gave the show the green light once Lucille Ball (whose production company spearheaded the series) persuaded the network to give it another look. Just as Ball gave her full support to the final frontier because of her fondness of Roddenberry and his vision, Takei likewise found himself onboard (literally and figuratively) after speaking with the creator:
"Getting cast as Lt. Hikaru Sulu in 'Star Trek' was life changing. The show's creator, Gene Roddenberry, told me the idea was a metaphor for the fact that the earth's strength lay in its diversity; people from all over the world, working out their problems and being a team – and boldly going where no one had gone before."
Following his run on "Star Trek," George Takei found much success onscreen and onstage outside of the franchise. Before Benedict Wong brought the character to life in the Marvel Cinematic Universe, Takei voiced Doctor Strange's companion Wong in "Spider-Man: The Animated Series." In addition to lending his voice to a number of other beloved shows such as "Hey Arnold," "Futurama," and "Avatar: The Last Airbender," he also became the first leading actor from "Star Trek" to appear in a "Star Wars" production thanks to "Star Wars: The Clone Wars." And he starred in a musical called "Allegiance" that was based on his experiences with Japanese American internment.
But Takei still embraces "Star Trek" and finds himself talking about it with fans almost every day. In fact, he even reprised the role of Sulu in a fan-made web series titled "Star Trek: New Voyages" in 2007. While I'm sure he would've made a fine architect, it's hard to imagine a world without George Takei as Hikaru Sulu and the subsequent cultural legacy that he and the character have cultivated over the years.