Who Is Sophie Thatcher's Cool Biker Chick Character In Book Of Boba Fett? Let's Speculate Wildly!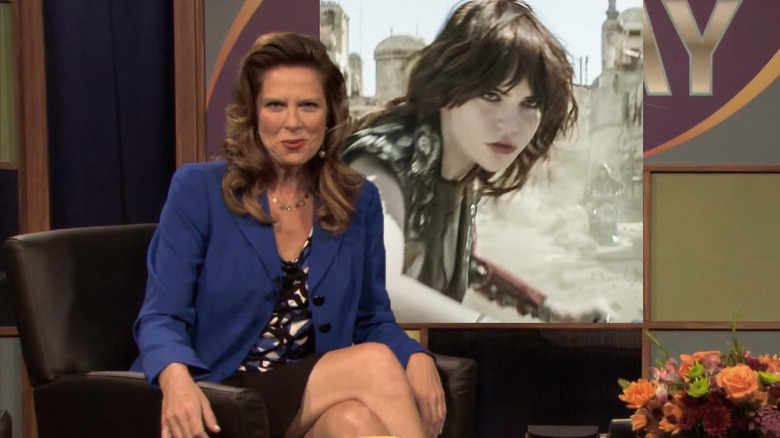 Disney
"The Book of Boba Fett" is almost here. In two days, on December 29, "Star Wars" fans will have a series dedicated to the most mysterious Mandalorian in the galaxy. "The Book of Boba Fett" will be a crime story, following Fett (Temuera Morrison) and his right-hand woman, Fennec Shand (Ming-Na Wen) as they take over the criminal underworld on Tatooine. Fett is filling the vacuum left by the late crime lord Jabba the Hutt, killed by Princess Leia (Carrie Fisher) some decades before. 
In the "Throne" teaser dropped on Christmas Eve, a new character made her debut: Sophie Thatcher's Drash, riding a speeder that looks like a vintage motorcycle with an aesthetic that's basically Joan Jett meets "Star Wars." So who is this rad new rebel, and what will she mean for Fett and his new criminal enterprise?
She Doesn't Give A Damn About Her Bad Reputation
We don't get to see much of Thatcher in the teaser above, but the few seconds we do get are a lot of fun. She zooms down a desert city street (Mos Eisley? Mos Espa?) on her sweet custom speeder before pulling up sideways in the biker-girl move of my dreams. So who could she be?
The Bespin Bulletin reports that Drash is described as "cool, self-assured, a defier of authority and in need of refinement." All of that comes across pretty clearly in the few seconds we see her, as Thatcher absolutely exudes cool. As someone who defies authority, she's likely some kind of operator within Tatooine's criminal underworld. This is all speculation, mind you, but she could be a mercenary who works with Fett and Shand to bring order to the planet. Her rebellious attitude would probably grate the nerves of the more stoic Fett, which leads to plenty of fun conflict. I personally love the "young rebel vs. old grumpy man" dynamic, and it works well within the "Star Wars" canon. 
Drash feels like a Robert Rodriguez creation. Rodriguez is executive producing "The Book of Boba Fett" and directed the episode of "The Mandalorian" that featured his return, so that's not a huge surprise. Tough girls on motorcycles are a Rodriguez standby — just look at Cherry Darling (Rose McGowan) in "Planet Terror" or Alita (Rosa Salazar) in "Alita: Battle Angel." It should go without saying that we can expect Drash to be a badass, because that's becoming Thatcher's speciality. 
Thatcher's Rising Star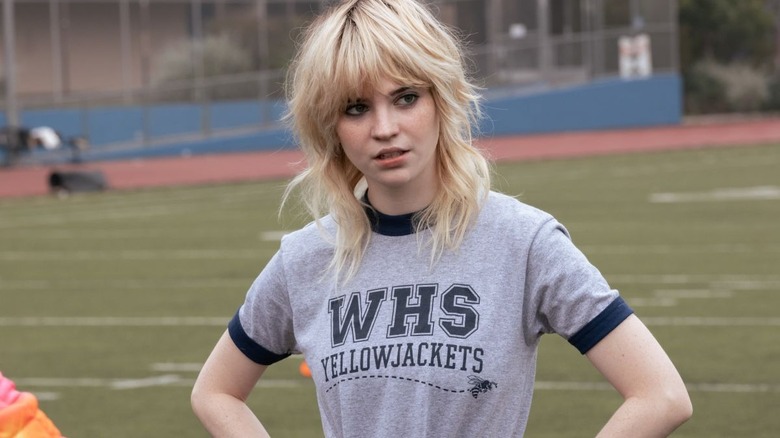 Showtime
We can only guess at how Drash will impact "The Book of Boba Fett," but we know that Thatcher will be great. She's absolutely killing it as the teenage version of Natalie on the Showtime thriller series "Yellowjackets," and she's no stranger to space adventures, starring as Cee in the 2018 science fiction thriller "Prospect." (Fun fact: "Mandalorian" star Pedro Pascal plays a rival space prospector in that film, so if he shows up on "The Book of Boba Fett," they'll get to have a nice little reunion.) 
In an interview with W Magazine, Thatcher said while she's good at playing rebel girls, she wants to expand her horizons: 
"I hope that in the next couple of years people won't recognize me. I want to be committed to wigs. It's a hard process, but I really hope to do that and not be held as just the rebel girl or outsider. I want to tell stories that make people feel less alone. Movies helped me so much through my childhood, and I want to do the same for others."
That doesn't look like a wig in the teaser, but at least she's changed her hair color? Maybe "space rebel" is the first step towards a whole world of roles for the talented young performer. You can check out her latest performance as the mysterious Drash when "The Book of Boba Fett" premieres on December 29, 2021, exclusively on Disney+.