Temuera Morrison Teases A Major Surprise In The Book Of Boba Fett Episode 7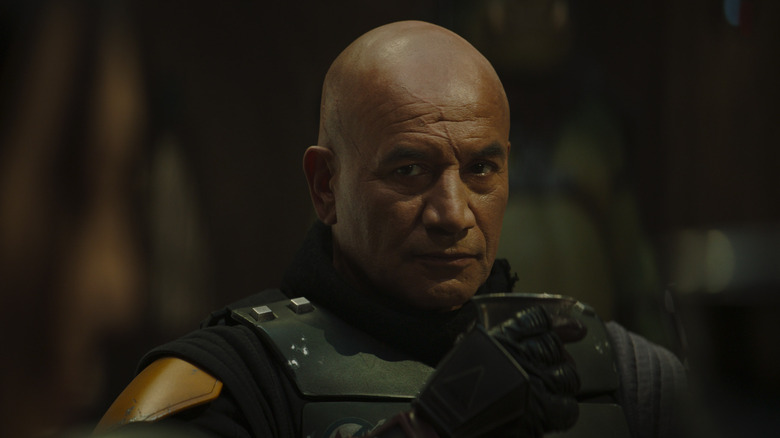 Lucasfilm
Chalk it up to being a victim of one's own success. Although the overall success of the movies speak for themselves, "Star Wars" is rapidly expanding its empire to Disney+ streaming shows and that, inevitably, comes with a few bumps along the way. "The Mandalorian" mostly avoided any of those major obstacles, achieving instant popularity through the fun dynamic between Pedro Pascal's brooding, too-cool-for-school Din Djarin and the adorable (verging on too cute) Baby Yoda. "The Book of Boba Fett" is currently attempting to make lightning strike twice by telling a new story with Boba Fett (Temuera Morrison) and his takeover of Jabba the Hutt's criminal organization alongside Ming-Na Wen's Fennec Shand. Though it'd be a mistake to write anything off so soon in the series, it's also clear that Lucasfilm's second streaming service is rather more subdued than its first one — again, at least in the early going. Disney has the viewership numbers to back up the show's performance so far, but some instances of grumbling among its audience may indicate a fickle fanbase running out of patience a bit.
So how do you turn that potential narrative around before it even starts? Well, have the star of the show tease some big surprises to come in the weeks ahead, of course! Temuera Morrison is a pro's pro, making his introduction in the "Star Wars" franchise when George Lucas first cast him as Jango Fett in 2002's "Attack of the Clones." By now, the Māori actor knows how to talk the talk and walk the walk when it comes to marketing, so it's safe to say he knows exactly what he's doing when he makes the fairly obvious statement that fans won't want to miss episode 7 of "The Book of Boba Fett," the season finale. In other words, hang tight. If anyone thinks the series has gotten off to somewhat of a slow start, it seems you can rest assured that the action will pick up in no time.
'Full of Surprises'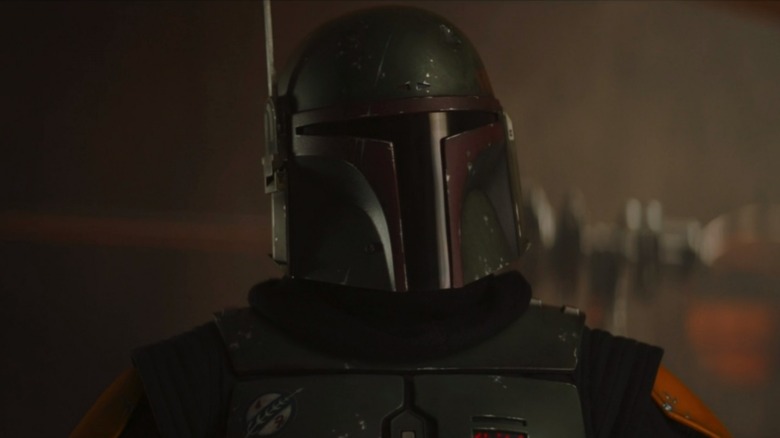 Lucasfilm
In a slight change from the pattern established by "The Mandalorian," which gave us two seasons of eight episodes each, the first season of "The Book of Boba Fett" is scheduled to air only seven individual hours. That's still plenty more storytelling than most fans ever thought they'd get for the bounty hunter who seemingly met his anticlimactic demise at the hands (er, tentacles) of the dreaded Sarlacc in "Return of the Jedi." But in addition to his apparent allergy to certain death, the man behind the mask is now speaking up and assuring viewers that there are some major surprises still to come. In an interview with The Hollywood Reporter, actor Temuera Morrison sounds downright giddy about coming back to the "Star Wars" universe once more. In fact, the article notes that co-star Ming-Na Wen had to intervene and stop Morrison from spilling a few too many details about what lies in store for us in the coming weeks. Here's what Morrison had to say:
"Yes, full of surprises. The Book of Boba 'full of surprises' series. [laughs] Yeah, we've got some good stuff coming up. Ooh, wait till episode seven, wow!"
Admittedly, that's not much to go on or even a particularly groundbreaking revelation about a season finale, but one can't fault the fan-favorite actor for playing coy. He's simply happy to be here, as he goes on to describe his experience meeting Jon Favreau on the set of 2009's "Couples Retreat." As he puts it, "Sometimes, life is about relationships, and while I didn't get to do much on 'Couples Retreat,' I got to meet Jon. And at that time, he was prepping to direct 'Iron Man.' So he obviously sat around a table where they said, 'Well, Boba's got to look like Jango [Fett], so let's see what Tem is doing.' So I had this wonderful opportunity to get back on this journey, this vessel, this walker, and it's been exciting and thrilling."
Temuera Morrison is thrilled to be in the suit once again, and so are we. You can catch new episode of "The Book of Boba Fett" every Wednesday on Disney+.