Sidney Poitier, Trailblazing Hollywood Icon And First Black Man To Win An Oscar, Has Died At 94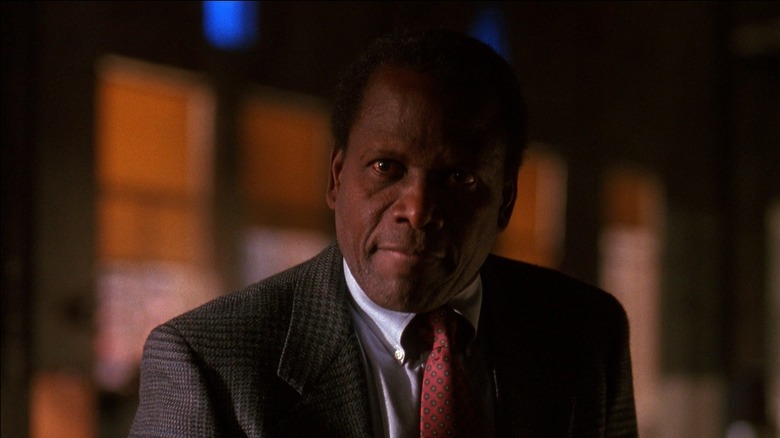 Universal
Sidney Poitier, the Bahamian-American acting legend, director, producer, activist, and ambassador, has sadly passed away at the age of 94.
The icon's death is a blow to an industry still reeling from the deaths of several larger-than-life figures who made their own lasting and incredibly influential marks through lives well-lived, with Poitier's passing coming so close on the heels of both Betty White on New Year's Eve and legendary filmmaker Peter Bogdonavich earlier this week. News concerning the late "In the Heat of the Night" star first started trickling in through Bahamas media networks, primarily OURNews Bahamas and Eyewitness News Bahamas, citing confirmation by Bahaman Minister of Foreign Affairs Fred Mitchell and further confirmed by Variety. Details as to the specifics of his passing were not available at the time of publishing.
The endlessly charismatic Poitier was widely revered for boasting a filmography of "firsts" — he held the honor of becoming the first Black man to receive an international film award at the 1957 Venice Film Festival, he was the first to become nominated Best Actor at the Academy Awards a year later, and, most notably, he was the first Black man (and first Bahamian actor) to actually win the prestigious Best Actor Oscar in 1963 for his turn in "Lilies of the Field." The trailblazer's many, many other achievements throughout his prolific career include winning an Honorary Award at the 2002 Academy Awards, "For his extraordinary performances and unique presence on the screen and for representing the industry with dignity, style and intelligence;" two Primetime Emmy Award nominations for his portrayals of Thurgood Marshall in 1991's "Separate But Equal" and Nelson Mandela in 1997's "Mandela and de Klerk;" BAFTA Award wins in 1959 and 2016 (on top of 5 nominations throughout the 1950s and 1960s); various Lifetime Achievement Awards; and winning the African-American Film Critics Association's (AAFCA) Icon Award in 2016.
A Trailblazer Until the End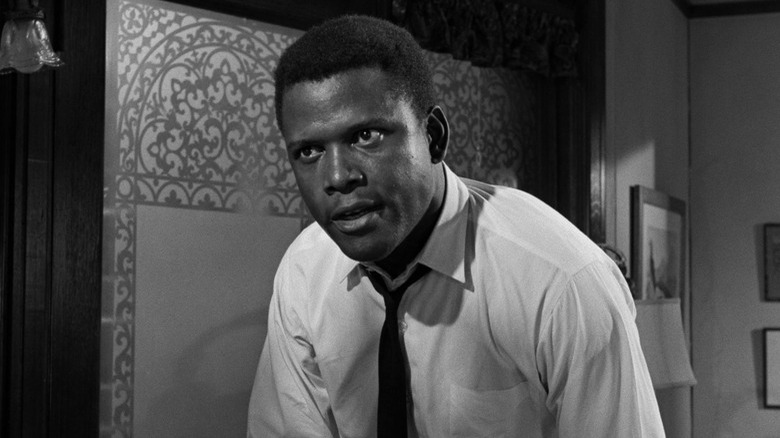 Columbia Pictures
Sidney Poitier's significance in breaking multiple color barriers throughout his decades in Hollywood can't possibly be overstated, forging his own path over the course of dozens and dozens of appearances in both television and film. The screen legend was known for avoiding roles that trafficked in racial stereotypes and pushing back at the bigoted beliefs of the time, letting his talent on-screen say all that needed to be said. As noted in the Huffington Post, Poitier's role in 1967's "Guess Who's Coming to Dinner" was responsible for the first positive depiction of an interracial couple and, only a year later, he made history once again as the first Black man to land at the top of the box office charts after the back-to-back-to-back hits of "To Sir, With Love," "In the Heat of the Night," and "Guess Who's Coming to Dinner." Far from a one-note performer, Poitier even found consistent work in theater, becoming a Tony Award nominee for "A Raisin in the Sun" in 1959. 
Directing work soon followed his wildly successful acting roles in the middle portion of his career, making his filmmaking debut with 1972's "Buck and the Preacher" (which he also co-starred in) and eventually leading to the box office smash "Stir Crazy" in 1980. That, fittingly enough, was the first film by a Black director to gross more than $100 million in its initial release. After taking a hiatus for a few years, Poitier returned to acting with 1988's "Shoot to Kill," "Little Nikita," and the film that many film fans consider to be one of the absolute best, most underrated movies he ever appeared in — 1992's Robert Redford and Dan Akyroyd-starring "Sneakers." His final acting credit came in 2001 with "The Last Brickmaker in America," serving as an end to one stage of his career and roughly coinciding with his transition to another stage altogether: serving as the Bahamas' ambassador to Japan from 1997 to 2007. Two years later, Poitier was awarded the U.S. Presidential Medal of Freedom from Barack Obama.
As befitting someone of his remarkable stature, his personal and professional life will be immortalized in a Broadway play titled "Sidney" and based on his own autobiography. Sidney Poitier is survived by his wife, Joanna Shimkus, and five children.