The 14 Best Michael Fassbender Movies Ranked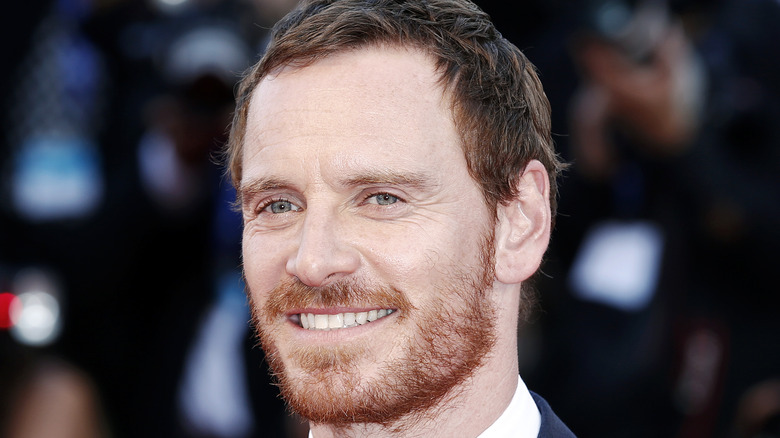 Andrea Raffin/Shutterstock
Michael Fassbender is one of the best actors working today, and though he's seemingly been off the radar since appearing in 2019's "X-Men: Dark Phoenix," the German-Irish star will be back in front of audiences soon with a series of exciting upcoming projects. Fassbender is set to headline David Fincher's assassin thriller "The Killer," Taika Waititi's inspirational sports comedy "Next Goal Wins," and the action comedy "Kung Fury 2" inspired by the viral internet short. None of these projects are remotely similar, which speaks to the versatility of Fassbender's talents and how he's consistently able to challenge himself.
Fassbender first broke out with a role in HBO's war epic "Band of Brothers," and he became a frequent supporting player in everything from "300" to "Fish Tank." It wasn't long before auteurs realized that Fassbender was hardly made for the background, and he drew immense critical acclaim with his breakout role in Steven McQueen's directorial debut "Hunger." The gritty prison drama announced Fassbender as a fearless performer willing to take on immense emotional and physical challenges, something he would continue throughout his career. In the spirit of exploring that career, here are the 14 best Michael Fassbender movies, ranked.
14. Song to Song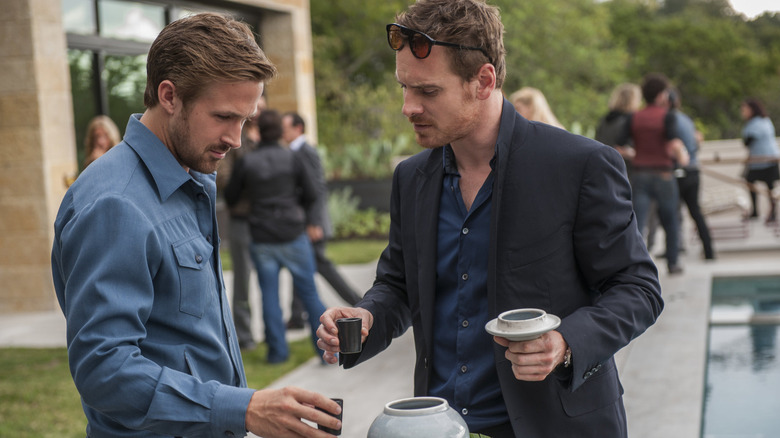 Broad Green Pictures
For the last ranking of this list, we have 2017's "Song to Song." The films of Terrence Malick are certainly not for everyone, as his melodramatic stories of love and loss are often shot without completed scripts and focus on the existential musings of his characters. Compared to his more established classics like "The Tree of Life," "Days of Heaven," "Badlands," and "The New World," "Song to Song" did not reach the same level of acclaim. However, the film does still feature strong performances throughout, Michael Fassbender chief among them.
The film is set within the music industry in Malick's hometown of Austin, Texas and follows intersecting love triangles. Michael Fassbender's character Cook is a record producer who begins relationships with the guitarist Faye (Rooney Mara) and then the kindergarten teacher Rhonda (Natalie Portman). Cook's wild lifestyle and indulgences within the party scene wreck havoc on his personal relationships, and he's forced to split from his longtime co-worker BV (Ryan Gosling).
13. Haywire
Relativity Media
Steven Soderbergh is a filmmaker who likes to push the boundaries of process, exploring meticulous worlds in detail. "Haywire" explored the intersections between various governments and intelligence agencies, and the human costs that black ops crimes have on the characters. It's a film with a stacked cast that explores this nuanced world, featuring appearances by Ewan McGregor, Antonio Banderas, Michael Douglas, Channing Tatum, and Bill Paxton.
The film centers on the assassin Mallory Kane (Gina Carano), who is on the run from the CIA that betrayed her. Michael Fassbender appears as the MI6 agent Paul, who poses as Kane's husband so the pair can embark on a secret mission in Dublin. However, Paul ultimately betrays Kane and tries to kill her in one of the film's most exciting fight sequences. Going up against Carano, a trained MMA fighter, was not an easy task, but Fassbender holds his own in one of his most physically demanding performances.
12. The Light Between Oceans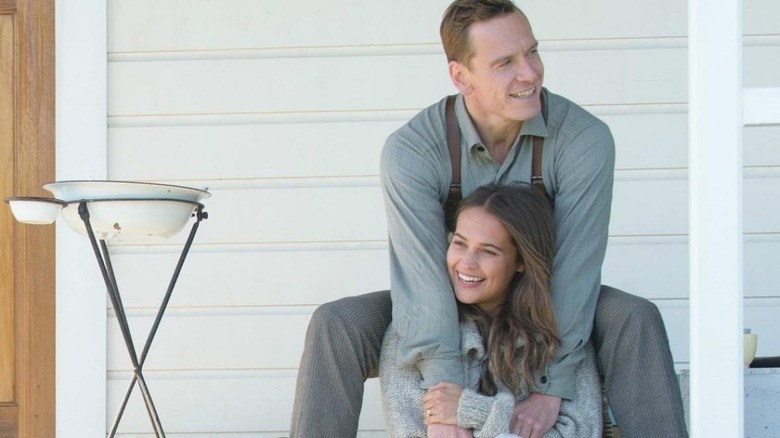 Dreamworks Pictures
Love is certainly an element within many of Michael Fassbender's films, but 2017's "The Light Between Oceans" is perhaps the most straight up romantic period drama that he's ever worked on. The film hails from "Blue Valentine" and "The Place Beyond The Pines" director Derek Cianfrance, who certainly knows a thing or two about creating devastating stories about the consequences of romantic relationships. It was also a personal endeavor for Fassbender, who starred alongside his then-girlfriend (and now wife) Alicia Vikander.
Set in post-World War I Australia, the film follows the austere lighthouse keeper Thomas Sherbourne (Fassbender) as he falls in love with the local girl Isabel Graysmark Sherbourne (Vikander). Thomas's line of work is not an easy one, and he and his new bride become heartbroken when they are unable to conceive a child. Their search for ways to expand their family has unexpected consequences when they discover an abandoned infant washed up on shore in a rowboat.
11. The Counselor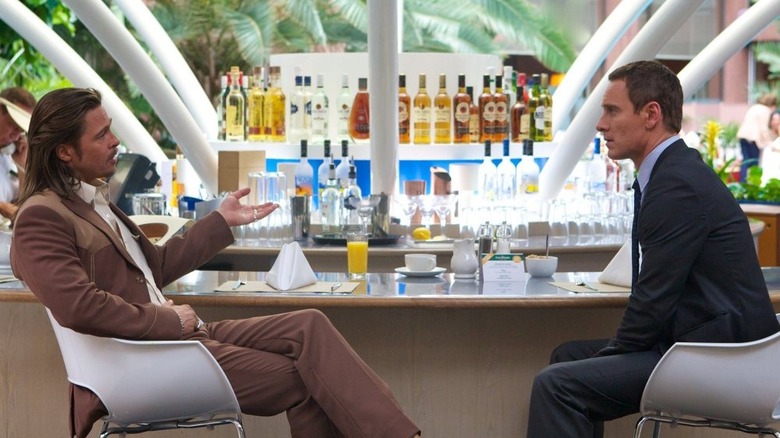 20th Century Fox
Audiences and critics alike weren't exactly sure what to make of Ridley Scott's 2013 crime thriller "The Counselor." The film was written by legendary western author Cormac McCarthy, and tells a highly complex story about the intersections between corrupt legal authorities and Mexican drug cartels. What seemed like a straight up crime thriller is actually a highly experimental arthouse film. With its union of seedy pulp and pretentious characters, Scott and McCarthy explore the facade that masks the true ugliness of those with power.
Michael Fassbender understands the tone and delivers a memorable performance as the corrupt titular lawyer, who becomes intertwined with the drug war after he tries to buy an expensive present for his fiancee (Penélope Cruz). Fassbender seems like he would be perfect for the role of a slick, charismatic lawyer, but the character is actually quite pathetic once his true intentions are revealed. It was an interesting performance choice that showed how Fassbender could upend expectations.
10. Jane Eyre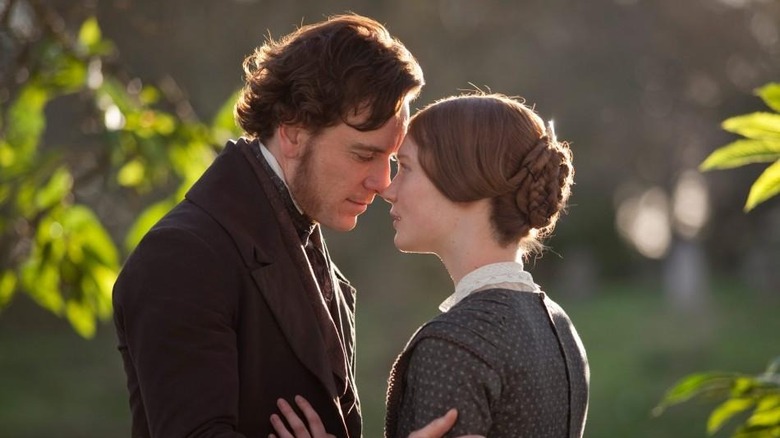 Focus Features
Between comic book characters and Shakespearian legends, Michael Fassbender certainly knows a thing or two about taking on beloved characters from literature. He was called on to play another iconic figure in Cary Fukunaga's 2011 adaptation of Charlotte Brontë's 1847 novel of the same name. There have been "Jane Eyre" adaptations since the silent era of cinema, so one might understand being skeptical of Fukunaga's ability to create a modern version that would still be fresh and exciting.
Thankfully, the 2011 film leaned into the Gothic influences and captured the inherent struggle and tragedy within the novel. Fassbender is a big reason why it all works, as he instills the character of Edward Fairfax Rochester ⁠— the brooding recluse obsessed with Mia Wasikowska's titular character ⁠— with an emotional complexity. Few actors can depict a descent into madness that is simultaneously heartbreaking like Fassbender, and he is well-utilized in a visually gorgeous period piece.
9. Prometheus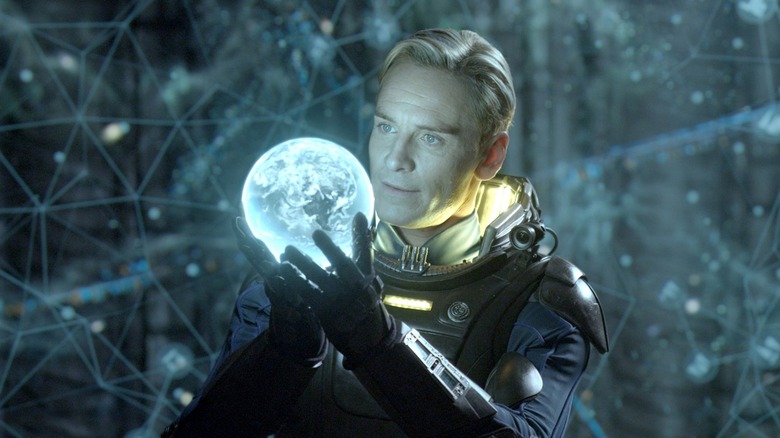 20th Century Fox
There were immense expectations for Ridley Scott's return to science fiction with "Prometheus," as the film takes place within the same universe as his 1979 classic "Alien." However, despite the contained outer space horror suspense elements, "Alien" and "Prometheus" are very different films. "Prometheus" explores existential questions about mankind's search for their creator and the responsibilities of those who create life.
This rich thematic subtext is explored brilliantly with Michael Fassbender's character David, an android who joins the crew of the "Prometheus" ship as they search for the mysterious alien race known as "The Engineers." David understands that he was created and is curious to learn why he exists, and along the way grows interested in developing life of his own. Fassbender makes David's robotic mannerisms believable while hinting at his darker interests as he begins experimenting on the "Prometheus" crew. The 2017 sequel "Alien: Covenant" was a disappointment, but Fassbender was still excellent in the role.
8. Macbeth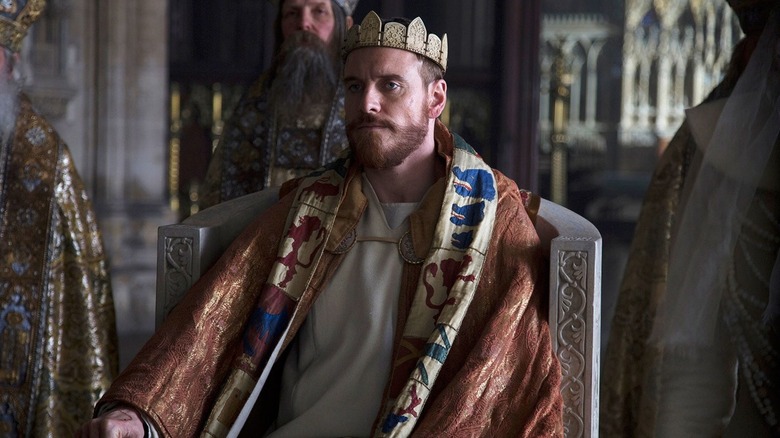 Amazon Studios
There are certain roles that every great actor of a generation is eager to get their hands on, and Shakespeare's Macbeth is certainly one of them. There have been so many iconic cinematic adaptations of "The Scottish Play" that it's challenging for a new version to stand on its own, but Michael Fassbender had the stage experience to justify giving it a shot. It's a good thing he did, because Justin Kurzel's 2015 adaptation is a unique visceral experience that stands apart from many modern Shakespeare adaptations.
Kurzel's "Macbeth" focuses on the war elements most prominently, featuring visually breathtaking sequences of carnage that wouldn't translate on stage. Fassbender makes lines that are forever intertwined with literary analysis fresh and exciting again, and he shines in his scenes with Lady Macbeth (Marion Cotillard). Fassbender also has the physicality necessary to make Macbeth a believable war hero. He and Cotillard would re-team with Kurzel on the video game adaptation "Assassin's Creed."
7. X-Men: First Class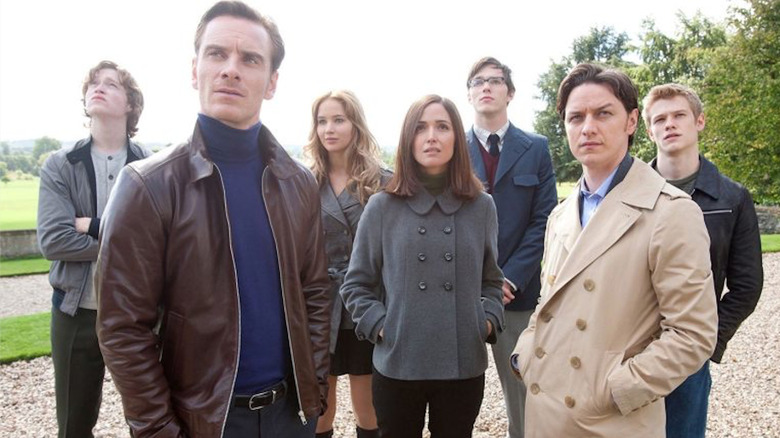 20th Century Fox
Michael Fassbender took on an unbelievable challenge when he was cast as the young Erik Lehnsherr/Magneto in Matthew Vaughn's "X-Men" prequel. The "X-Men" franchise had been in a state of disarray after "X-Men: The Last Stand" failed to cap off the original trilogy in a satisfying way, and "X-Men Origins: Wolverine" failed to launch a spinoff series. Another origin story was risky, and an entire generation had grown up with Ian McKellen as Magneto. Thankfully, Fassbender made the character his own. 
Erik's backstory had been established in previous films as a tragic one, and "First Class" homages the past work by recreating the opening Holocaust sequence from 2000's "X-Men." However, instead of flashing forward to the future, the film takes the time to explore how Erik develops his powers and grows to hate mankind. He begins a one-man war to hunt down former Nazis, and his search for his childhood abuser Sebastian Shaw (Kevin Bacon) is what introduces him to a young Professor Charles Xavier (James McAvoy). Their conversations about the nature of violence are absolutely riveting.
Fassbender and McAvoy gave performances that rivaled McKellen and Patrick Stewart, and they got the chance to act alongside the legends in the excellent time travel sequel "X-Men: Days of Future Past." While "X-Men: Apocalypse" and "Dark Phoenix" were disappointments, Fassbender was never less than brilliant.
6. Slow West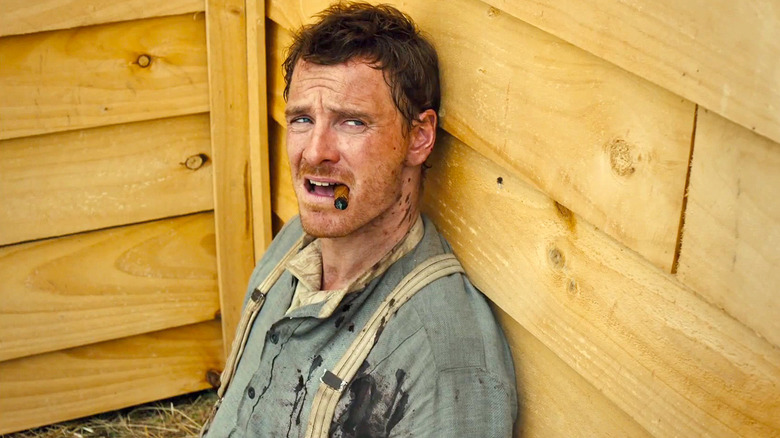 A24
One of the most admirable things about Michael Fassbender is that even though he works with many of the most famous and acclaimed filmmakers of his generation, he also is known to take risks on emerging talent. You never know who the next star writer/director could be, as Fassbender learned from his frequent collaborations with McQueen. As a result, there are many films in his body of work that stars of his caliber wouldn't normally take on. Such is the case with John Maclean's eccentric western "Slow West," a fascinating mix of drama, suspense, folktale, and satire that is utterly unique among modern western films.
Fassbender's future "X-Men" co-star Kodi Smit-McPhee stars as the lovesick Scottish immigrant Jay Cavendish, who yearns for the love of his childhood flame Rose Ross (Caren Pistorius). Ross's father (Rory McCann) dislikes Jay and considers him to be a fool, and Jay must embark on his own in an epic odyssey across the American West. It's along this way that he encounters the charismatic bounty hunter Silas Selleck (Fassbender). Silas takes pity on the young man, but suspects that he could also deceive him. They travel together as they are stalked by an eccentric bounty hunter (Ben Mendelsohn) who has ties to Silas's past.
5. Inglourious Basterds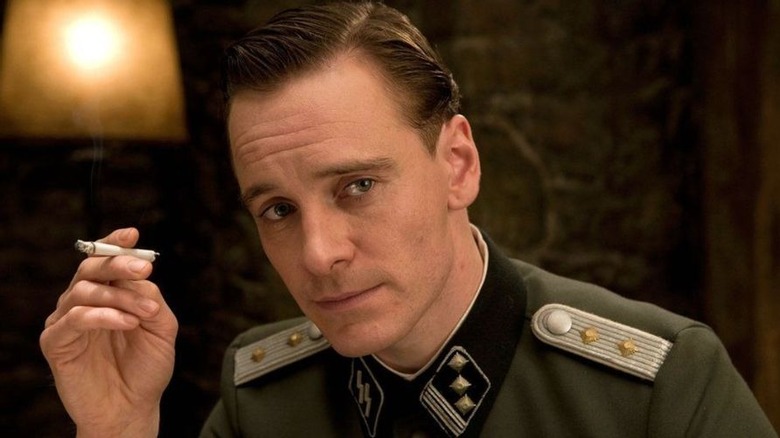 The Weinstein Company
Sometimes a great actor can leave a lasting impression on a film even if they're granted only minimal screen time, and no one knows that better than Quentin Tarantino. Tarantino's films frequently feature stacked casts of great actors, and often a well known or established performer will appear for what is little more than an extended cameo. Michael Fassbender had received some acclaim when he was cast in "Inglourious Basterds" ahead of the film's 2009 release, but he was hardly a massive star. Fassbender only appears in a handful of scenes, but he instantly made an impression and showed that he could hold his own against the rest of Tarantino's great cast. His showcase scene in the tavern is one of the most memorable sequences in the film, which ranks as one of Tarantino's best.
Fassbender pops up as Lieutenant Archie Hicox, a British military commando who is recruited by the Nazi-hunting Basterds due to his experience within the film industry. Hicox joins Sergeant Hugo Stiglitz (Til Schweiger) and Wilhelm Wicki (Gedeon Burkhard) as they prepare to launch a covert invasion on German forces, but prior to the attack they must hide out in a German tavern frequented by Nazi soldiers. Hicox has to mask his British identity and converse freely without the team's real loyalties being discovered. Fassbender showcases Hilcox's anxieties as he hides his identity, and his silent rage as he's forced to converse with men that he absolutely despises.
4. Shame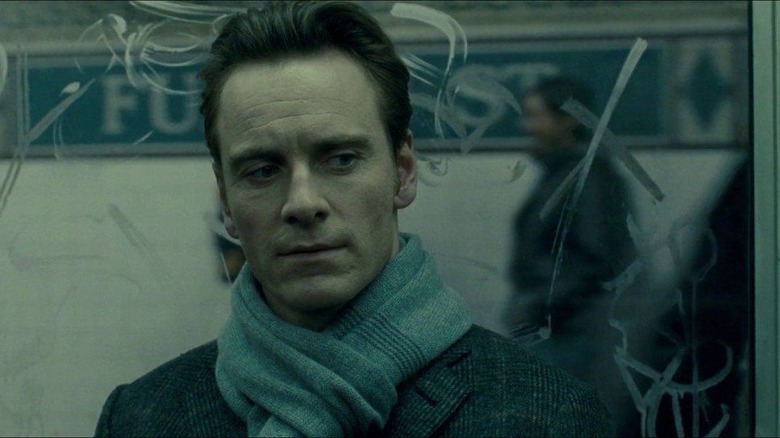 Momentum Pictures
Michael Fassbender is undoubtedly a fearless performer, and "Shame" was a novelty for just how vulnerable he was on screen. Steven McQueen's emotional drama explores the issue of sexual addiction, and pushed boundaries with its NC-17 content. Films with that rating are rarely successful and often struggle to reach audiences, so "Shame" certainly had the risk of feeling exploitative. Thankfully, the explicit content was utilized for a purpose, and Fassbender explored the underrepresented issue in a respectful manner.
Fassbender stars as Brandon Sullivan, a successful business executive living in New York City. Brandon controls nearly all aspects of his life with a perfectionist's touch, and has managed to hide his addiction to sexual stimulation within his planned schedule. Brandon's coworkers have no idea what he's going through, and he's able to attend work functions and go out for casual drinks without much stress. However, as Brandon's obsessions grow more severe, he struggles to maintain the balance that he requires. When his sister Sissy (Carey Mulligan) arrives unexpectedly and begins living with him, Brandon's life spirals out of control as he's forced to look at how his familial past and present have been impacted by his struggles.
Brandon is at once both charismatic and lonely, and Fassbender does a great job at showing how he's unable to express himself living under the guise of normalcy. Even at his most despicable moments, Brandon's heartbreak feels realistic. "Shame" isn't an easy film to watch, but Fassbender's work is remarkable.
3. Frank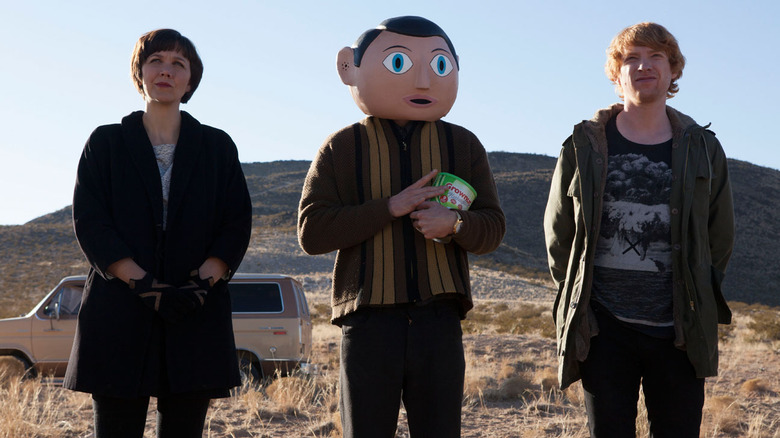 Film4
Michael Fassbender isn't exactly who you think of when you hear the premise "musical comedy," as he's best established for his dramatic roles and emotional intensity. Even within films like the "X-Men" franchise that incorporate more humor, Fassbender's performance is relatively humorless. "Frank" feels like an exception within Fassbender's filmography but, in many ways, it highlights the strengths that he's best known for. The film asks him to humanize an eccentric character whose unable to express himself normally and is stigmatized by his society and profession.
Loosely inspired by the life of British musician Frank Sidebottom, the 2014 film follows Fassbender as an experimental performer who has his own off-the-grid band. He's easily identifiable, because Frank never appears without wearing a paper mache mask over his head that hides his face. Despite his quirks, Frank's music is genuinely different and compelling, and he attracts the interest of young songwriter Jon Burroughs (Domhnall Gleeson). Frank invites Jon to join him and his band in a secluded cabin area where they hone their craft.
Jon quickly learns that Frank is leading the group into increasingly darker territory in order to achieve creative perfection. His insistence that they create music and instruments that are genuinely unprecedented increasingly feels like madness. As Jon begins to clash with Frank, he realizes that childhood trauma has stigmatized the musician he once adored. Of course Fassbender is a great singer, and the original song "I Love You All" is phenomenal.
2. 12 Years A Slave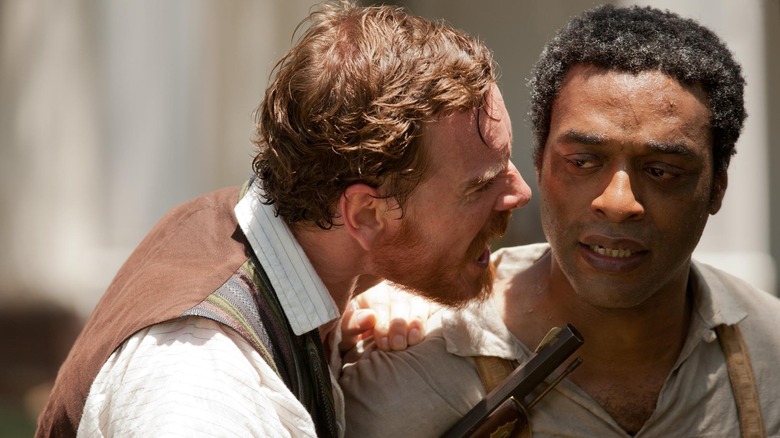 Fox Searchlight
Michael Fassbender is hardly inexperienced playing villains, and he's credited within the blockbuster sphere for making characters who do evil things sympathetic. While Magneto of the "X-Men" films and David of the "Alien" franchise are ultimately the antagonists, Fassbender gave a window into what made them tick. In many ways, his task in "12 Years a Slave" was even more challenging. He was asked to play a real monster of history with absolutely no redeeming qualities whatsoever.
Fassbender's frequent collaborator Steven McQueen is known for his ability to spotlight underrepresented moments of trauma and develop the impact on his characters. Likewise, "12 Years a Slave" doesn't attempt to condense the entire history of slavery in the United States into a single story. Instead it chronicles an individual experience of one man, Solomon Northup (Chiwetel Ejiofor), a musician from the Northern states that is kidnapped and spends over a decade in captivity. McQueen took inspiration from Northup's actual memoir.
Northup faces the humiliation of being passed between owners, but none are more terrifying than Fassbender's Edwin Epps. Epps isn't just casually cruel, but actively relishes torturing slaves and playing mental mind games on them. While Epps is completely without humanity, Fassbender still shows what pent up anxieties and societal pressures drive him without ever instilling him with a touch of sympathy. Fassbender was nominated for best supporting actor at the Academy Awards, but lost to Jared Leto for "Dallas Buyers Club" in one of the Oscars' biggest mistakes.
1. Steve Jobs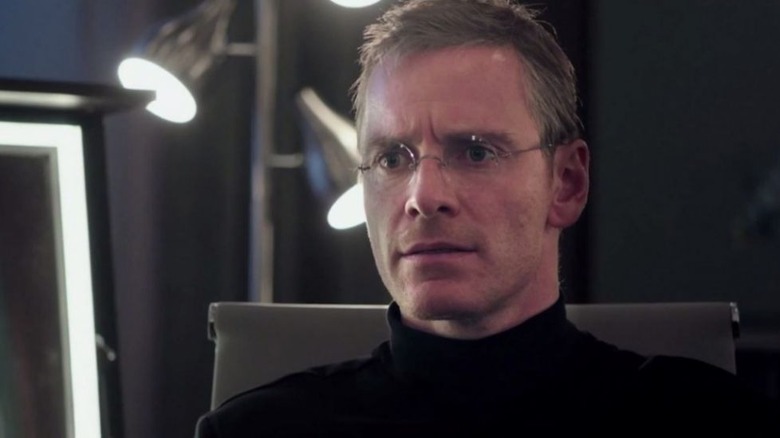 Universal Pictures
Before he entered the film and television scene, Michael Fassbender had a successful career treading the boards at the Oxford Stage Company. It was an experience that not only honed his dramatic skills, but prepared him for what would ultimately become his greatest role. Danny Boyle's "Steve Jobs" merges theater and film into an unusual biopic: Rather than tell a straightforward story of the infamous Apple CEO, the 2015 film takes place over the course of three extended scenes where Jobs prepares for the launch of a major product.
It was an extremely challenging part. Not only is Jobs an iconic figure known throughout the world (that Fassbender doesn't particularly look like), he's also quite controversial. Jobs's temperamental attitude, bits of rage, and poor relationship with his family all paint him in a negative light. Fassbender had to play the man in some of the most stressful moments of his career, and in doing so humanized Jobs without lionizing him, all while grasping the psychology of someone who remains an enigma.
Aaron Sorkin's screenplay is highly complex, requiring Fassbender to deliver many extended monologues citing life events the viewer never sees, along with nuanced terminology that an average viewer wouldn't understand. It never feels like Fassbender is just reciting Sorkin's words, and installs each beautifully written passage with emotional intensity. The fact that the ending is genuinely tear-jerking is a credit to Fassbender's significance: Even if we don't know why, we are drawn to his characters.