Michael Fassbender Performs As 'Frank' On 'The Colbert Report'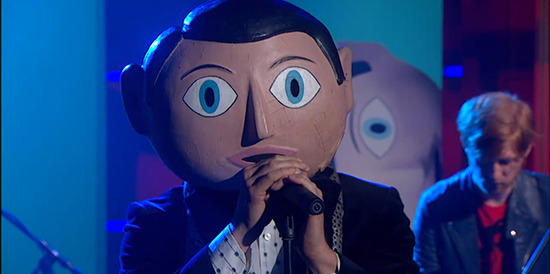 On last night's Colbert Report, audiences got to see an unusual sight. To promote the movie Frank, Michael Fassbender took to the stage wearing Frank's giant fake head, to perform the song 'I Love You All.' In fact, the whole band from the film is here: Maggie Gyllenhaal and Domhnall Gleeson on synth and keys, Carla Azar on drums, and Francois Civil on guitar complete the Soronprfbs lineup. (Yeah, that's the band's in-movie name.) Watch the performance below; it's a unique way to enjoy Fassbender's work.
The only downside to this performance is that this tune comes from the very end of the film. It's not a spoiler to hear it out of context, but the tune does act as a big payoff to a couple emotional arcs in the story.
That said, anything that gets more people to see Frank is OK by me, and it's great fun to see Fassbender going all the way to promote the film.
Fassbender Colbert Report
[via The Colbert Report]
Frank opens on August 15.
FRANK is an offbeat comedy about a wannabe musician who finds himself out of his depth when he joins an avant-garde pop band led by the enigmatic Frank – a musical genius who hides himself inside a large fake head.