Michael Fassbender To Star In Feature-Length 'Kung Fury' Movie For Some Reason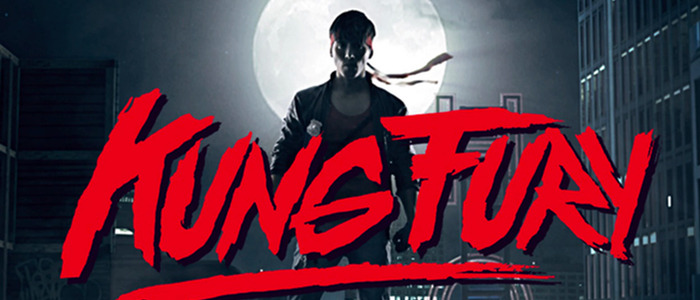 Kung Fury, the WTF internet sensation inspired by '80s action movies, is getting a feature-length remake/sequel, and it's found the unlikeliest of stars: Michael Fassbender. Fassbender, who will also produce the film, will co-star with David Hasselhoff. We're not making any of this up.
Remember Kung Fury? The funny, weird action-comedy funded by Kickstarter that took the internet by storm? It's back, in feature film form. The Tracking Board reports that a feature-length Kung Fury movie is in the works, and Michael Fassbender is going to star.
"Michael Fassbenber" isn't exactly a name one automatically associates with Kung Fury, but the actor is apparently all-in on this film. Not only will he star, he'll also serve as a producer alongside original director David Sandberg. The film will give Fassbender a chance to flex his acting chops alongside David Hasselhoff, who also appeared in the original film. Here's the official synopsis.
It's 1985, the best year ever. Miami is kept safe under the watchful eye of Kung Fury, the greatest damn cop of all time. Kung Fury's Thundercops are the ultimate police force assembled from across history to defeat the villainous Kung Fuhrer, Adolf Hitler. After the tragic death of a Thundercop causes the group to disband, a mysterious villain emerges from the shadows to aid in the Fuhrer's quest to attain the ultimate weapon. Kung Fury must travel through space and time itself to save his friends, defend the prestigious Miami Kung Fu Academy, and defeat evil once and for all.
The original Kung Fury was funded by Kickstarter. There, the film was described as an "over-the-top action comedy written and directed by David Sandberg. The movie features: arcade-robots, dinosaurs, nazis, vikings, norse gods, mutants and a super kung fu-cop called Kung Fury, all wrapped up in an 80s style action packed adventure." If you have a half-hour to spare, you can watch the original Kung Fury below.
Kung Fury
The original short film is amusing, yet even at 30 minutes, the premise was being stretched too thin. To turn this into a feature-length film seems to be pushing it. I suppose there's a novelty here, especially coupled with the strange prospect of Michael Fassbenber starring in the film. But there was a novelty to Fassbender starring and producing in an Assassin's Creed movie too, and we all know how that turned out.
Kung Fury will also be produced by David Katzenberg, Seth Grahame-Smith and Aaron Schmidt, along with Philip Westgren and Conor McCaughan. No word on who might be helming this truly strange adaptation.