Sing 2, Matrix Resurrections Are No Match For Spider-Man At The Box Office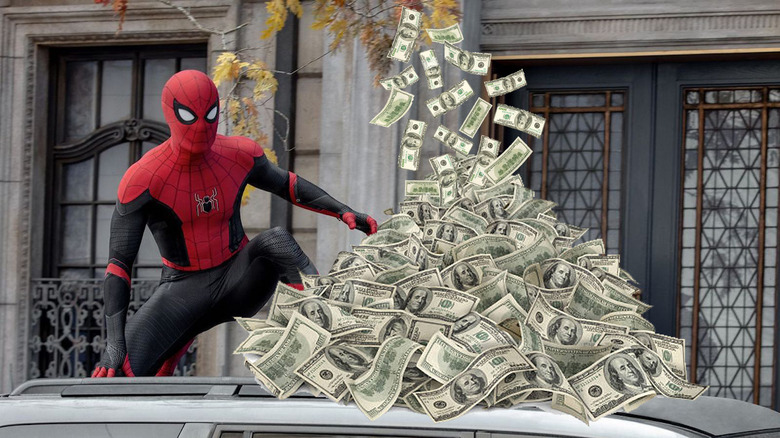 Sony Pictures
Movie theaters enjoyed a long, five-day Christmas weekend with many new releases for moviegoers to choose from, which resulted in a flood of moviegoers making their way to the box office over the holiday frame. Once again, "Spider-Man: No Way Home" crushed the competition, as was expected. But there were some silver linings this weekend, as opposed to last week when everything else drowned in the Marvel Cinematic Universe's wake. "Sing 2," "The Matrix Resurrections," and "The King's Man," among others, opened this weekend in an attempt to give Spidey a run for his money. The results were a bit mixed, but there are some silver linings here. Let's take a closer look at the numbers, shall we?
No Way Home Dominates Again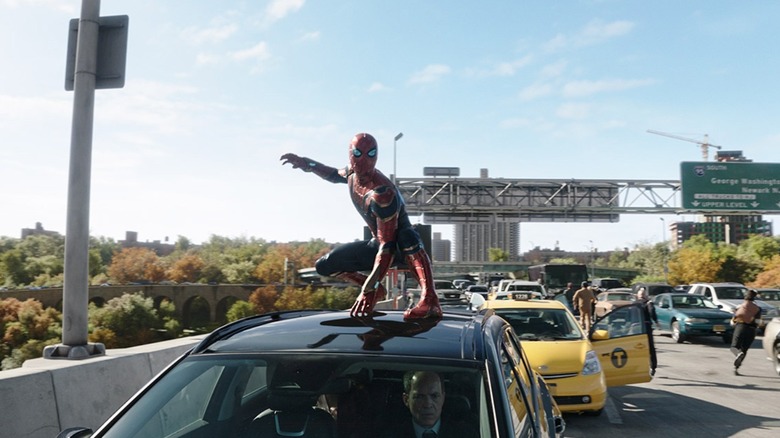 Sony Pictures
Per Box Office Mojo, following its record-breaking opening weekend, "Spider-Man: No Way Home" once again topped the box office (rather handily) in its second frame, taking in $81.5 million. It has now topped $1 billion globally, sitting at $1.05 billion, making it the first movie to hit that mark since 2019's "Star Wars: The Rise of Skywalker." Even though the film, which sees Tom Holland reprising his role as the Marvel hero, dipped 68.7% this week, that's all downright incredible.
It was hard to know if any movie would ever reach such heights financially again in the pandemic era, which has greatly reshaped the moviegoing landscape. Yes, many other non-franchise movies continue to struggle in a big, bad way, which is certainly an issue worth being concerned over. That said, this is good for the movie business and knowing that people will indeed leave the house en masse to go to an actual movie theater offers hope to the industry at large.
Newcomers Offer Mixed Results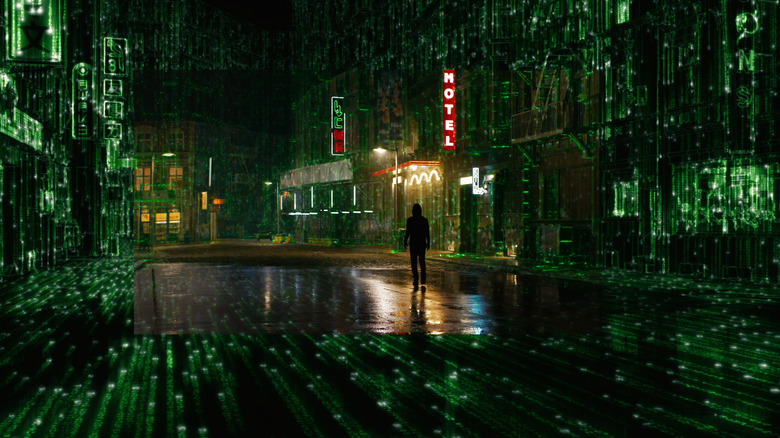 Warner Bros.
A whole bunch of new movies entered the playing field this weekend, but it was Universal's animated sequel "Sing 2" that led the pack of newcomers with a strong $41 million across the five-day weekend, with $23.7 million over the weekend. Yes, that's less than the original but still, given that it sits at $65.8 million worldwide and has a lot of markets left to open in, this could manage to do well in the long run.
In a somewhat disappointing (if not surprising) result, "The Matrix Resurrections" landed in third place with just $12 million domestically over the weekend, and $22.5 million over the five-day stretch. That was well below expectations. The long-awaited sequel in the iconic sci-fi franchise was met with a somewhat mixed response and, to make matters complicated, it was also available on HBO Max free to subscribers in the U.S. That certainly impacted its earnings potential. However, it did earn a strong $47.3 million internationally for a $69.8 million total. Had it not been available to stream in the U.S, who knows? It still likely won't be the hit Warner Bros. was hoping for, but overseas markets could bail this one out.
The big loser for the weekend was Disney/20th Century's "The King's Man," the long-delayed prequel to "The Kingsman" franchise. Director Matthew Vaughns' WWI blockbuster earned just $10 million over the five-day period and $6.3 million over the weekend. While budget figures have not been reported, estimates have it in the $80 million range. It also opened very softly internationally to less than $7 million. So yeah, this is pretty rough. What does this mean for "Kingsman 3?" Tough to say, but it's not good.
To illustrate how rough it is, the faith-based football flick "American Underdog," serving as a biopic telling the story of quarterback Kurt Warner, played by Zachary Levi, earned $6.2 million. It hit theaters on Christmas Day, and thanks to strong word-of-mouth, it nearly beat "The King's Man." And it sure as hell had a smaller budget, making it a possible win for Lionsgate, assuming it can hold in the coming weeks.
The overall good news is that the other nine movies in the top 10 this weekend pulled in a combined $59 million, versus just $21 million last weekend. That means more people were motivated to check out more things and the dollars were spread out a bit more evenly, despite some movies having to take it in the teeth.
Bombs Away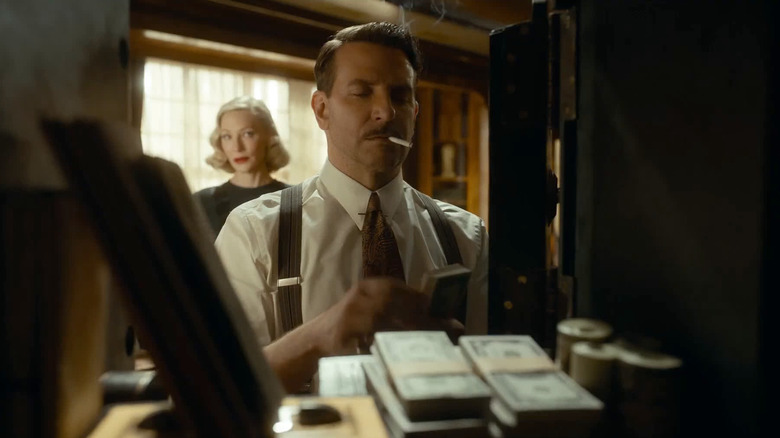 Searchlight Pictures
Guillermo del Toro's well-reviewed Oscar hopeful "Nightmare Alley" continued to suffer in its second weekend, taking in just $1.3 million, falling out of the top 10 entirely. Just absolutely brutal for a follow-up to a Best Picture winner ("The Shape of Water"). Disney should have known better than to release this one on the same weekend as "No Way Home," especially with the following weekend crowded with new releases. In my humble opinion, they did del Toro dirty on this one.
Similarly, Steven Spielberg's "West Side Story," which carries a $100 million budget, is now sitting right alongside Ridley Scott's "The Last Duel" as one of the biggest bombs of the year. It has earned just $36.6 million globally, including $2.8 million domestically this weekend. It is already losing a lot of screens and will surely lose more come next weekend. It's bad and, again, this came from 20th Century Studios, now owned by Disney.
As far as newcomers go, Denzel Washington's "A Journal for Jordan" quietly opened in 2,500 theaters on Christmas Day to just $2.2 million. It's got a $25 million budget to contend with and, while it's far too early to label it as a bomb, it is certainly heading in that direction. We'll have to see if international audiences care about what is very much an intimate American war story.
And the Rest...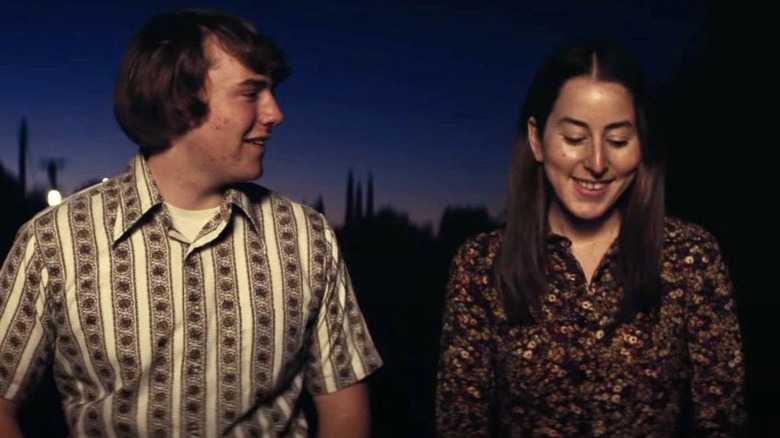 MGM
In positive news, Paul Thomas Anderson's "Licorice Pizza" expanded to 786 theaters and earned $2.3 million. Whether or not it can keep people coming through awards season remains to be seen, but the attempted platform release seems to be working, as buzz is building for the well-reviewed flick. Unfortunately, A24's "Red Rocket," another smaller awards season hopeful met with great reviews, didn't do as well in its expansion. In 377 theaters, it earned just $173 thousand. That's less than $500 per theater, and that is not good.
As expected, Disney's "Encanto" took a dive, falling 69.2% with just $2 million in its fifth weekend as the movie was made available to stream for free to subscribers on Disney+. The movie has earned $193 million worldwide, which certainly isn't bad, especially since Disney seems to be treating this as a streaming play in many regards. Perhaps the movie in the future might be a shorter theatrical release to recover some production costs, then position the film as a streaming offering. The "have your cake and eat it too" of modern Hollywood.
One of the big surprises of the weekend was "'83," an Indian movie about cricket that grossed $1.7 million, good enough to crack the top ten. This movie was hardly on anyone's radar heading into the holiday frame and, given that it made more than "Nightmare Alley," that's kind of impressive. But also a huge bummer in certain respects.
Looking ahead, there are no major releases heading into theaters for the New Year's weekend, and January is typically a pretty dry month, though we have movies like "Scream" and "Morbius" to look forward to in the coming weeks.