Superhero Bits: Eternals Passes A Major Box Office Milestone, Aquaman 2 Synopsis Revealed & More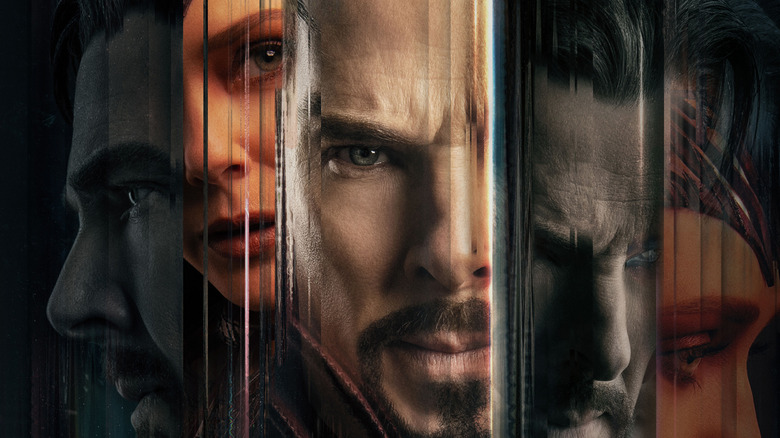 Marvel Studios
(Superhero Bits is a collection of stories, updates, and videos about anything and everything inspired by the comics of Marvel, DC, and more. For comic book movies, TV shows, merchandise, events, and whatever catches our eye, this is the place to find anything that falls through the cracks.)
In this edition of Superhero Bits:
The first poster for "Doctor Strange in the Multiverse of Madness"
"Aquaman and the Lost King" synopsis hints at an evil alliance
"Eternals" crosses a major box office milestone
The "Hawkeye" finale has arrived
Hawkeye Finale Teaser
It's been a big week for MCU fans, and one of the biggest things from the big week is now streaming on Disney+, as the "Hawkeye" finale has arrived. The above teaser offers but a glimpse of what the episode has to offer. I'm including this more as a PSA of sorts, letting fans know they should definitely watch it ASAP, or risk having the internet spoil the fun for them in the near future. But we'll try to keep you as safe as we can if you're behind!
Venom Holiday Gift Guide
Need a last-minute gift for the Venom lover in your life? Marvel has made that easy by putting together a gift guide full of all things related to Venom. This includes some apparel items, suggested reading from Donny Cates' run on the character in the comics, collectibles, and much more. Those who are interested can see the full collection by clicking here.
Jamie Foxx's Electro Getting a Spin-Off Movie?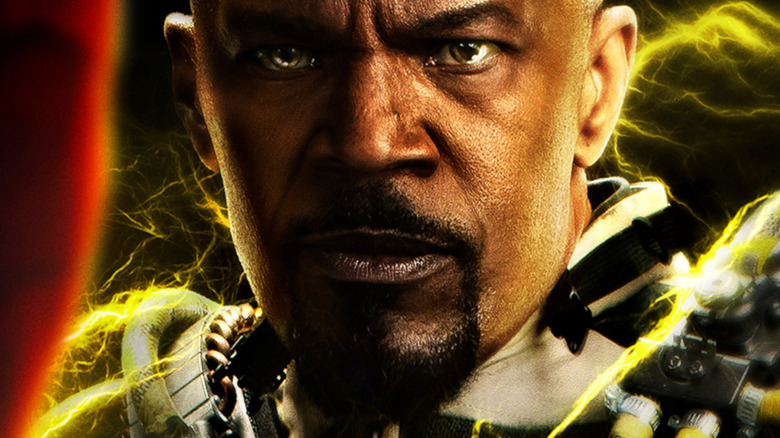 Sony Pictures
What's the time? It's rumor time! As always, rumor is the operative word, but following his return in "Spider-Man: No Way Home," it seems that Jamie Foxx's Electro may be just getting started. 
Murphy's Multiverse reports that Sony is looking to develop a solo movie for Foxx's character, who we first met in "The Amazing Spider-Man 2." The reception to the version we saw in "No Way Home" has been much better, and that could pave the way for more. It certainly would be interesting to see how they could build that character up to sustain a whole movie, at the very least. We'll see what comes of this in the ensuing months, but don't hold your breath.
No Way Home Suits In Marvel Future Fight
To the surprise of no one, Marvel is keeping the "Spider-Man: No Way Home" hype going any way they can. As such, they have added some suits from the movie to the mobile game "Marvel Future Fight." This may be of interest only to current players, or perhaps it might be enough to entice newcomers to try it out. The game is avaialble on either Android or iOS devices.
MCU Phase 2 Comic Book Covers
Given everything that's happened in recent years within the MCU, the relatively humble days of Phase 2 seem a long way off. "Iron Man 2," "Captain America: The Winter Soldier," and "Guardians of the Galaxy" are in the rearview mirror in a big way. But Marvel is honoring those movies with a new series of comic book covers, which you can get a glimpse of in the above tweet, as well as the one below.
Relive the thrills of Phase 2 of the Marvel Cinematic Universe in new variant covers by an all-star lineup of comic book artists. Read more here: https://t.co/6DkDMYz38j (2/2) pic.twitter.com/J9X7QLdgqt

— Marvel Entertainment (@Marvel) December 22, 2021
Full details on the artists and the books themselves, for those who may be interested in getting their hands on them, can be found by clicking here.
Aquaman 2 Synopsis Teases an Unlikely Team-Up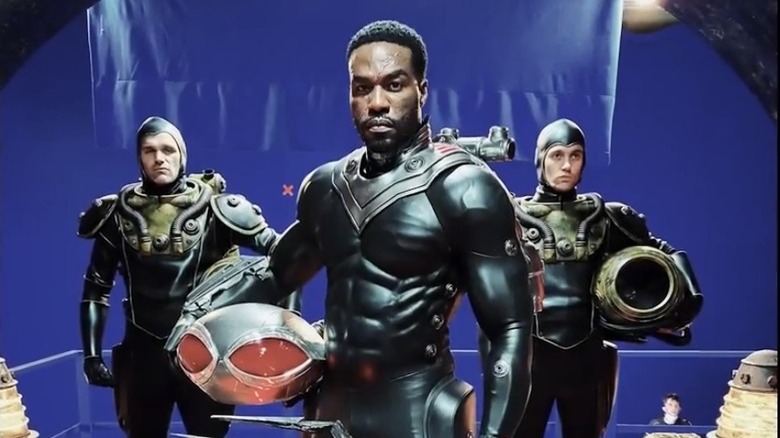 Warner Bros.
As reported by Comic Book Resources, Warner Bros. has revealed a brief synopsis for the upcoming "Aquaman and the Lost Kingdom." Brief though it may be, the logline may come with a bit of a reveal for the movie's plot:
When an ancient power is unleashed, Aquaman must forge an uneasy alliance with an unlikely ally to protect Atlantis, and the world, from irreversible devastation.
While that doesn't spell it out, it appears Jason Momoa's Aquaman is either going to team up with his evil brother Orm (Ocean Master) or Black Manta (Yahya Abdul-Mateen II). We'll find out for ourselves when the movie hits theaters in December 2022. For now, place your bets.
Spider-Man: No Way Home: How the Final Spell Works Video
Those who have seen "Spider-Man: No Way Home" may be left with some questions about the movie, particularly about the ending. Luckily, the folks at ScreenCrush have put together a little video going over some of the finer details of a hugely important moment involving Doctor Strange and a big magic spell. Not to spoil it here, but those that have seen the movie who want to dive deeper on the moment in question would do well to check out the above video.
Eternals Crosses a Huge Box Office Milestone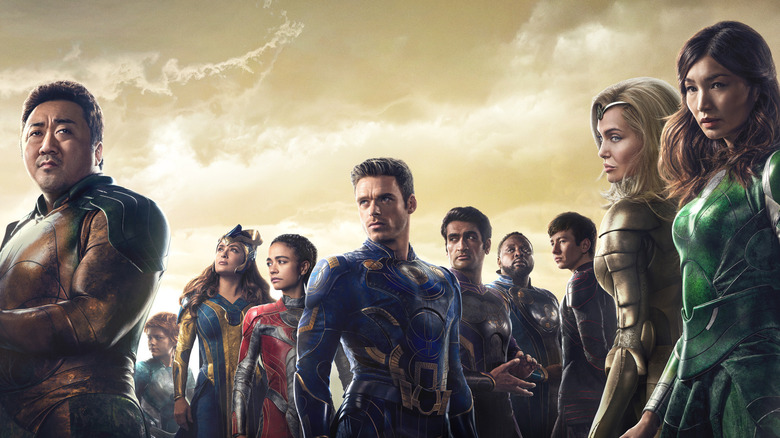 Marvel Studios
With the exception of "Spider-Man: No Way Home," virtually every other movie released over the last year and a half or so has been fighting an uphill battle at the box office, even certain Marvel movies. However, despite being met with mixed reviews critically, director Chloe Zhao's "Eternals" has just crossed the $400 million mark at the global box office, according to Box Office Mojo. This is great news as it almost proves that the MCU is flop-proof. Is this a great result for a movie with a $200 million budget? Not really, but this was always going to be a tougher sell. But this certainly prevents it from becoming a disaster.
Doctor Strange in the Multiverse of Madness Poster
Lastly, today brings us the official poster for "Doctor Strange in the Multiverse of Madness." The image sees multiple versions of both Benedict Cumberbatch's Doctor Strange and Elizabeth Olsen's Wanda Maximoff, AKA Scarlet Witch. It is clearly playing with the multiverse notion, putting it all on front-street. It's certainly a bit more unique than most posters for MCU movies, so we'll take that. As for the trailer? It opens a whole lot of questions and answers very few. We're probably going to have to wait until May 2022 to get a grasp on what director Sam Raimi cooked up for us.