Will There Be A Quiet Place Part 3? Here's What We Know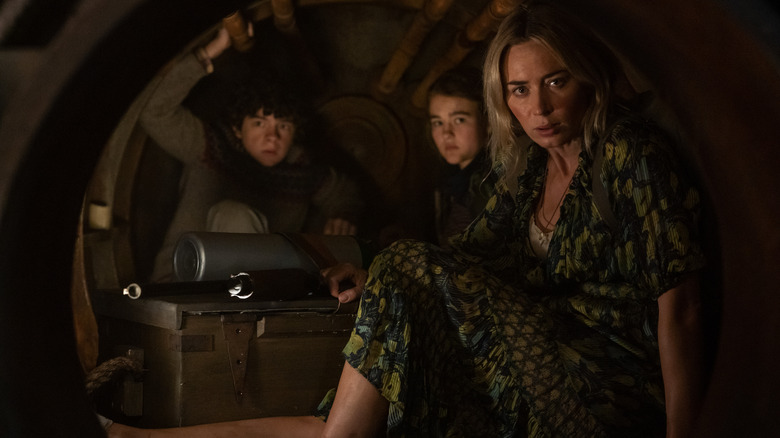 Paramount Pictures
(Welcome to Will There Be a Sequel?, a series where we answer that question and explore what comes next.)
Now more than ever, the ongoing pandemic has forced a reckoning with how box office pundits and movie fans analyze the theatrical market. The release of "Spider-Man: No Way Home" would seem to dictate that designated "event" movies are relatively pandemic-proof, convincing more than enough moviegoers to brave the elements and show up for the giant IP-based blockbuster tentpoles that are deemed to be unmissable. Smaller movies, then, may continue to feel the strain of certain demographics remaining hesitant to flock to theaters on a whim, preferring to wait for their availability on streaming instead. This had increasingly become the case even in the years leading up to the pandemic, however, leaving many to ponder whether it simply hastened the inevitable.
Amid all this doom-and-gloom discussion, the "A Quiet Place" movies stand tall (alongside the likes of, say, Rian Johnson's "Knives Out") as a modestly budgeted, wholly original project in recent years that managed to break through to the mainstream, become a genuine pop culture hit, and justify future sequels. It seemed only a matter of time before this year's release of "A Quiet Place Part II" led to news of the third film becoming officially greenlit, but that hasn't quite been the case. We will be getting a third installment in the franchise, but that increasingly appears to be in the form of a spin-off set in the same world. So what are the prospects of a third "A Quiet Place" film that continues the story of Emily Blunt's Evelyn Abbott and her two children, Regan (Millicent Simmonds) and Marcus (Noah Jupe)? Here's what we know so far about a potential sequel.
Sequel or a Spin-off?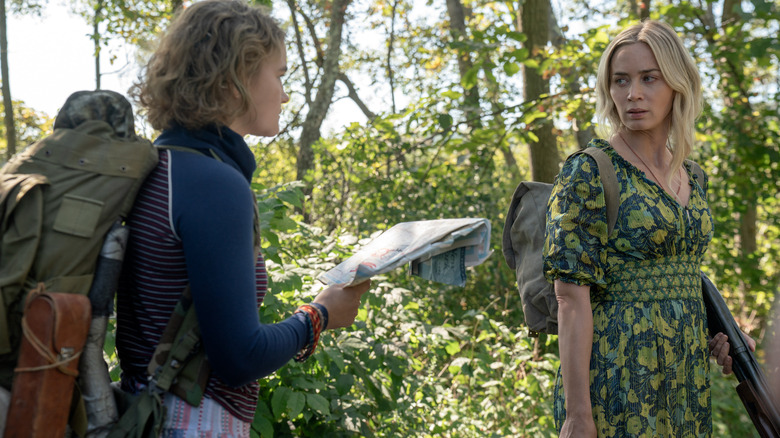 Paramount Pictures
Before "A Quiet Place Part II" finally came to theaters after several pandemic-related postponements, initial reports seemed to indicate that the third film would take the shape of a direct sequel to "Part II." In a stark difference from the first two movies, however, filmmaker Jeff Nichols appeared to be stepping in for John Krasinski, who directed both "A Quiet Place" films while also appearing as family patriarch Lee Abbott. Adding an "A Quiet Place" production to a filmography that already includes the critically acclaimed "Mud," "Take Shelter," "Midnight Special," and "Loving" was seen as a positive, allowing Nichols to flex his sci-fi muscles and tell a deeply human story that just so happens to  fature killer extraterrestrial aliens who can hear a pin drop from miles away. With a great cast already in place — possibly including the addition of Cillian Murphy's Emmett in "Part II" — Nichols could either focus entirely on the returning characters or perhaps branch out to tell new stories in the promising world of these movies ("promising" for storytellers, at least, if not necessarily the hapless wretches stuck on Earth with the unwelcome visitors).
While it seems that Paramount and executive producer John Krasinski  opted to tell new a new story instead, with word coming down that the untitled film would definitively take the form of an "A Quiet Place" spin-off written and directed by Nichols and set for release on March 31, 2023, news broke in October of this year that Nichols had stepped away from the project to focus on his own original sci-fi film. The spin-off is still moving forward, however, with Paramount looking for other names to step in.
In any case, the existence of a spin-off is fully consistent with how Krasinski has pitched this franchise in the past, saying that:
"I had this very small idea, and what it was is that this is a world you can play in, this isn't just a character to remake or a group of characters or a story. It's actually a world, which is a whole different, very unique experience. It's something we feel very lucky to have. It's not like Alien or Jaws where the main villain is the thing you're repeating; it's an actual entire set of rules and the circumstance that the world has undergone that you can play in very different facets."
Ideas for A Quiet Place Part III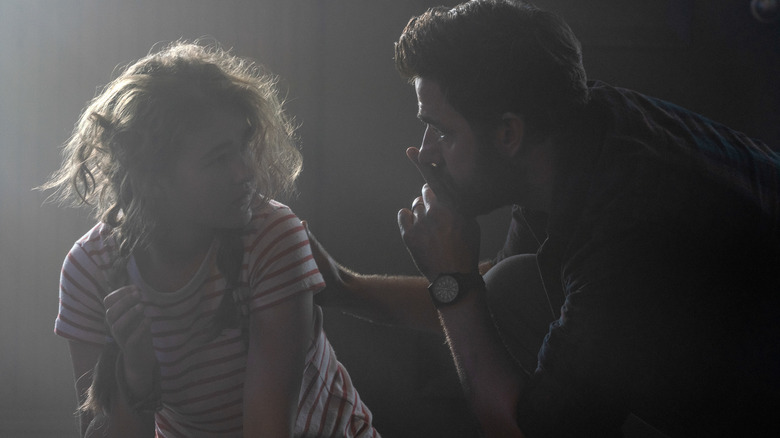 Paramount Pictures
None of this is to say that fans should lose hope for a potential "A Quiet Place Part III," however. Should the spin-off prove to be as successful as the first two films, whether in theaters exclusively or on the Paramount+ streaming service as well, it's easy to imagine a scenario where the third film in the main series is given the official go-ahead. One significant problem concerns the young actors, Millicent Simmonds and Noah Jupe, and their rapid aging the longer it takes a sequel to get off the ground. With the currently-untitled spin-off set for release in 2023 at the earliest, audiences likely wouldn't see a third "A Quiet Place" film for another couple of years after that. It's possible that the script will be adjusted to account for their inevitable aging, of course, setting the story farther into the future when they're both more grown up. The mechanics may prove somewhat tricky, but it's hardly an insurmountable problem.
As for the plot of the hypothetical film, Krasinski has previously spoken about the possibilities of "A Quiet Place Part III."
"It's interesting, I genuinely hadn't thought about a second one when I was doing the first one. However, I really had these questions while I was doing it. I put the fires out in the distance in the first one, and I always thought to myself, 'Wouldn't it be cool if we got to explore where those fires lead to? Who's on the other end of those fires?' But I never thought that there would be a sequel. So then when I actually came around to writing the sequel, I started with the fires. And so this time, I think when my brain started wandering of questions of what would this mean later on, I started to write down notes in case I could prepare myself for a third one."
While this doesn't confirm a "Part III" in and of itself, it does appear as if a threequel — or at least the potential of one — has been baked into the story right from the start. "A Quiet Place Part II" ends on a similarly high-note as the original, with the core family unite barely surviving another attack by the aliens and figuring out a way to better weaponize their weakness against high-pitched frequencies. The cliffhanger leaves all sorts of room for their story to continue in future installments, but unfortunately we still have to wait for official word to come down that the studio will formally move ahead with "A Quiet Place Part III."