'A Quiet Place 2': John Krasinski Confirms His Idea For The Horror Sequel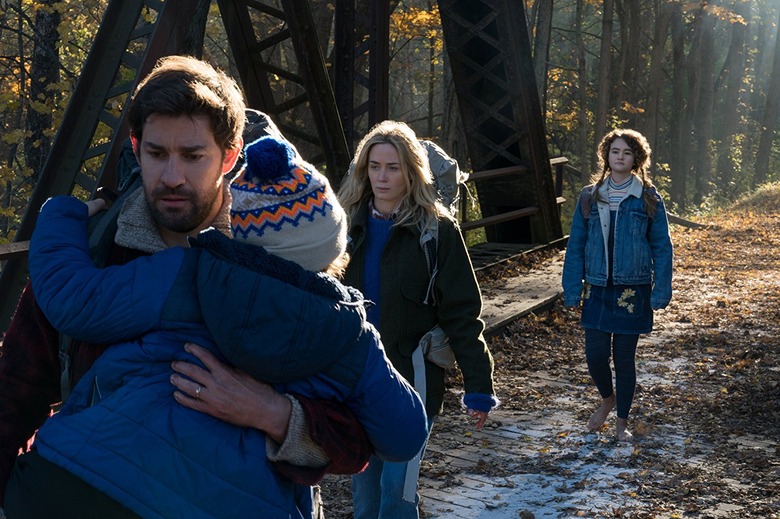 Paramount Pictures began developing a sequel to A Quiet Place quickly after realizing they had a big hit on their hands. Director/co-writer/star John Krasinski won't be back to direct the second movie, but he is back on board as a writer. He's spoken briefly about his A Quiet Place 2 idea in the past, but in a new interview, Krasinski confirmed his approach to the sequel and explained how the movie will be conceptually different from sequels like Aliens and Jaws 2.
Entertainment Weekly sat down with Krasinski and A Quiet Place co-stars Emily Blunt and Millicent Simmonds and managed to squeeze a few worthwhile hints about A Quiet Place 2 from them. There's been speculation online that the sequel could be a prequel, which would allow the entire family to return. (Spoiler alert: one of them doesn't make it out of the original alive.) But it seems like Emily Blunt has put that notion to rest:
"In some ways, the idea of seeing who these people were before this all happened would be interesting, but I'm not quite sure because I think actually it's now what's the next chapter and what happens next. I think people feel very invested in this family.... I think it's such an open book right now, and certainly for John who is lasering into something as we speak."
Krasinski explained his small idea for A Quiet Place 2 that convinced him to officially jump on board as the writer:
"I had this very small idea, and what it was is that this is a world you can play in, this isn't just a character to remake or a group of characters or a story. It's actually a world, which is a whole different, very unique experience. It's something we feel very lucky to have. It's not like Alien or Jaws where the main villain is the thing you're repeating; it's an actual entire set of rules and the circumstance that the world has undergone that you can play in very different facets."
That basically echoes what he's said in the past: he's interested in other people who were surviving in this world at the same time as the Abbott family in the first movie.
"How did those people survive? How did that old man survive? In the extreme these characters are going through, there's no room to think about that. They're there, there's an old man who's about to scream, they just have to deal with that. I think it would be interesting to see what's going on elsewhere at this same time."
And if Krasinski was being literal about those four words, that could turn this sequel into a side-quel, following a whole new group of characters but also potentially allowing the main cast from the first movie to potentially return for a cameo appearance.
Paramount was so pleased with the success of A Quiet Place that they moved the release date for the sequel into a much more competitive summer slot. A Quiet Place 2 is currently scheduled to arrive in theaters on May 15, 2020.