The 15 Best Family Movies Of 2021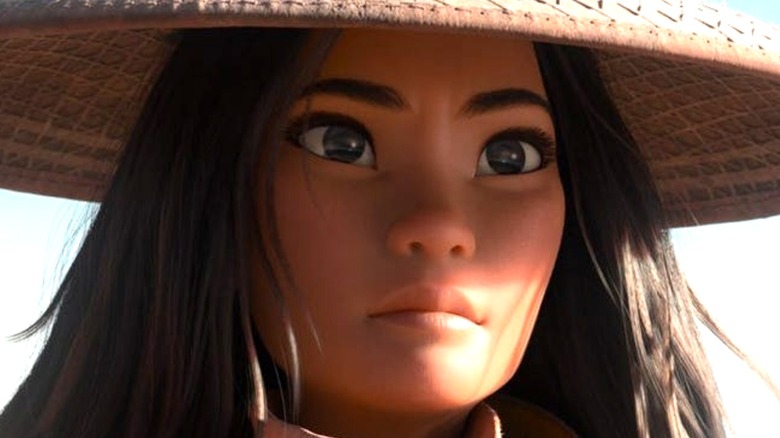 Walt Disney Studios Motion Pictures
2021 had its fair share of great film releases. From sweeping genre epics like "Dune" and "The Green Knight" to the delightfully absurd comedy of "Barb and Star Go to Vista Del Mar," there have been plenty of fun flicks to choose from. But as the weather gets colder, the days grow shorter, and the holiday season begins swirling around us like a blizzard of twinkling lights, it's time to cozy up on the couch with something the whole family can enjoy. It's been a tough couple of years. We all could use a little comfort.
Luckily, 2021 had plenty of fantastic family movies, too. There were spooky Halloween tales packed with kid-friendly scares, grand adventures filled with magic and monsters, and musicals that put a swing in your step and a song in your heart. For those of us spending time with children, or those of us who are simply young at heart, here are the 15 best family movies of 2021.
15. Cruella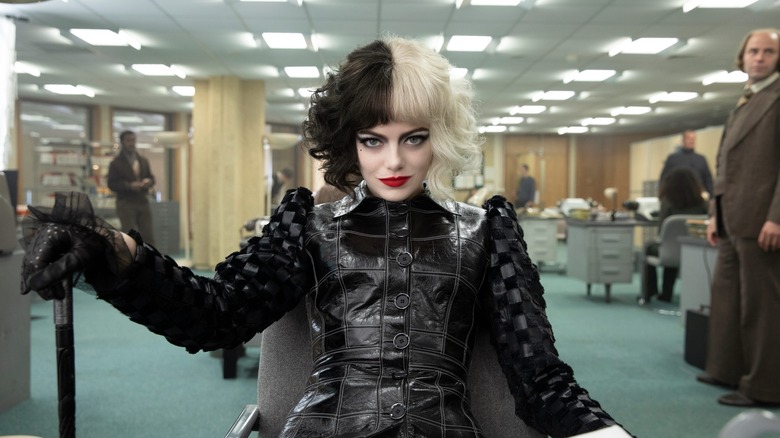 Walt Disney Studios Motion Pictures
Continuing its quest to rehabilitate its most iconic villains by giving them complicated origin stories, Disney follows up "Maleficent" with "Cruella," a film about the fur-obsessed fashionista Cruella de Vil. Once known only as the antagonist of "101 Dalmatians," this movie gives Cruella the chance to tell her side of the tale. 
The film centers on Ella, an aspiring fashion designer driven to desperate measures by a cruel, conniving rival, played by the fabulous Emma Thompson. As Ella develops her craft and works to get revenge, she taps more and more into her glamorous and wicked alter ego, Cruella. Getting an audience to sympathize with a character like Cruella de Vil is no easy task, but Emma Stone is clearly having a blast in the role, and every scene between her and Thompson is magnetic. Add in some heists, gorgeous clothes, and the backdrop of 1970s London, and "Cruella" ends up being a surprising bit of campy fun. And don't worry — no Dalmatians were harmed in the making of this movie.
14. Flora & Ulysses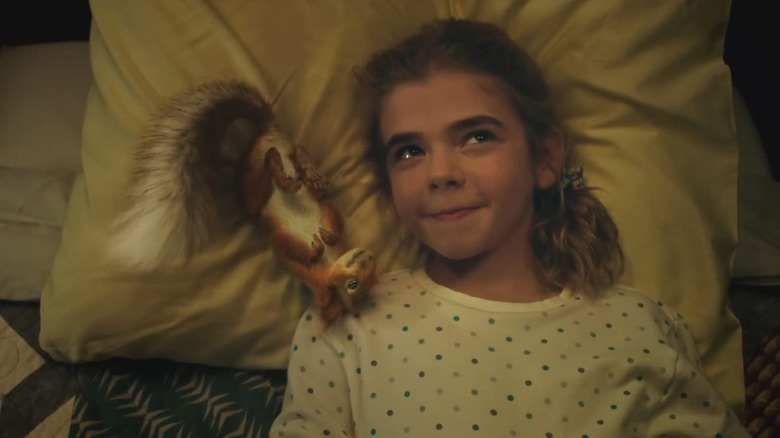 Disney+
A dog might be man's best friend, but a little girl's best friend is an ultra-smart squirrel who has superpowers. "Flora & Ulysses," based on the Kate DiCamillo children's novel of the same name, is about an unlikely friendship between Flora, a cynical 10-year-old comic book enthusiast, and Ulysses, a squirrel she rescues from a vacuum cleaner. Not only can Ulysses communicate by typing on a typewriter, which is already pretty impressive for a pint-size rodent, but he also has superhuman strength and the power of flight. 
Flora's chance encounter with Ulysses begins a journey that helps her find a new perspective on life, reunites her troubled family, and brings joy and whimsy to the world around her. Of course, there are obstacles too, mainly in the form of an animal control officer with a grudge against squirrels, played by Danny Pudi of "Community" and "DuckTales" fame, and a series of wild misunderstandings. With lovable characters, goofy humor, and an optimistic message, this Disney+ feature is a sweet story about finding heroes in the most unlikely places.
13. Finding 'Ohana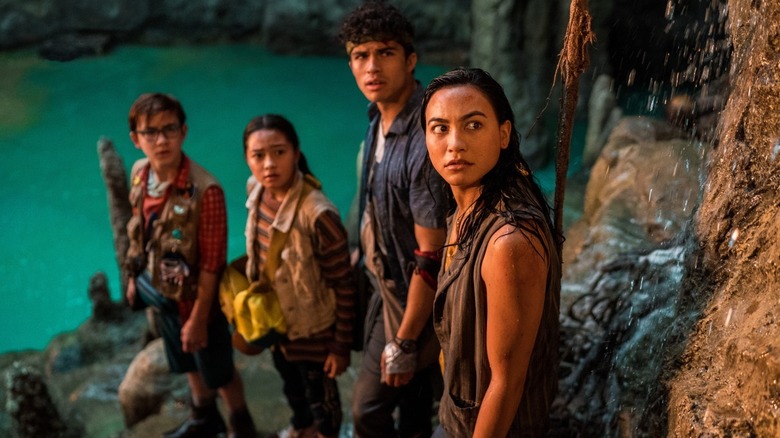 Netflix
When the trailer for Netflix's "Finding 'Ohana" dropped, its band of young and scrappy kids spelunking through caves in search of treasure invited comparisons to the '80s classic "The Goonies," but the film is more than a simple knock-off. The story follows New York City-raised siblings Pili and Ioane as they relocate to Oahu to help their ailing grandfather. There, geocaching enthusiast Pili finds a journal that kickstarts a quest to uncover a long-lost pirate hoard. 
Pili teams up with her brother and two local kids, Hana and Casper, for an adventure that takes them across Hawaii's stunning landscapes and through a series of dangerous challenges. "Finding 'Ohana" makes great use of its location, showcasing Hawaii's natural beauty, which lends a grand, fantastical quality to the group's quest. As the ragtag crew works together and becomes closer, Pili and Ioane also embrace their Hawaiian heritage, developing a new appreciation for the place they came from and what "ohana," or family, truly means.
12. Vivo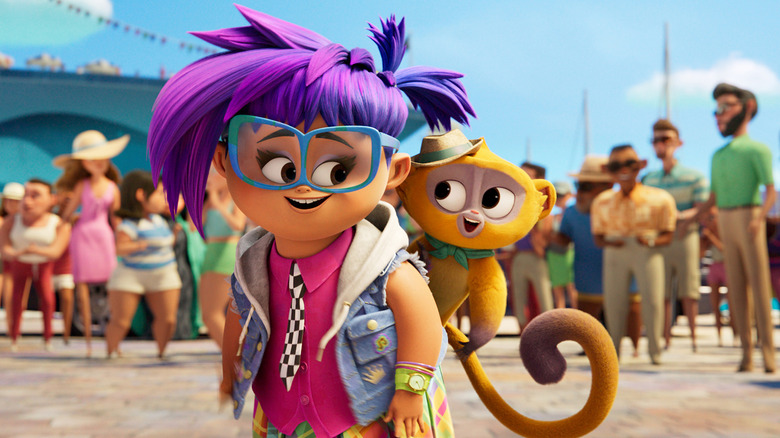 Netflix
2021 has been a big year for movie musicals, from the lows of "Dear Evan Hansen" to the highs of "West Side Story." As such, it should be no surprise that Lin-Manuel Miranda, the mastermind behind "Hamilton" and songwriter for "Moana," is heavily involved in a number of them. In addition to directing "Tick, Tick... BOOM!" and seeing his Broadway hit "In the Heights" brought to the big screen, Lin-Manuel Miranda also contributed the music (and a lead voice performance) to Sony Pictures Animation's "Vivo." 
"Vivo" is the tale of a music-loving kinkajou who leaves his home in Cuba to deliver a song to his former owner's long-lost friend Marta. Vivo stows away on a trip to Florida and teams up with a young girl named Gabi on his quest to make sure Marta finally hears the tune. "Vivo" boasts a star-studded voice cast that includes Zoe Saldana, Juan de Marcos Gonzalez, and beloved Cuban songstress Gloria Estefan. It's a vivid, engaging, and sometimes bittersweet story about love, music, and finding your way back to joy after loss.
11. Muppets Haunted Mansion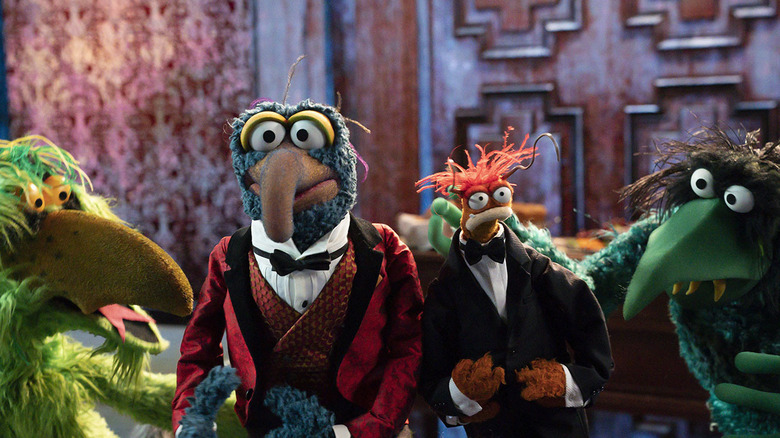 Disney+
"Muppets Haunted Mansion" isn't a feature film, but rather a 50-minute Halloween special made for Disney+. However, it's just too much spooky fun to leave off of this list. Not only is the "Muppets Haunted Mansion" delightful, but it's also a historic event — it's the first-ever Muppets Halloween special!
Instead of participating in the Muppets' yearly Halloween party, Gonzo and Pepe decide to put their courage to the test and spend the night in the haunted mansion where Gonzo's favorite magician disappeared 100 years ago. There, they encounter a series of wacky characters, including a hearse driver (Yvette Nicole Brown), the mansion's caretaker (Darren Criss), and the ghostly Host (Will Arnett). It's not all fun and games, though. Gonzo and Pepe must remain brave and survive the night, or they will be trapped inside of the mansion forever. 
Though the mansion is filled with spooks and ghouls, this special is more silly than scary and is appropriate for all ages. Kids will enjoy the Muppets and the music, and adult Disney fans will get a kick out of the hidden references to "The Muppet Show" and the Disney parks' Haunted Mansion ride.
10. Arlo the Alligator Boy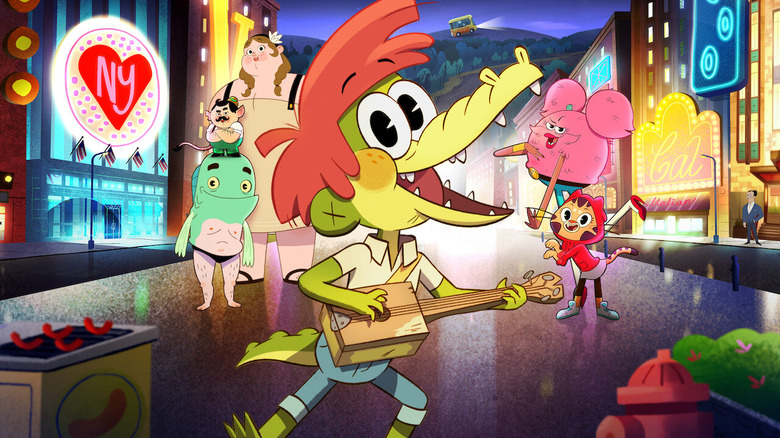 Netflix
2D animated films are few and far between in the age of CGI, but the medium isn't the only thing that sets Netflix's "Arlo the Alligator Boy" apart from the other animated features that came out this year. The film is Ryan Crego's directorial debut, as well as the first acting roles for both of its leads, Michael J. Woodard and Mary Lambert. 
The movie is a heartfelt modern fairytale about a half-human, half-alligator boy named Arlo who leaves his swampy home to seek out his biological father in a new and unfamiliar place: New York City. The story may be similar to other fish-out-of-water tales, but "Arlo the Alligator Boy" sets itself apart with its quirky art style, catchy songs, and a whole lot of folksy charm. If you just can't get enough of Arlo and friends, good news! Netflix is continuing the story of the intrepid alligator boy in the form of an upcoming TV series.
9. Nightbooks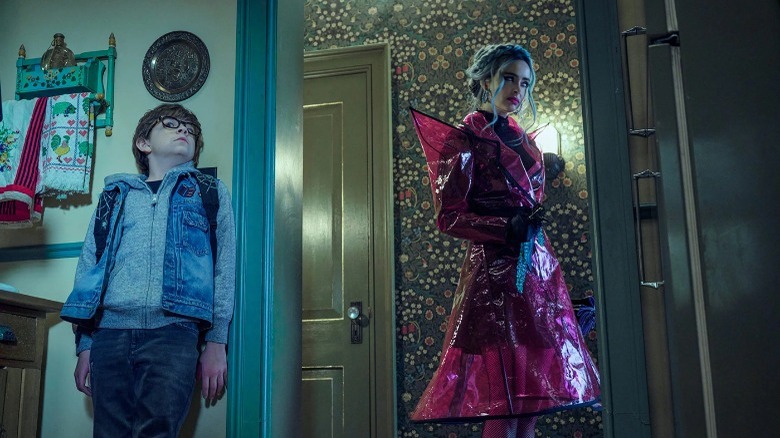 Netflix
Some kids want their Halloween treats to come with more frights and fewer puppets. For these burgeoning horror fans, Netflix's "Nightbooks" might just satisfy their craving for all things creepy. Produced by genre icon and fan-favorite director Sam Raimi, this stylish dark fantasy film is all about scary stories. 
Based on a children's book of the same name, "Nightbooks" follows a young boy named Alex who loves nothing more than writing horror stories. After his disapproving parents convince Alex to stop his creative endeavors, he is captured by a witch named Natacha (Krysten Ritter), who demands that he write her a new story every night if he wants to stay alive. 
Alex bonds with another child in the witch's captivity, a girl named Yazmin, who helps rekindle his love of writing. Together, the two forge a friendship and a plan to escape Natacha's clutches. "Nightbooks" is a love letter to all the kids (and adults) with a penchant for the dark and spooky things in life.
8. Raya and the Last Dragon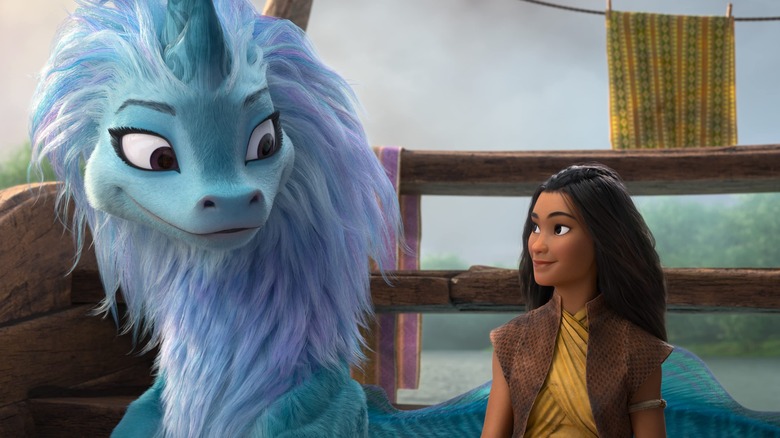 Walt Disney Studios Motion Pictures
Years ago, the beautiful land of Kumandra was attacked by the Druun, evil spirits capable of turning humans and dragons into stone. Though the humans survived, thanks to a dragon who concentrated her magic into a powerful gem, the country fractures into rival tribes. This is the setting for Disney's "Raya and the Last Dragon." 
Kelly Marie Tran stars in this magical adventure about a warrior princess who searches for the legendary last dragon so that she can save her family and her nation. The princess, Raya, hopes that the dragon will create another gem to drive away the returning Druun and finally reunite her people. 
But locating the dragon is only the beginning. Once they meet, the two must travel across the land to repair the broken world. For fans of fairytales and fantasy, "Raya and the Last Dragon" is a refreshing change of pace that puts its own spin on stories of dragons, princesses, and magic.
7. Sing 2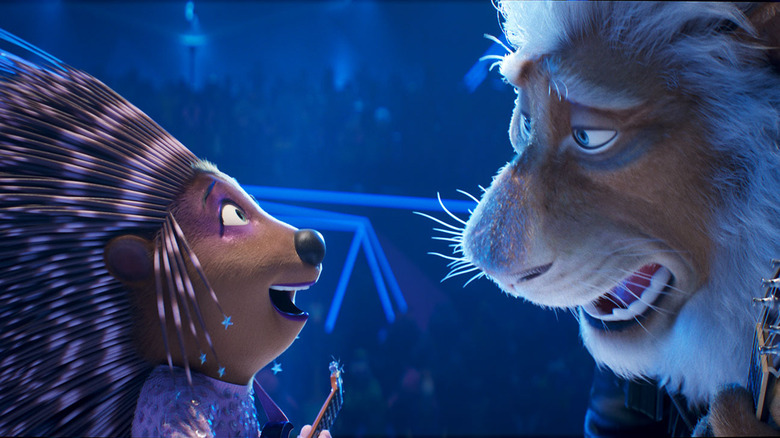 Universal Pictures
2016's "Sing" was a jukebox musical about a group of animals who enter a singing competition thrown by koala named Buster Moon in a last-ditch attempt to save his theater. "Sing 2" brings back the first film's characters, love of music, and merry tone for a continuation of the story. 
"Sing 2" picks up some time after the first film left off, bringing us back into the lives of Buster and the rest of the performing animals. The original band of characters reunites for a quest that'll prove each member's worth as an artist, although they're joined by some new characters, including reclusive rock star Clay Calloway (a lion played by Bono) and a charming ice cream vendor named Alfonso (an elephant voiced by Pharrell Williams).
In terms of story, "Sing 2" is very similar to the first movie. A variety of animals who love the arts come into their own as performers and find love and joy onstage. However, if you enjoyed "Sing" and want more of its characters and unique takes on your favorite songs, "Sing 2" is an endearing and entertaining, if not particularly surprising, film.
6. Luca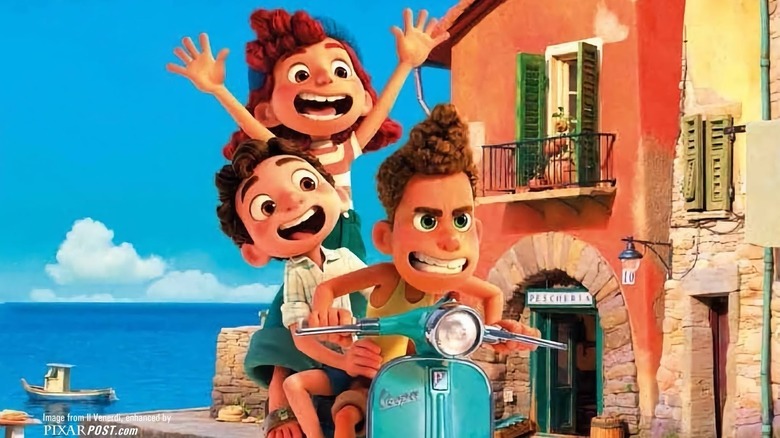 Pixar
Sometimes, a setting tells you everything you need to know about a film. Disney's "Luca" is set along the Italian Riviera, a locale known for its balmy climate, its beaches, colorful painted houses, and absolutely stunning views. So, it makes sense that "Luca" would be a warm, comforting story filled with bright colors and incredible sights. 
The movie centers around the titular character, a young sea monster who assumes a human form when he's on land. He befriends another monster named Alberto, who takes Luca to the town of Portorosso. Despite his disapproving parents, Luca explores the world of humans and bonds with Alberto. The two sign up for a triathlon in hopes of winning enough money to buy a Vespa, teaming up with a local girl named Giulia in order to improve their chances at winning. 
Inspired by a combination of Italian folklore and director Enrico Casaroa's childhood, "Luca" is a story about courage, friendship, and letting the ones you love see you as you truly are.
5. Diary of a Wimpy Kid
Disney+
2021's "Diary of a Wimpy Kid" is not the first time that Jeff Kinney's children's novels have been adapted into a film, but it is the first time Greg Heffley and friends have been brought to life via animation. With computer-generated versions of the doodle-like illustrations that made the original book series so memorable, "Diary of a Wimpy Kid" follows protagonist Greg Heffley as he anxiously attempts to navigate the strange new world of middle school. 
Fearing he will make a fool of himself, and even more afraid that his best friend Rowley will make him appear childish, Greg tries his best to adjust to this new chapter of his life. It doesn't happen easily, and both Greg and Rowley embark on a series of misadventures that test the very fabric of their friendship. Of course, it all works out okay in the end — no matter how wimpy you are or how awkward middle school gets, a strong friendship will always see you through.
4. A Boy Called Christmas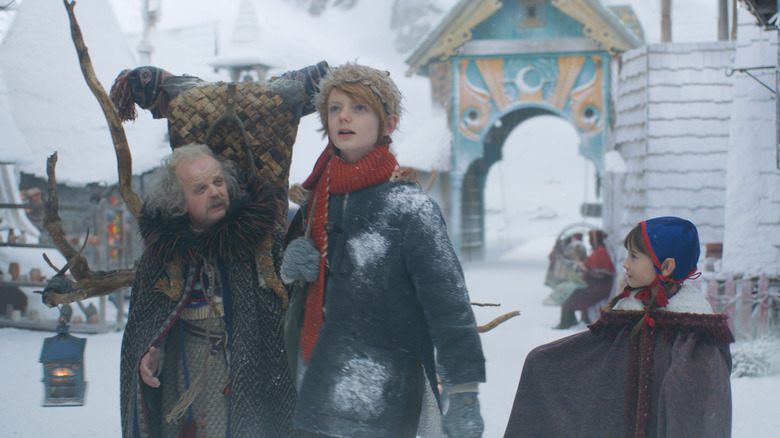 StudioCanal / Sky Cinema
If you're looking for a family film with more Christmas cheer than Halloween frights, then look no further than "A Boy Called Christmas." This British fantasy film is a hidden gem that pairs a festive winter atmosphere with an earnest heart. 
In spite of what the title might lead you to believe, the protagonist of this film is not in fact named Christmas. Instead, the hero is Nikolas, a young boy who goes on a quest into the cold, foreboding north to look for his father, who has been searching for a legendary elf village. Accompanied by a mouse and a reindeer named Blitzen, Nikolas discovers his magical destiny, his secret family history, and true meaning of the season. 
There are already many Christmas movies out there, so it's understandable if you don't want to take a chance on a new one. Still, "A Boy Called Christmas" is worth a watch. It's a cold and snowy holiday story with a warm, kind spirit.
3. Ron's Gone Wrong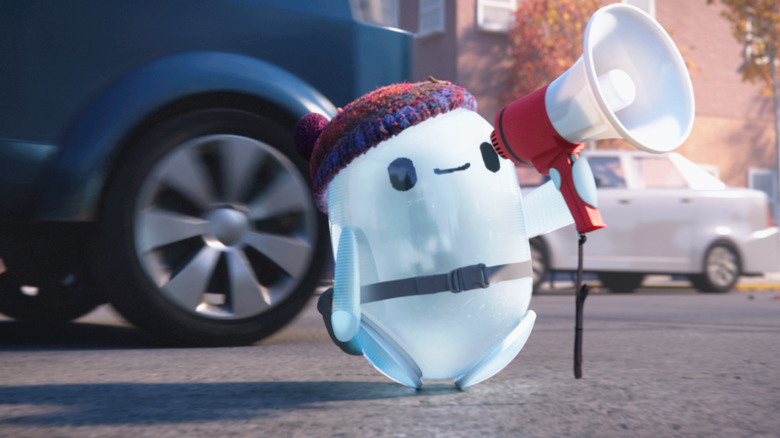 20th Century Studios
Sometimes, you just have to root for the underdog. There is something endearing about a person who almost everyone has written off, but who still keeps trying their very best. That joy is at the heart of the animated science-fiction comedy "Ron's Gone Wrong." 
"Ron's Gone Wrong" is set in a not-so-distant future where a massive tech company called Bubble has launched their newest creation: a friendly robot companion called the B-bot. Our protagonist, Barney, is the only kid in school who does not have a B-bot of his own, and who longs for a mechanical buddy who he can spend time with. Barney's father and grandmother attempt to find him a new B-bot, but are forced to settle for a damaged model that fell out of a delivery truck. Quite simply, this B-bot is not quite right, glitching and malfunctioning at random. 
Still, Barney grows attached to the robot, which he names Ron. As Barney and Ron bond, Barney teaches the robot what it means to be a good friend, and realizes that the bot's flaws are what make it special. With the adorably-animated Ron, a likeable protagonist, and a balance of comedy and heart, "Ron's Gone Wrong" gets a whole lot right.
2. Encanto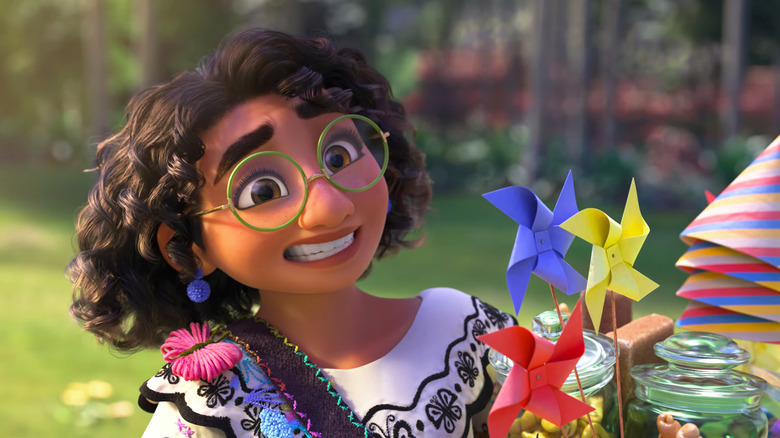 Walt Disney Studios Motion Pictures
"Encanto" is a musical fantasy from Disney about the Madrigal family, who live a life full of magic. Their house, the Casita, is an enchanted being with its own intelligence and ability to protect the family inside. See, thanks to the Casita, all of the members of the Madrigal family each have their own, unique magical talents. Well, all the family members except one: Mirabel, the film's protagonist, is the only Madrigal without a supernatural ability. 
As a result, Mirabel feels inadequate, especially when she compares herself to her super-strong sister, Luisa, or her brother, Antonio, who can talk to animals. But when the Casita begins to crumble without explanation and her family's magic begins to wane, Mirabel must step up and find a way to rebuild her home and save her family. 
The film transports its audience to a colorful, lush world filled with magic and mystery (as well as some great songs) and strong lessons about the bonds between family members, which are easily tested, but remarkably hard to break.
1. The Mitchells vs. the Machines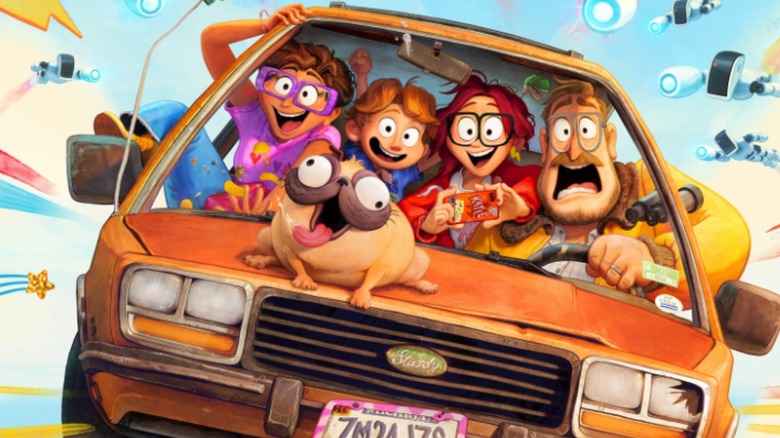 Netflix
Of all the movies that came out in 2021, none were like "The Mitchells vs. the Machines." This animated science-fiction comedy tells the story of a dysfunctional family forced to become unlikely heroes in the face of an apocalyptic robot uprising. 
After a disastrous fight between Katie Mitchell and her father, Rick, the whole Mitchell family piles into the car for a cross-country road trip and one last chance to bond before Katie starts film school in California. The trip is derailed, however, by an angry A.I. that orders robots and internet-enabled appliances to gather up each and every human and launch them all into space. As the world falls apart around them, the Mitchells must work through their own difficult relationships (and battle some killer robots) to save the world.
"The Mitchells vs. the Machines" is as heartwarming as it is laugh-out-loud funny, with voices from a cast of comedic actors at the top of their game and a commitment to big swings that land every time. It is a high-energy film that truly understands how it feels to be different, and how wonderful it is when the people in your life love you not just in spite of those differences, but because of them.