Every Song In Encanto Ranked Worst To Best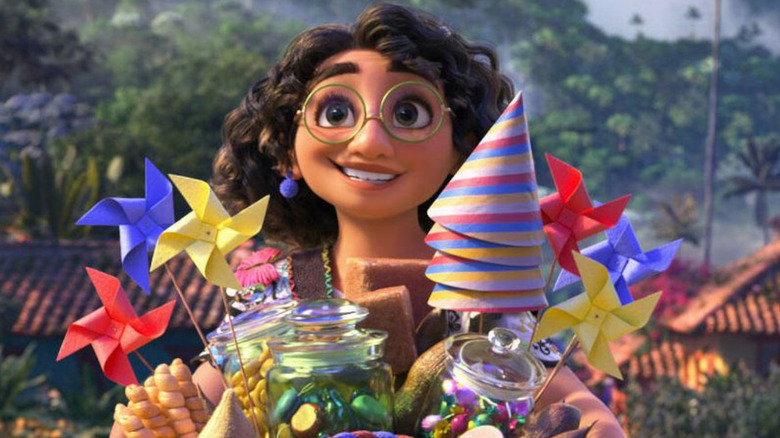 Disney
The Colombia-set "Encanto," directed by Jared Bush and Byron Howard with a screenplay by Bush and Charise Castro Smith, is about a fractured family who do not like to bring attention to their flaws. Familial disagreements are nothing new in animated Disney films, of course, but "Encanto" really focuses on the main character and her crowded family. The only member of her family who doesn't have magical powers, Mirabel is out to discover why the Madrigal clan's ancestral home is beginning to crumble, a mystery that her Abuela would rather sweep under the rug.
And what more compelling way is there to express a burrowed family crisis than through the power of song, as per Disney tradition? With original tunes by Lin-Manuel Miranda, the man behind "Hamilton" and "In the Heights," the "Encanto" soundtrack is a treat for the ears; comparing it to Miranda's other work, including the music he wrote for Disney's "Moana," seems inevitable.
Here, we've ranked each one of the songs in "Encanto," as well as the animated sequences that accompany them, and have evaluated both their magic and their pitfalls. Read on, and see how your favorite song stacks up.
Special mention: Colombia, Mi Encanto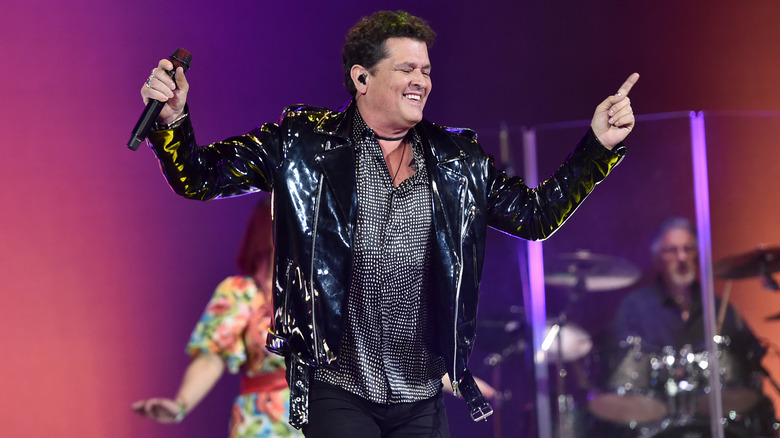 Alberto E. Rodriguez/Getty Images
However you think they compare to the rest of Lin-Manuel Miranda's work, there are no bad songs in "Encanto," and it would be exceedingly unfair to put this one, which isn't tied to the narrative, at the bottom of the ranking. So, we're giving it a special mention instead. "Colombia, Mi Encanto" is a traditional vallenato (a genre of Colombian folk music that literally translates to "born in the valley") penned by Miranda and sung by prolific Colombian artist Carlos Vives. 
Visually, there's not a lot to break down here. This is the end credits song, and it seals the happy ending for the Madrigals — you can imagine them and the townspeople celebrating their heritage to this tune. It's a jubilant song with a catchy rhythm, and made for a nice ear worm in the "Encanto" trailer. When Disney constructs the inevitable "Encanto" attraction at its theme parks, expect to hear the speakers playing it on repeat.
7. Waiting on a Miracle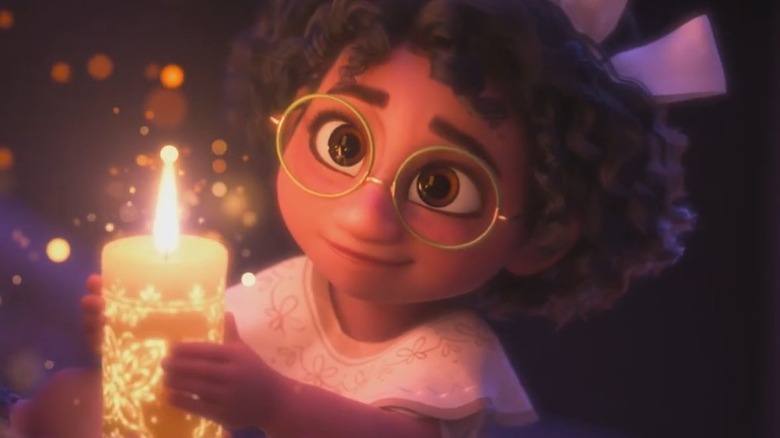 Disney
"I'm not fine," Mirabel repeats to herself. Those anguished verses launch "Waiting on a Miracle," which illuminates Mirabel's sorrow over watching her younger cousin receive his magical "gift," something that she was denied at her own ceremony, which sent waves of shame across the perplexed family. Mirabel wants a miracle to occur, giving her long sought-after powers; however, what she — and her family — will ultimately have to realize is that Mirabel is a miracle herself.
The montage itself contains generous helpings of gorgeous, Disney-style visuals as Mirabel dances around currents of lights and sparking fireworks, dreaming of the possibilities. Symbolizing her status as the family pariah, we see time freeze as Mirabel watches her family, joyous even as she's left behind.
Regrettably, the song itself doesn't have the muscular lyricism and musicality of Miranda's best work, although it carries out its duty just fine. It can't compete against the "I Want" songs in other Disney fare, either. Stephanie Beatriz's performance has heart and wit, but her singing voice seems better suited to up-tempo beats than the sustained ballads sung by traditional Disney heroines — compare "Waiting on a Miracle" to Auliʻi Cravalho's "How Far I'll Go" from "Moana," or Paige O'Hara's "Belle (Reprise)" in "Beauty and the Beast" to see what we mean.
6. The Family Madrigal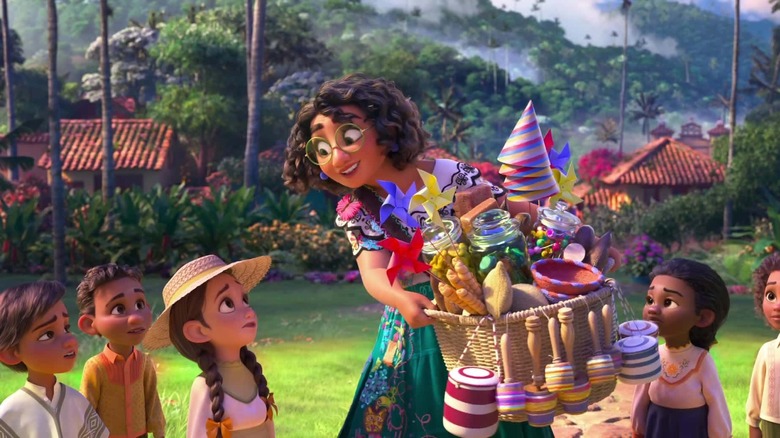 Disney
One thing that sets "Encanto" apart from other Disney films is that the ever-cloistered collectiveness of the family is baked into the tension. As Madrigal house's bricks, doors, and floor tiles rumble to the up-tempo beat of "The Family Madrigals," the song crams the story of three generations into five minutes, all while Mirabel hides her lack of magic.
"The Family Madrigals" tells us all about Mirabel's love for her family and how she perceives them, especially her two elder sisters. Kids will have fun singing and stomping their feet along with "Family Madrigal," but it isn't as lyrically raucous or as full of meaning as the film's other songs. In fact, it's muted in its gravitas, listing the differences among the family members rather than distinguishing them through musical motifs. Mirabel's lyrics about Abuela don't adequately signify their tenuous relationship, which resonates throughout the film, and when she does get a spotlight, Abuela sings about the importance of preserving the candlelight that lets the family's miracles manifest. On paper, it's a mission statement that haunts Mirabel's self-esteem, but the song doesn't really delve any further into Mirabel's psyche.
In addition, the off-hand reference to Bruno is treated like a throwaway gag, failing to suggest the difference between who he is and how the family perceives him. In a film about a fractured family, the lyrics' persistently chipper mood feels oddly incongruous.
5. What Else Can I Do?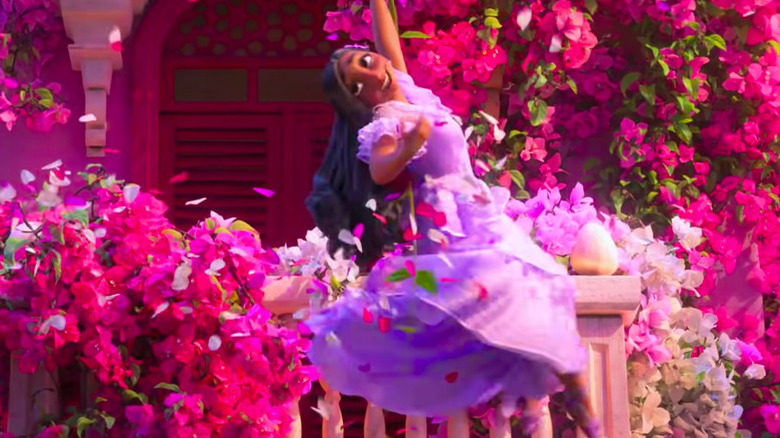 Disney
Isabela's powers create flowers out of thin air, cementing her image as Miss Perfect in Mirabel's eyes. But, after an outburst at a botched engagement party, Isabela discovers that she can also make cactuses, something not considered conventionally beautiful. Sung gracefully by Diane Guerrero, this aria to potential champions the value of the imperfect — or, rather, things that are perfect in their own, unique way. 
As this song proves, Isabela's persona as the perfect sister has cracked. She realizes that faking her smile and following others' expectations are keeping her from reaching her fullest potential. Her facade dissolves, and Isabela lets herself become a little messier and bit pricklier, ultimately growing more comfortable with herself. She also, finally, connects with Mirabel, who urges her to seize her moment as they glide through the proliferation of Isabela's new — and spikier — floral landscapes. 
By the standards of Miranda's work, "What Else Can I Do?" is typical. It isn't a "Let It Go"-style hit, nor is it too memorable of a song. However, it is an anthem to testing your potential and pushing yourself outside of your comfort zone. It's lovely and eminently singable, but it won't sink into your consciousness like "Surface Pressure." Sorry, Isabela. Your sister Luisa upstaged you.
4. All Of You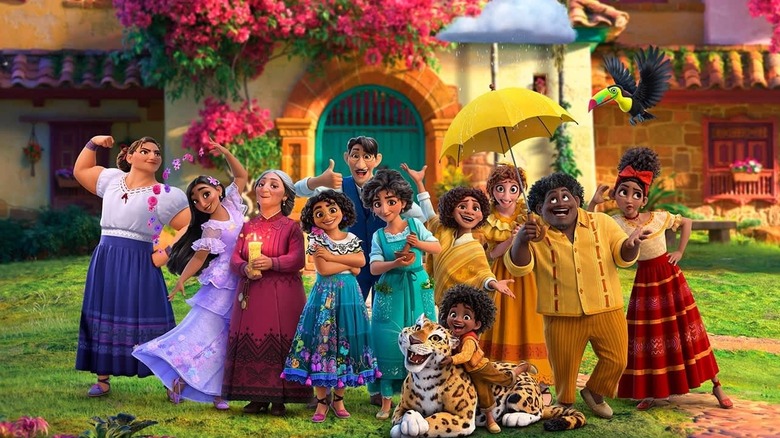 Disney
After Abuela and Mirabel's heart-to-heart, "All of You" is an emotional release for the rest of the Madrigal family. Olga Merediz's singing voice is honey for the ears, especially when Abuela sings, "Sorry I held on too tight." The finale number restores — and reforms — order in the Madrigal household and their town. In that spirit, a reprise of "We Don't Talk About Bruno" becomes a verse about fixing fractures among relatives and reuniting with outcast family members.
The chorus of townspeople who chant "Lay down your load" is heartwarming; they're happy to help the Madrigals, encouraging them to let go of their burdens and let the community repay their kindness and ease their pain. In building these new foundations, the Madrigals end up with a stronger family, a better home, and more space to thrive. Freed from restrictions and expectations, they get to follow their hearts: Isabela doesn't have to marry a man she just met, Dolores is courting the man of her dreams, and Luisa finally gets to rest.
3. Surface Pressure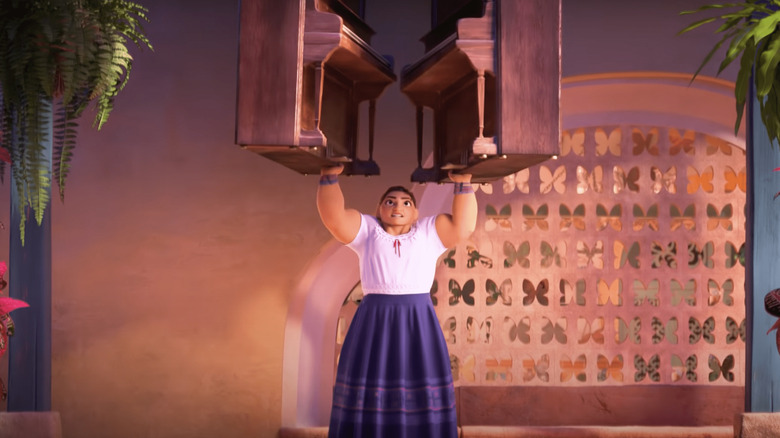 Disney
"Surface Pressure" receives an abrupt musical cue, a sick beat that drops like a boulder during Luisa's confession to Mirabel. On the surface, Luisa is blessed with super strength, making her the rare Disney heroine with a muscular build. In the eyes of her younger sister, this strength will never waver. But what is she actually feeling on the inside? When Mirabel prompts her, Luisa admits that she is cracking, just like the Madrigal house.
Miranda really flexes his wordplay muscles with this song. "Surface Pressure" is a bop of an anthem, and the accompanying animated montage keeps up with Miranda's colorful lyrics. It's a hallucinatory sequence, complete with a three-ring circus, raining donkeys, and Luisa posing as Atlas, dropping the Earth on her shoulders. 
When Luisa pines for rest and relaxation, the music is airy and floaty, until her imagined respite is invaded by the threat of chores and hurried percussion. Like a rushing heartbeat, "Surface Pressure" never gives you a moment to catch your breath, recalling the strained nature of Luisa's overtaxed muscles and mind. Its tempo brings us into Luisa's head, revealing the anxiety, nerves, and backache that come with receiving yet another laborious task.
2. Dos Oruguitas
Disney
When a guilt-stricken Mirabel flees the crumbling Madrigal household, Mirabel and Abuela face the music — and their intergenerational trauma. This non-diegetic song, penned by Miranda and sung by Sebastián Yatra, offers a disquieting flashback that reveals more of Abuela's past: Abuela spent a golden age with her husband before a war forced them to flee, leading to the traumatic moment when she saw her beloved sacrifice himself.
The spirits of the past possess "Dos Oruguitas" through tender guitar strings and Yatra's solemn singing voice, which have the seemingly insurmountable task of reconciling grandmother and granddaughter. As the song says, what will bring the pair back together is "let[ting] the walls come down." Their salvation lies in excavating their feelings: Mirabel must push past her insecurities, while Abuela needs to overcome her secret shame and confront the fissures in her family, rather than ignoring them.
"Dos Oruguitas" powers this tear-jerking scene, putting it on par with the infamous opening montage in "Up" and the "Remember Me" number from "Coco." It also rewards multiple rewatches. The more that it sinks into your consciousness, the more it feels like the fallen singing from beyond the grave. Abuela's impression of her husband's gentle ghost makes it feel like he's lingering close by, as if Abuela is searching for solace in his memory and voice. "Dos Oruguitas" is an elegy that honors what's been lost, even as it emboldens the survivors to find their way forward, carrying on those memories.
1. We Don't Talk About Bruno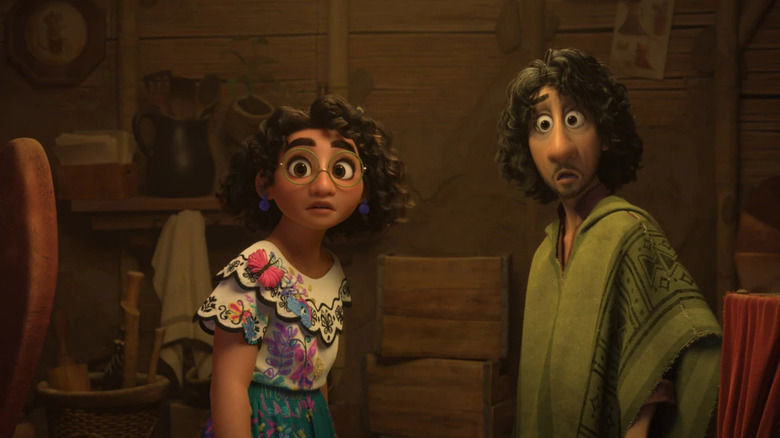 Disney
"We Don't Talk About Bruno" works not just because of its humor, but also because of its nuance. Many families have a relative who is hidden away, stigmatized, or saddled with a "bad rep." The more that Mirabel realizes that Uncle Bruno may be the key to the mystery of the crumbling house, the more curious she is about his history. This prompts her family to tell her what made Bruno, who could tell the future, so frightening.
Allegedly, Bruno's prophecies only brought bad news. But "We Don't Talk About Bruno" immediately calls that accusation into question. Bruno told Mirabel's aunt, whose mood affects the weather, that it would rain on her wedding day. But then she sings, "Bruno says it looks like rain, in doing so he floods my brain," implying that she really brought misfortune on herself. Is Bruno simply trying to tell the members of his family the truth, rather than intentionally steering them towards unpleasant futures? 
Similarly, Mirabel's cousins' recollections of Bruno suggest a villainous figure, but there is no such antagonist in "Encanto." The real villain is the family's insecurities, their shame, and their inability to talk out their troubles. In denying these truths, the Madrigals shut out a loved one who was only trying to help.
"We Don't Talk About Bruno" bursts with the Madrigals' vibrant personalities, from Adassa's speedy whispering as cousin Dolores to the way Rhenzy Feliz relishes telling a story as the over-imaginative cousin Camilo. If "Encanto" is ever adapted into a live musical, "We Don't Talk About Bruno" will be a ball to stage. It's a perfect ensemble piece that illuminates each character, sheds light on the story's overarching themes, and offers an unparalleled amount of insight into the world of "Encanto."