Encanto Trailer: Disney's Next Musical Heads To A Magical South America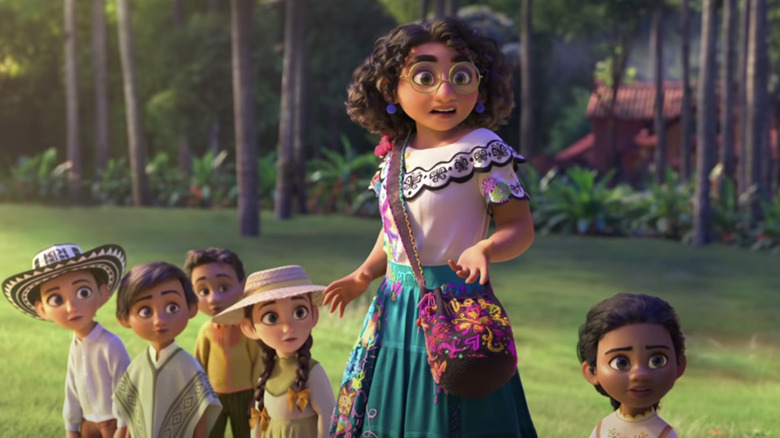 Disney
Walt Disney Animation has another musical coming our way, this one with original songs by Lin-Manuel Miranda no less. I'm talking about "Encanto," a story about a magical family and the one child, Mirabel, who has no powers.
Here's the film's official synopsis, which gives us a more of a taste of what the movie will be about:
The Madrigals are an extraordinary family who live hidden in the mountains of Colombia, in a magical house, in a vibrant town, in a wondrous, charmed place called an Encanto. The magic of the Encanto has blessed every child in the family with a unique gift from super strength to the power to heal—every child except one, Mirabel. But when she discovers that the magic surrounding the Encanto is in danger, Mirabel decides that she, the only ordinary Madrigal, might just be her exceptional family's last hope.
While we got a teaser video for the film in July, we haven't had a full-fledged trailer to get us amped up for the movie's premiere this Thanksgiving season. Check out the full trailer below to see what magical exploits Mirabel gets herself into.
Encanto Trailer
The Madrigals each have impressive magical powers, from shape shifting to super strength. Even their home is magical, with its changing staircase and self-serving tea kettles. Mirabel is clearly the black sheep of the family, however, with her family members trying but ultimately failing to make her feel like less like an outsider since she doesn't have any magical abilities.
The feature will also include original songs like "Colombia, Mi Encanto," which was performed by Grammy winner and Carlos Vives. Vives has already shared his excitement about being part of the project. "I can't wait to see how the music will blend with the images and the characters inspired by the 'encanto' of Colombians," he said in a previous statement.
"Encanto" is directed by "Zootopia" filmmakers Byron Howard and Jared Bush and is co-directed by Charise Castro Smith. The voice cast includes Stephanie Beatriz ("Brooklyn Nine-Nine," "In the Heights") as Mirabel Madrigal, Wilmer Valderrama as Agustín Madrigal, and Diane Guerrero as Isabela Madrigal. Other voice cast members are Mauro Castillo, Angie Cepeda, Jessica Darrow, Rhenzy Feliz and Carolina Gaitan. It was written by Bush, Smith, and Miranda.
"Encanto" is set to premiere in theaters on November 24, 2021, with Disney appearing to forgo a simultaneous release on Disney+ Premier Access.