Black And White Version Of Nightmare Alley Coming To Theaters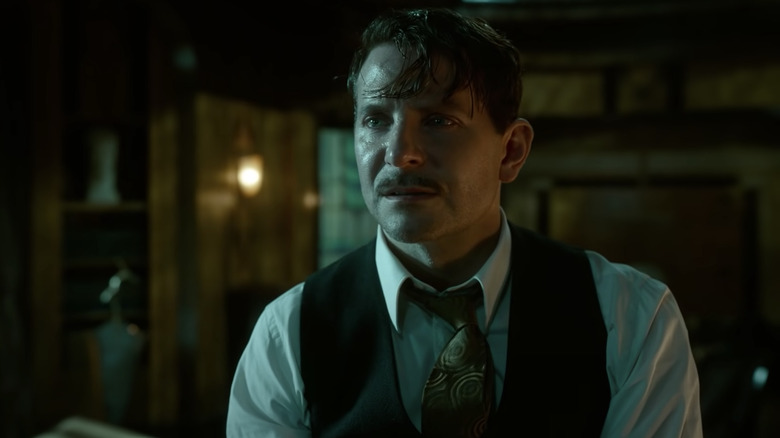 Searchlight Pictures
In the tradition of recent Oscar nominees for Best Picture like "Mad Max: Fury Road" and "Parasite," Guillermo del Toro has put together a black-and-white version of his new film, "Nightmare Alley." Whereas "Fury Road" billed its black-and-white version as the "Black and Chrome Edition," "Nightmare Alley" is calling its desaturated version "Nightmare Alley: Vision in Darkness and Light."
The regular, color version of "Nightmare Alley" moves from the back alley into theaters nationwide this weekend. We reported earlier this month that there was a black-and-white cut of the film gestating, and now Variety confirms that "Nightmare Alley: Vision in Darkness and Light" will "screen in select theaters across Los Angeles in January of 2022."
Even if you don't live in L.A., I'm willing to bet that you'll be able to see "Vision in Darkness and Light" at home eventually. The black-and-white versions of "Parasite" and "Fury Road" are both available as iTunes Extras, for instance.
Quentin Tarantino's New Beverly Cinema is one L.A. venue that will be showing "Vision in Darkness and Light" on January 15 and 16, 2022. At the AMC Grove and The Landmark theaters, it will be showing from January 14 to 20, 2022. It will also have a limited engagement at The Los Feliz Theater, American Cinematheque, from January 21 through 23, 2022.
'The Poetry of Disillusionment and Existentialism'
Since film noir originated as a black-and-white style, drawing from earlier German Expressionist films such as Fritz Lang's "M" (look for an article spotlighting that one in our Daily Stream column soon), it's all too fitting for a neo-noir film like "Nightmare Alley" to get the black-and-white treatment. Del Toro told Variety:
"Although we shot 'Nightmare Alley' in color, we lit it as if it were black and white. You can see exactly the same level of design, and we wanted to give viewers this special vantage as a take of the classic noir genre that the film is part of."
On Twitter this week, another choice del Toro quote from an upcoming interview with Little White Lies editor David Jenkins was also circulating. In it, the director downplays the "Coca-Cola commercials of noir," such as "Venetian blinds and a husky voiceover." He instead describes noir as the "grittiness that comes out of American realism," and "the poetry of disillusionment and existentialism." He also echoes an earlier quote we heard from him where he mentions "the flip side of the American dream."
What can I say? You're speaking my language, Mr. del Toro. Here's the official synopsis of "Nightmare Alley" via Searchlight Pictures:
"In 'Nightmare Alley,' an ambitious carny (Bradley Cooper) with a talent for manipulating people with a few well-chosen words hooks up with a female psychiatrist (Cate Blanchett) who is even more dangerous than he is."
"Nightmare Alley" is in theaters now.