Nightmare Alley Featurette: Guillermo Del Toro Goes Noir With A Starry Cast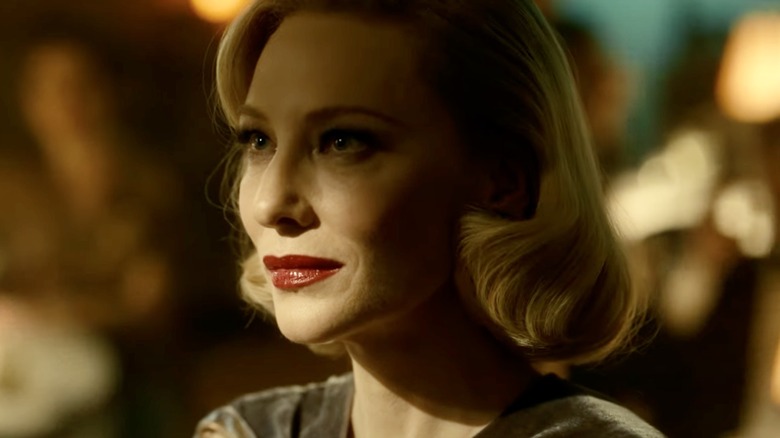 Searchlight Pictures
Step right up and behold one of the unexplained mysteries of the universe: Guillermo del Toro's "Nightmare Alley." The movie's world premiere in New York and L.A. is this week, but the general public will have to wait a little longer to see it. "Nightmare Alley" was originally scheduled for release on December 3, 2021, but it has since been pushed back two weeks. In the meantime, if you wish Noirvember had never ended, you can sit in on the carnival sideshow of a featurette exploring the film's neo-noir vision.
As del Toro himself puts it, "Nightmare Alley is a look and a very specific strand of the underbelly of America. It is the flip side of the American dream." The film stars Bradley Cooper as Stan Carlisle, a mentalist who fools people (or gets them to fool themselves) onstage at a carnival. The source material for "Nightmare Alley" is William Lindsay Gresham's 1946 novel, which, in turn, became a 1947 film adaptation starring Tyrone Power as Carlisle.
In this version, Cate Blanchett plays Dr. Lilith Ritter, a psychiatrist who looks to be the femme fatale of the piece. If you're not averse to hearing actors heap effusive praise on their director, then check out the featurette below, where you can hear Blanchett weigh in on del Toro's update of "Nightmare Alley," along with some of her co-stars, such as Willem Dafoe (cast to perfection as a carnival barker), David Strathairn, Ron Perlman, and Richard Jenkins.
'The Flip Side of the American Dream'
In the featurette, del Toro says his aim is for "Nightmare Alley" to be "the modern equivalent of the movies that people complain they don't do anymore." While he could mean the mid-budget drama, which superhero films and other tentpoles have all but banished from the multiplex, it sounds more like he's talking about 1930s film noir and the cinema of classical Hollywood. Lest we forget, del Toro himself helmed a rare pair of auteur-driven superhero films, centered on the character of Hellboy.
Perlman, who played Hellboy and who plays the carnival strongman in "Nightmare Alley," makes the astute observation that del Toro has an "ability to visually unearth monstrosities." In "Nightmare Alley," del Toro has said there are no supernatural elements, so expect to see a film with human monstrosities this time around, as opposed to the kaiju of "Pacific Rim" or the fish man of "The Shape of Water."
Here's the official synopsis of "Nightmare Alley" via Searchlight Pictures:
"In NIGHTMARE ALLEY, an ambitious carny (Bradley Cooper) with a talent for manipulating people with a few well-chosen words hooks up with a female psychiatrist (Cate Blanchett) who is even more dangerous than he is."
"Nightmare Alley" also stars Toni Collette, Rooney Mara, Tim Blake Nelson, Mary Steenburgen, Holt McCallany, Jim Beaver, and Clifton Collins Jr. The film is bound exclusively for theaters on December 17, 2021.