Daily Podcast: Spider-Man: No Way Home Spoiler Discussion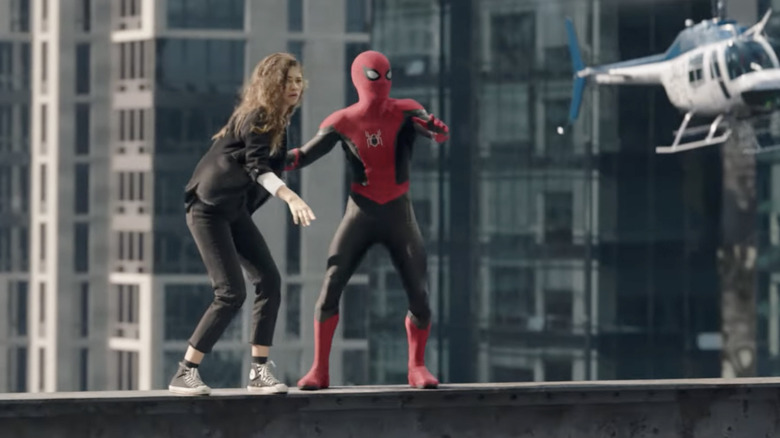 Marvel
On the December 17, 2021 episode of /Film Daily, /Film editorial director Peter Sciretta is joined by /Film editor Brad Oman to have a spoiler discussion about "Spider-Man: No Way Home."
Opening Banter:
In The News:
In The Spoiler Room::
Brief reactions

Thoughts on the last two movies

Thoughts on this film

Spoilers follow...

The lawyer

The villains

Does curing Green Goblin mess up Sam Raimi's Spider-man sequels?

The Spider-Men

Aunt May

Peter Parker's identity

What does this mean for the next movie(s)

NYC apartment, not moving to Boston?

Is Spider-Man no longer part of the avengers?

Venom

Will Tom Hardy's Venom ever come face to face with Tom Holland's Spiderman?

Does this open the door for a new MCU venom?

Is there a plot hole in this credits scene?

Multiverse of Madness

Strange Supreme?

Gargantos – squid creature

Wanda confirmed as bad guy?

Westview

Trailers as end credits
Also mentioned:
All the other stuff you need to know:
You can find more about all the stories we mentioned on today's show at slashfilm.com, and linked inside the show notes.
/Film Daily is published every weekday, bringing you the most exciting news from the world of movies and television as well as deeper dives into the great features from slashfilm.com.

You can subscribe to /Film Daily on Apple Podcasts, Google Podcasts, Overcast, Spotify and all the popular podcast apps (RSS).

Send your feedback, questions, comments and concerns to us at peter@slashfilm.com. Please leave your name and general geographic location in case we mention the e-mail on the air.

Please rate and review the podcast on Apple Podcasts, tell your friends and spread the word!

Thanks to Sam Hume for our logo.