Everything Everywhere All At Once: Release Date, Cast, And More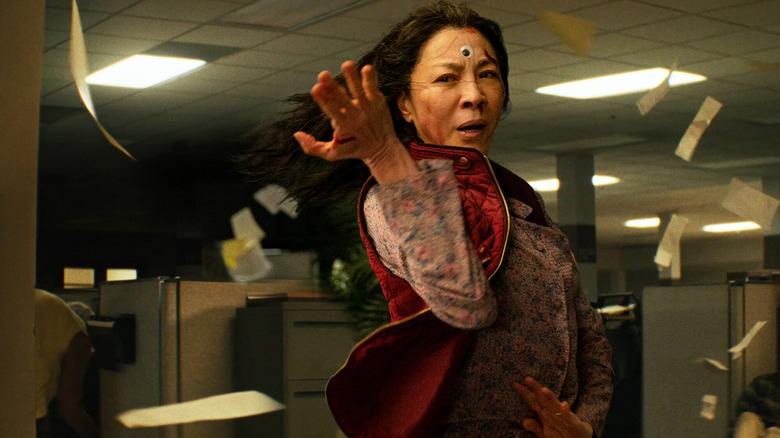 A24
(Welcome to ...And More, our no-frills, zero B.S. guide to when and where you can watch upcoming movies and shows, and everything else you could possibly stand to know.)
Move over Spider-Man, you're not the only one poised to crack open the multiverse! The first extended look at "Everything Everywhere All At Once" recently dropped and it might just be the best trailer of 2021. While it may not have given too much away about the actual plot, the trailer left us with plenty to be excited for, not the least of which is that the movie stars the amazing Michelle Yeoh. From the duo that brought us "Swiss Army Man," "Everything Everywhere All At Once" looks to be another wacky and wonderful ride. Plus, the trailer unfolded with David Bowie's "Time" prominently featured! Aside from the fact that we're all looking forward to it, what do we know about the film thus far?
Everything Everywhere All At Once Release Date and Where To Watch It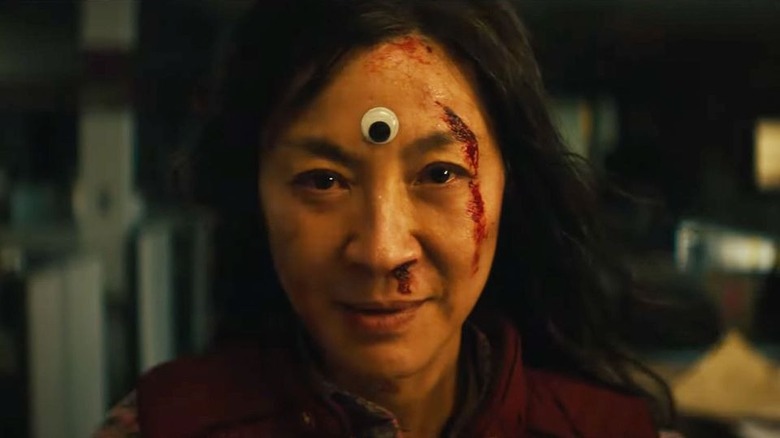 A24
 "Everything Everywhere All At Once" will open the SXSW Film Festival on March 11, 2022, before its proper theatrical release on March 25. While COVID-19 still leaves things somewhat uncertain in terms of who actually feels comfortable leaving their homes to go to the movies, the current plan is for "Everything Everywhere All At Once" to release in theaters. If you want to watch the film from the comfort of your own couch a few months later, it will likely be streaming on Showtime. Variety reported that A24 and Showtime inked a multi-year deal in 2019 that covered theatrical releases through November 1, 2022.
What Is Everything Everywhere All At Once About?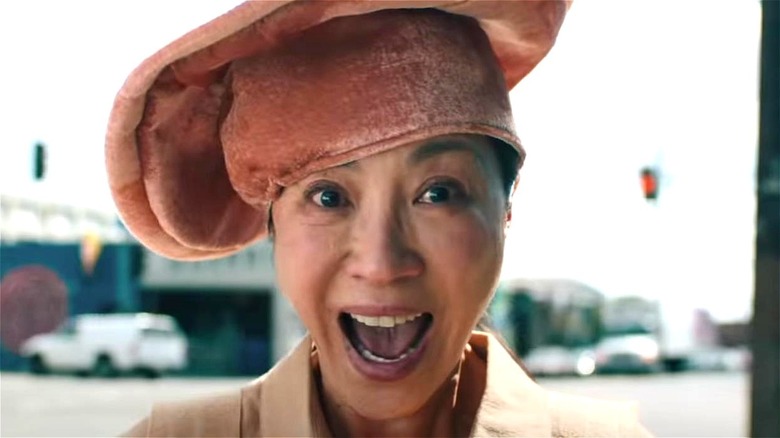 A24
"Everything Everywhere All At Once" is a sci-fi film that follows Michelle Yeoh's Evelyn Wang. Pretty much all we know about Mrs. Wang thus far, is that she's worn out and cannot seem to finish doing her taxes (relatable). Of course, there's way more to the story than that. The crux seems to be that Mrs. Wang learns of the multiverse in which many different versions of herself exist. Not only that, but she can access the memories and skill sets of each of those alternate Evelyns. She may feel exhausted at the thought of finishing her taxes, but now Mrs. Wang is the key to stopping some as-yet-unidentified evil from spreading across the multiverse!
Everything Everywhere All At Once Cast and Crew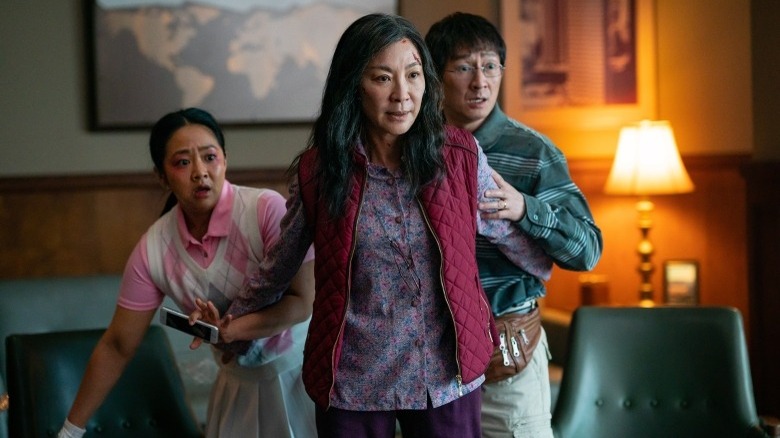 A24
Of course, Michelle Yeoh portrays (the many) Evelyns of "Everything Everywhere All At Once." The actress has an incredible resume, and has starred in films such as "Crouching Tiger, Hidden Dragon" and "Crazy Rich Asians." She recently appeared in the MCU in "Shang-Chi and the Legend of the Ten Rings" as Ying Nan. The film also stars Jamie Lee Curtis, most recently seen reprising her famed role of Laurie Strode in "Halloween Kills." Other cast members include Ke Huy Quan, Jenny Slate, Stephanie Hsu, James Hong, and Harry Shum Jr.
"Everything Everywhere All At Once" is written and directed by the duo known as Daniels (Daniel Kwan and Daniel Scheinert), best known as music video directors before wowing audiences with their inventive feature-length directorial debut "Swiss Army Man" in 2016. Daniels also produced the film with Jonathan Wang, in conjunction with A24, as well as AGBO, Anthony and Joe Russo's production company, with Ley Line Entertainment, IAC and Josh Rudnick executive producing.
I am of the mindset that any movie can be greatly improved upon with more Michelle Yeoh, and "Everything Everywhere All At Once" looks to have many incarnations of her, so I can't wait to see this film.