21st Century Spielberg: Steven Spielberg Finally Made A Musical With West Side Story, And The End Result Was One Of His Best Films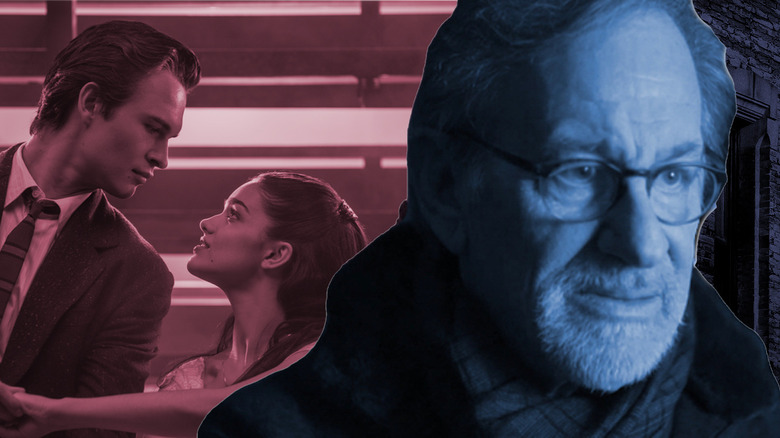 Amblin
(Welcome to 21st Century Spielberg, an ongoing column and podcast that examines the challenging, sometimes misunderstood 21st-century filmography of one of our greatest living filmmakers, Steven Spielberg. In this edition: "West Side Story.")
In 1947, the city of New York declared the community known as San Juan Hill "an area for redevelopment." In that same decade, the New York City Housing Authority designated the neighborhood as a slum, declaring it "the worst slum district of New York City." The residents were primarily African American, African Caribbean, and Puerto Rican. Before World War I, San Juan Hill was home to one of the largest Black communities in New York. But in 1949, Robert Moses, then chairman of the Committee on Slum Clearance, used Title I of the 1949 Housing Act to claim the San Juan Hill land fell under eminent domain. Meaning the city could pretty much do whatever the hell they wanted, and no one could stop them. 
Slum clearance began, and eventually, San Juan Hill would simply cease to exist — bulldozed into rubble and dust to make way for Lincoln Center. At one point, the area had been home to 17,000 residents. The city offered them a chance to relocate to new locations — at higher rent costs they could not afford. In the end, more than 7,000 lower-class families were displaced. The quickly dwindling San Juan Hill neighborhood serves as the stage for Steven Spielberg's "West Side Story," the filmmaker's big, bold, beautiful update of the Broadway musical conceived by Jerome Robbins with music by Leonard Bernstein, lyrics by Stephen Sondheim (who worked with Spielberg and company on this new film before his recent death), and a book by Arthur Laurents, previously adapted into a 1961 film directed by Robert Wise and Jerome Robbins. 
The real San Juan Hill, or what was left of it at the time, was used for some filming locations in the '61 film. But discussion of the slum clearance was unremarked upon. Sixty years later, Spielberg put it front and center. The first few moments of his film have the camera panning across ruin and wreckage. It looks as if a bomb has gone off. Like we're back at the Omaha Beach scene in "Saving Private Ryan." Like we're traveling through some apocalyptic wasteland. Said cinematographer Janusz Kamiński:
"The fire escape structures are an essential part of the story. Steven pretty much had a solid cut of the film shortly after we completed photography. And he called explaining he wanted to do some additional filming to bring broken fire escapes right at the beginning of the title sequence; we're looking at the city as it's changing, with the broken fire escapes; we're craning past them and going into the buildings that are being destroyed by the renovation project. Clearly, the broken fire escapes are the metaphor that hints at broken lives, broken relationships." 
The original "West Side Story" movie is hailed as one of the best movie musicals of all time, and to remake it would surely be folly in anyone else's hands. But Steven Spielberg has been waiting his entire career to make a musical, and the end result has been worth the wait. From the first moments alone, as we travel across the landscape of broken fire escapes and pan up to reveal slum clearance in action, Spielberg's "West Side Story" is signaling that something's coming, something good. And something new. As producer Kristie Macosko Krieger puts it, this new film presents "a more accurate interpretation of this story, designed for our times." Spielberg's film doesn't ignore the original; it complements it. Recontexualizes it. And, yes, in some ways, even improves on it. It's impossible not to get swept up in what Spielberg and company have created here. 
It Was Always West Side Story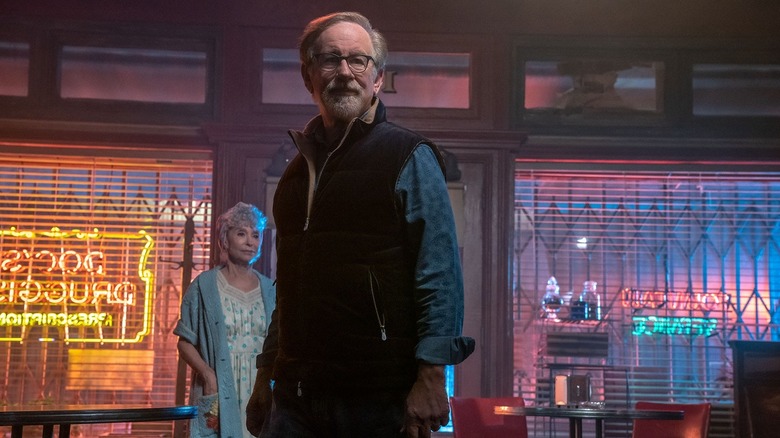 Amblin
Why has it taken so long for Steven Spielberg to make a musical? The pairing of artist and genre seemed inevitable — predestined, even. As Pauline Kael once observed, Spielberg has "movie sense;" he possesses an overwhelming knowledge of film as a medium. He's fluent in the language and grammar of film, and he's so good at it that oftentimes people don't even pick up on his particular style. It's hard to believe, but so many filmmakers seem to forget that film is a visual medium. With a film, you can't just tell us — you need to show us. And Spielberg is a master of that. He seems to have a sixth sense in regards to where he places his camera; where he moves the frame; how he blocks his actors; how he lets his visual information unfold. The pairing of that type of filmmaker with the movie musical was always bound to yield great results.
Spielberg previously only dabbled in the musical genre, like when he staged a huge dance number in his maligned "1941," and opened "Indiana Jones and the Temple of Doom" with a stirring rendition of "Anything Goes," performed in a Shanghai nightclub by future wife Kate Capshaw. The musical opener in "Temple of Doom" was reportedly George Lucas' idea — specifically because he knew his longtime friend Spielberg always wanted to make a musical. Spielberg also toyed with making "Hook" a musical before nixing the idea, but continued to talk about jumping into the genre. And yet, it's taken Spielberg almost his entire career to get here. Why? 
"I've asked that question to myself many, many times, because it was always 'West Side Story' I wanted to do," Spielberg told Empire Magazine. In the book "West Side Story: The Making of the Steven Spielberg Film," by Laurent Bouzereau, the filmmaker elaborated: 
"I'm not sure who [in my family] got the soundtrack album for West Side Story, or if my parents already bought the Broadway cast album before the film was released, but I know I loved it the first time I listened to it ... The score feels like it's always been part of my DNA. I didn't know how, exactly, but it's always seemed inevitable to me that eventually I'd find some way to work on West Side Story ... I've been looking for a musical to adapt and direct for many years and I've considered a number of possibilities [but] I kept coming back to West Side Story ... so I started to get meetings with the rights holders and keepers of the West Side Story flame."
Spielberg said he then "waited while the estates' representatives and Stephen Sondheim discussed what they wanted to do," and "tried to prepare myself to be turned down." It seems unlikely that anyone would say no to Steven Spielberg at this point, and sure enough, he eventually got the go-ahead. Spielberg then turned to frequent collaborator Tony Kusher and asked him to get to work on a script. "When he delivered the script, I knew that Tony's version was the 'West Side Story' I'd waited to direct," Spielberg said. 
Depth and Motivation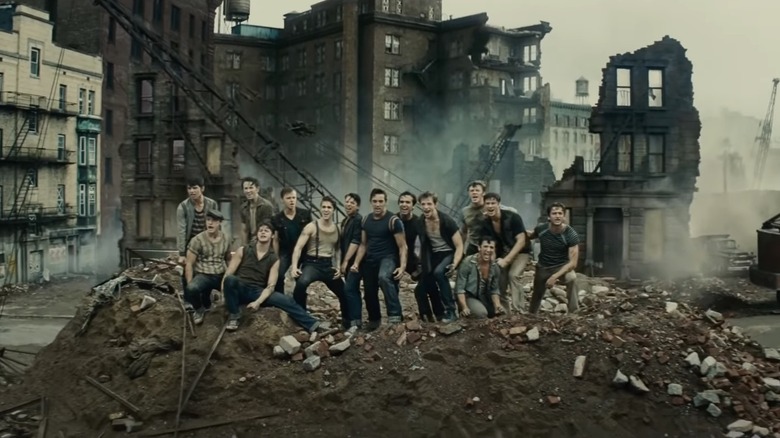 Amblin
While keeping much of Arthur Laurents' book from the Broadway show intact, Tony Kushner's script also expands on things, grounding them in a firmer reality. It feels weird to call a musical "gritty," especially since that word has been thrown around so much by Hollywood that it's practically lost all meaning. But what Kushner and Spielberg have done here feels more genuine; more real, even if everyone is bursting into song. "I wanted to explore the characters much more deeply and to give them reasons for being who they are," Spielberg said. "Tony Kushner has really provided depth, motivation, and stronger interplay among the characters and made them more relatable." 
"After we made 'Lincoln,' [Spielberg] told me that he wanted to make a film of 'West Side Story,' and he asked me to do the screenplay," said Kushner. "I was really intrigued by his interest in taking it on, amazed as I often am by his chutzpah, his appetite for risk." 
The screenwriter continued:  
"I was moved by how many of our current struggles Steven felt could be explored in this sixty-year-old masterpiece – I guess moved and troubled, in a good way, because the racism, the xenophobia, the legacies of colonialism, the effects of poverty, the evils that catalyzed the creation of the musical, are still very much with us. Steven felt the time was right to take a new look at West Side Story, and he's always been remarkably attuned to the zeitgeist. As we talked, we both came to believe that, proceeding from our shared love and respect for this musical, we could find new and exciting things to try, new ways of bringing this story and this score to the screen."
Kushner's script gives the main characters more life — they feel more genuine, more alive than ever before. None of this is to say the original film, an American classic, is some failure that needed to be corrected. But there is indeed a staginess to the 1961 film, and some of the characters feel stiff. Worse, many of them are slathered in brown face — something Spielberg thankfully avoids by casting Latino and Latina actors to play the Puerto Rican characters. "That was a mandate that I put down to Cindy Tolan who cast the movie, that I wasn't going to entertain any auditions [from actors without] parents or grandparents or themselves from Latinx countries," Spielberg said. "Especially Puerto Rico, we looked a lot in Puerto Rico, we have 20 performers in our film from Puerto Rico, or they're Nuyorican."
The filmmaker also brought in historical advisors like Virginia Sanchez Korrol, who had actual memories of the San Juan Hill slum clearance. "Coming home from elementary school one afternoon, I still remember the horrific encounter with enormous rats I found scavenging on top of the stove," Korrol said. "Because tenements around us were being demolished, vermin and roaches fled the bulldozed buildings for housing that was still intact ... I spoke to the cast about how it feels to be a child undergoing urban renewal, which meant your family had to move. And that your neighborhood was being destroyed. And by destroying a neighborhood, you take away leadership. You take away the stores, the pharmacist, the schools, doctors, friends and family."
The fact that the warring gangs at the center of "West Side Story" are both fighting over turf that will soon be gone is just one of the many great additions that Spielberg film has cooked up, adding more depth to the feuding. "The one thing that unites the two gangs, the Jets and the Sharks, is that they share a neighborhood that's being torn down," said Spielberg. "This is a slum story about slum clearance. These kids are fighting for territory that's disappearing before their eyes."
Complicated Backstories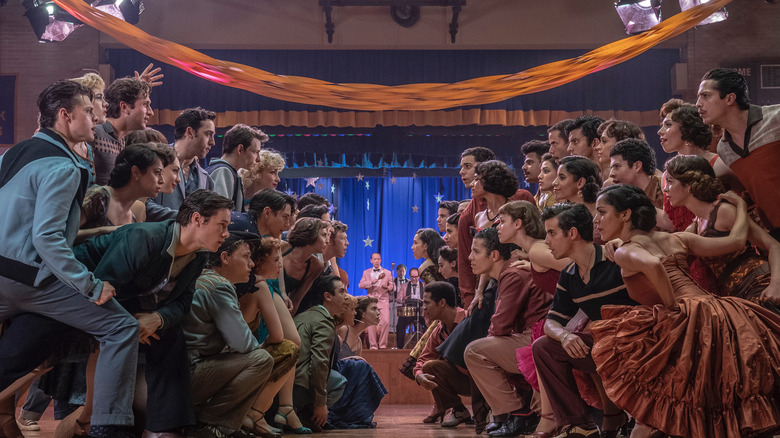 Amblin
At its heart, the story of "West Side Story" is what it's always been — a modern-day riff on "Romeo and Juliet," a tragic tale of star-crossed lovers from different sides of a conflict. It's the 1950s, and the white gang known as the Jets can't stand the sight of "outsiders" — Puerto Ricans and other people of color who have moved into the neighborhood. Spielberg sets this up beautifully, opening with the Jets dancing their way through that crumbling neighborhood. It looks like a ghost town — until it doesn't. All at once, the soundtrack drops out, and the street comes to life with the type of people the Jets consider to be others. There's a cacophony of dialogue in the air, all of it in foreign languages, the sound melting together and clearly sending the Jets into a rage. The Jets aren't just dancing now — they're terrorizing the community, furious that non-whites have set up shop on their turf. It comes to a head when the Jets spot a huge Puerto Rican flag mural and decide to deface it.
And then there are the Sharks. This group of Puerto Ricans differs from the Jets in more ways than skin color. Unlike the Jets, who seem to roam about the streets at all hours of the day and night, the Sharks have jobs. They also feel more like an actual community, living together and just trying to make it, while the Jets seem unconnected to anyone, even each other. The Jets are led by Riff, played wonderfully by lean John Mulaney lookalike Mike Faist. The anger and confusion radiate off this kid; he seems to constantly be furious, annoyed that the Puerto Ricans would try to call this land home (even though, as one Jet points out, they are technically American citizens). He couches his anger in a playful manner that always feels slightly forced; as if he knows he has to dial down his hate so as to not be so blatant about it.
The Sharks are fronted by Bernado (a stellar David Alvarez), a boxer who doesn't really want to fight the Jets — he calls the fighting "stupid" at one point — but knows he has to in order to stand up for himself and his people. Bernardo lives with his naive, cheerful younger sister Maira (wonderful newcomer Rachel Zegler) and girlfriend Anita (Ariana DeBose, who dances away with the entire movie with a passionate performance). 
And then there's Tony, played by Ansel Elgort, who is sadly the least charismatic player in this whole film despite being the default lead character — and some viewers are bound to take issue with the fact that in 2020, after filming on "West Side Story" had wrapped, a woman accused Elgort of sexual misconduct in 2014 when she was 17 and he was 20. Elgort, for his part, denied the allegation, claiming the relationship was both brief and consensual. 
Tony helped create the Jets with Riff. But he's out of the gang life now, and for good reason — he just been released from prison after nearly killing someone in a gang fight. This addition immediately makes this Tony more interesting than the Tony of the '61 film, who seemed far too nice and far too smiley to be a troubled ex-gang member. 
"Arthur Laurents wrote Tony as a good kid from a nice, intact family who's trying to keep his life on the straight and narrow; he's somehow innately different from the members of his former gang," said Tony Kushner, who added:
"I wanted to explore what constituted that difference, what had happened to Tony that made his path diverge from Riff and the Jets. So, I took away his intact family and gave him the same troubled, violent, orphaned childhood as the other Jets; but something has happened to him that's changed him: Seventeen months before the story begins, Tony almost killed a kid from another gang, and he's spent a year in state prison. During this enforced separation from his pals, he's had to face himself and his near brush with committing murder. It's wrought a profound change in him."
This update is one of many examples of Spielberg and Kushner fleshing the characters out and giving them more motivation. Sometimes that motivation doesn't even make it to the screen, but you can sense it there — primarily because Kushner spent hours working on "complicated backstories for the characters" in his head and his notebook. All of this material couldn't fit into the film itself, but the actors would call the screenwriter up to ask about their respective backstories. "I wanted the cast to be aware of relevant histories of the U.S. and Puerto Rico, the immigrants who had settled in the Lincoln Square area, the Puerto Rican diaspora neighborhood of San Juan Hill, the mass evacuation and demolition of the entire area to make way for Lincoln Center," said Kushner. 
In another update to the material, Tony is living with pharmacy owner Valentina, a stand-in for the original character of Doc. Here, Doc is dead, and Valentina is his wife — a Puerto Rican who married a gringo, caught in the middle of this gang war right outside her store. Played by Rita Moreno, who won an Oscar for playing Anita in the 1961 film, Valentina is Tony's only real connection outside of his former gang, and she watches over him warily, worried that he'll fall back into his former lifestyle. She has reason to worry, too, because Riff doesn't want to let Tony go. He still considers him part of the gang, and he wants Tony's help in staging a rumble to end all rumbles with the Sharks. Tony resists but still shows up later at a dance attended by both gangs. This simple act on Tony's part will change the course of all of the characters' lives. 
Respect the Language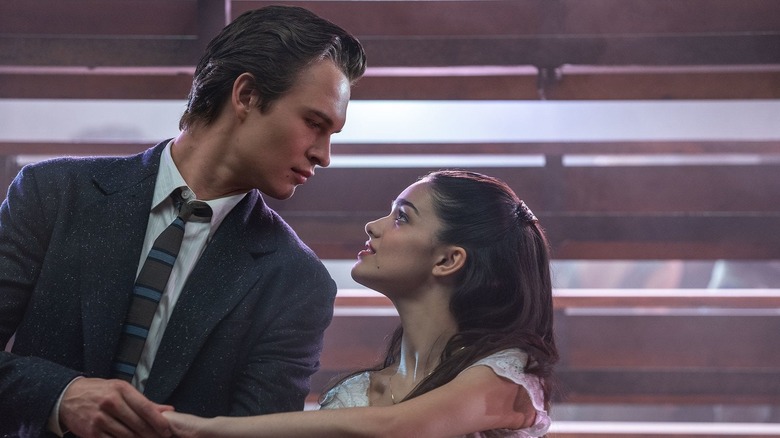 Amblin
At the dance, Tony and Maria lock eyes and it's love at first sight. These two kids fall head over heels with each other, and that's going to be a problem – especially since Bernardo instantly takes a disliking to Tony. The budding romance between Tony and Maria is sweet, and while Elgort is a weak link in the cast, he and Zegler have a nice, believable chemistry with each other. Even better: the script actually carves out a little time to highlight the two characters falling in love. Just like in "Romeo and Juliet," the 1961 film has Tony and Maria's love spring forth almost fully formed. That's not a bad thing – they are, after all, supposed to be young people, and young people can often rush into things without much thought. Still, Kushner and Spielberg are wise enough to have the two actually go on a date, riding the subway uptown to visit the Met Cloisters in Washington Heights. You could even infer Spielberg making a direct reference to another musical from 2021 – "In the Heights," set in the same neighborhood. 
Maria wants Tony to stop the final looming rumble between the Jets and the Sharks. Tony is hesitant at first, defending the Jets, claiming they're not so bad. But he realizes that the fight needs to be stopped – and he tries. He really tries. But in the end, tragedy strikes. Bernardo ends up stabbing Riff, resulting in a heartbreaking moment: Riff, realizing his life is over, quietly asks Tony to pull the knife out of his chest. Tony does, and Riff dies. The entire build up to this is tense as hell – Tony tries to make peace with Bernado, and Riff looks aghast. "You're breaking my heart with this," he tells Tony. But as Tony and Bernardo grow closer and closer to catastrophe, with Bernardo beating up on Tony as Tony doesn't fight back, the camera frequently cuts to Riff, and Mike Faist has a kind of dawning realization spreading across his face each time, realizing why Tony is doing what he's doing, and realizing things have gone too far. The genie is about to be out of the bottle, and he can't be put forced back in. Someone's going to die.  
Bernardo, for his part, thinks he finally has Tony figured out. After learning of Tony's time in prison, and his desire to change, Bernardo assumes that the only reason Tony is attracted to Maria is that he's trying to prove something; that if he gets himself a "brown girl" he'll be showing the world that he's not such a bad guy. Whether or not this is true doesn't matter; Kushner's script is smart enough to present this in a way that makes a kind of sense. Maybe Tony's love isn't as noble as he thinks it is.
In the end, Tony, enraged at the death of Riff, murders Bernardo, the brother of his beloved. Tony will die, too – shot before Maria's eyes by Chino, a friend of Bernado's who has a crush on Maria. And the Jets and the Sharks will have nothing left to do but stand around in the darkness of the night, realizing what they've wrought. Remember: this is a tragedy. 
The racial tensions simmer as Tony and Maria grow closer, and the danger of the rumble grows more and more real. Again: none of this is new, story-wise. But the way the film frames it feels all the more applicable to today. "This is 'Romeo and Juliet,' but it's also a very relevant allegory for what's happening along our borders and for the systems in this country that reject anyone who isn't white," Spielberg said, continuing: 
"That's a big part of our story. The characters say and do things in our West Side Story they didn't say or do onstage or in the 1961 film, and much of that difference came from our determination to explore the story, its historical context, and what the young people of Lincoln Square and San Juan Hill were really like – the Sharks and the Jets. The Puerto Rican community that's involved in West Side Story existed at that time mainly between West Sixty-Fourth and West Seventy-Second Streets. There's a rich and important history of that community which we wanted to incorporate in our version of the musical. In some ways this has resulted in what some might consider to be a more realistic or even darker version of West Side Story."
All of this makes it sound like "West Side Story" is less a film and more a sermon; a chance for Spielberg to lecture to an audience. But Spielberg is a showman, and he knows exactly how to handle this material in a way that never feels preachy. It just feels right. "'West Side Story' is a musical that's of its time and also about its time," the director said. "But as soon as people start singing and dancing instead of talking, we think our audiences will get that this isn't intended as a documentary. That said, we took our responsibility very seriously to show a representation of the Puerto Rican community that Puerto Ricans will recognize and feel good about. We did extensive research, we consulted with Puerto Rican historians like Professor Virginia Sanchez Korrol, we conducted seminars for ourselves and the cast, we had two full-time Puerto Rican dialect coaches on set, working with the cast, and a number of people, including cast members, reviewing all the Spanish dialogue in the script to make sure we got it right. Every single prop, costumes, picket signs, street signs, wall mottos, the exact shade of color for the flag – we wanted to be authentic, and also I have to say everyone involved learned a lot, and that was a joy."
About that Spanish dialogue: Spielberg makes the interesting choice to leave it unsubtitled. There are long stretches of the film where the Puerto Rican characters converse in Spanish with no subtitles — and yet, it never feels inaccessible to non-Spanish-speaking viewers. The rhythm of these scenes coupled with how the actors play them enables those who don't speak the language to still follow the outline of the conversations. Kushner does not speak Spanish, and he actually used Google translate to write the dialogue when he was working on the script. Of course, that didn't result in the most accurate translation, and Kushner then worked with actor and choreographer Julio Monge to get the dialogue right. 
The lack of subtitles enables the Spanish-speaking characters to exist on their own terms. "That was very important and that goes hand-in-hand with my reasoning for not subtitling the Spanish," said Spielberg. "If I subtitled the Spanish I'd simply be doubling down on the English and giving English the power over the Spanish. This was not going to happen in this film, I needed to respect the language enough not to subtitle it."
Anybodys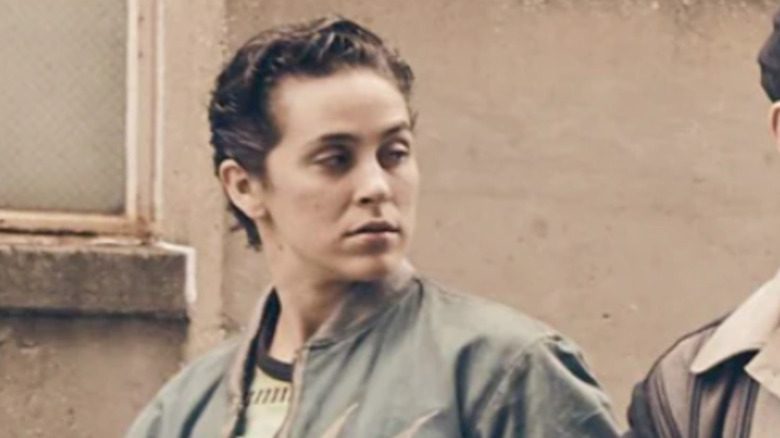 Amblin
One of the bigger changes for this new film involves the character of Anybodys. Traditionally, Anybodys is a tomboy who badly wants to join the Jets even though they want nothing to do with her. For the new film, Spielberg and Kushner have made the character trans, played by nonbinary actor Iris Menas. This doesn't feel like something shoehorned into the material to make it more relevant. Like the other changes, it's a decision that complements and enhances what audiences are already familiar with. 
"We meet Anybodys when he's kind of been disowned from his family and is looking for a home, essentially," Menas said. "He's sleeping on the streets and he's been following the Jets closely ... So we see this lost soul hoping to join this gang of brothers not only to be accepted into a family and seen as a unit but be accepted for who they are as a person and accepted in their own skin." Menas added: 
"It was very cool to hear that the part had grown from this tomboy sidekick character over time. I have always questioned the gender of Anybodys. It felt like, to me, it was a trans character. I'm a nonbinary trans person, so I'm always looking for representation of myself or my community in musical theater, so this role was perfect ... Once I got the part, in creating the look for Anybodys, each department really captured the essence of this person. They would ask me how I felt about certain things, and it was a gift to be able to contribute to the overall approach."
Again, Kushner's extensive backstory notes came in handy. "Tony Kushner generously wrote a character background for each of us, with the whole plot intertwined," Menas said. "It was stunning to read. We witness Anybodys being raised and socialized as a young girl, and many times throughout the story Anybodys self-describes as a boy. They demand that they are seen in their true identity. I learned from Tony's backstory that Anybodys came from a broken home."
This results in a quiet but impactful moment near the climax of the film. After having finally proved their worth to the Jets, one of the gang members pays Anybodys a compliment: "You done good, buddy boy." It's simple enough that you may not even notice it, but the look on Menas' face after hearing those words is genuinely touching, and a perfect illustration of the little character moments that Spielberg can make so special. 
Play it Cool, Boy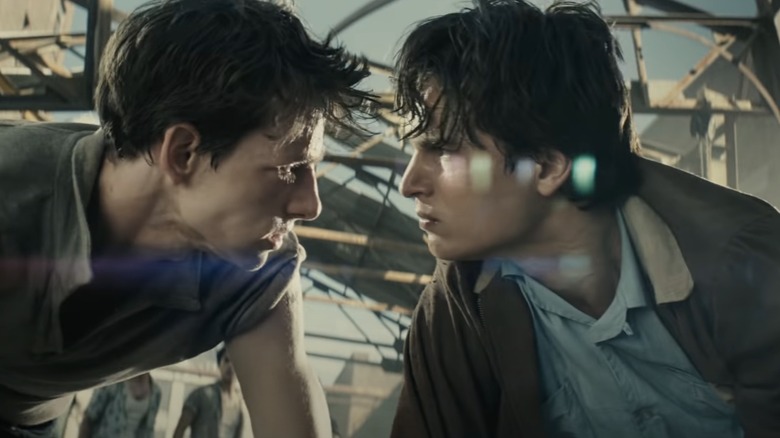 Amblin
But it's not only these updates that make Spielberg's "West Side Story" sing. It's not even the songs. Or the dancing (choreographed by Justin Peck). It's the filmmaking that captures it all. Spielberg remains a master of camera movement and placement. At some point in the last 20 years, the world of the movie musical has become dire. Filmmakers somehow got it in their heads that musicals need to be shot in extreme close-ups, with little to no movement. Or they'll invent some pointless excuse to explain why the characters are signing — the recent "In the Heights" did this by adding a lamebrained storytelling framing device that actually hurt the film. Spielberg, thankfully, knows you don't need an excuse. And he understands that if you're putting on a big spectacle like a musical, you need to show it to the audience, and not keep the camera trained solely on actors' faces. 
"If we talk about this particular movie and the way it differs from the original movie, the first thing to point out is the camera movement," said cinematographer Janusz Kamiński, who has been working with Spielberg since 1993. "When Robert Wise made his movie, at that point in film history, generally, the camera was rather static. In that first screen version of 'West Side Story,' the choreography was beautiful, but it doesn't feel entirely motivated by the camera – or camera moves. We needed to do something different without reinventing the genre. So, we still have people dancing, people singing and performing in very beautiful, colorful costumes. Yet, from the standpoint of cinematography, it has a modern interpretation, and the modern aspect comes from how active the camera becomes."
Spielberg and company rehearsed things for five months before the actual filming began. And when it came time to film, the director planned his shots with the dancing in mind. "I always wanted to block the actors the same way Justin Peck blocked the dancers. I never wanted that sequence to make us forget that we're in a musical," said Spielberg, adding: "Even though they're singing, I wanted even the blocking to feel like it was dance, even though it wasn't being expressed that way in that particular scene."
He also stated: 
"I shoot most of my movies for the cutting room. Meaning I don't just arbitrarily set up a shot that I don't have a place for in the substructure or the superstructure – there's always a place for the shot. And a musical really sharpens that discipline even more. So pretty much everything fell into place, because every single shot had a place in the broad musical narrative. And so nothing really could be taken out of sequence and put somewhere else. In a regular movie, I can steal a shot and put it somewhere else and the audience doesn't know, but in a musical you can't do that."
Right from the get-go, with that slow pan across the fire escapes, "West Side Story" feels electric, as if it has some sort of current running through it. As I've tried to hammer home again and again with this series, Spielberg's 21st-century work is overall great, but "West Side Story" seems to have energized the filmmaker in brand new ways. The staging of the song "Cool" is a perfect example of this. In the stage musical, and in the 1961 film, "Cool" is set after the deadly rumble between the Jets and the Sharks. But in Spielberg's film, it comes earlier. It arrives right after Riff and the Jets buy themselves a gun. Immediately, they take to the streets pretending to shoot each other. It's a moment that underscores how immature (and, yes, stupid) these kids still are — willing to point a real gun at each other in the name of fun. 
In the '61 film, Tony doesn't dance, but Spielberg has the character dancing in "Cool." The '61 film presents the song as the Jets giving each other advice on how to talk to the cops after the rumble. Here, the song and scene are both really about Tony and Riff. "Steve and Tony decided to make 'Cool' about the relationship between Tony and Riff," said Mike Faist. "We get to see the competition between them, the fallout, and their breakup."
The scene has Tony and Riff in what amounts to a kind of dance-off, with Tony trying to get the gun out of Riff's hands as the two friends tussle on a rickety pier riddled with holes that threaten to drop them into the murky river water below. The camera tracks Tony and Riff as they run and jump about, climbing up on the edge of the pier. The back and forth struggle is playful at first, but it eventually gives way to a darker undercurrent, with both characters growing more and more disheveled and disoriented. They're lifelong friends; they think of each other as brothers. But right here, right now, they both realize the distance that has grown between them. Riff seems to finally realize that Tony is no longer really a Jet, and Tony wants to stop Riff from fighting the Sharks because he wants to be with Shark-leader Bernardo's sister Maria. In the end, Riff and the Jets walk away from Tony, with Tony, sweaty and out of sorts after dancing his ass off, shedding a single, silent tear. It's arguably the best and most important scene in the movie. 
"In terms of storytelling, choreography, setting, and style, 'Cool' is one of the most bold and unique numbers in our film (especially when compares to the original)," said Justin Peck. "It is a high-reaching display ... What we created is entirely designed for the film medium, and would not function properly in any other context."
Courage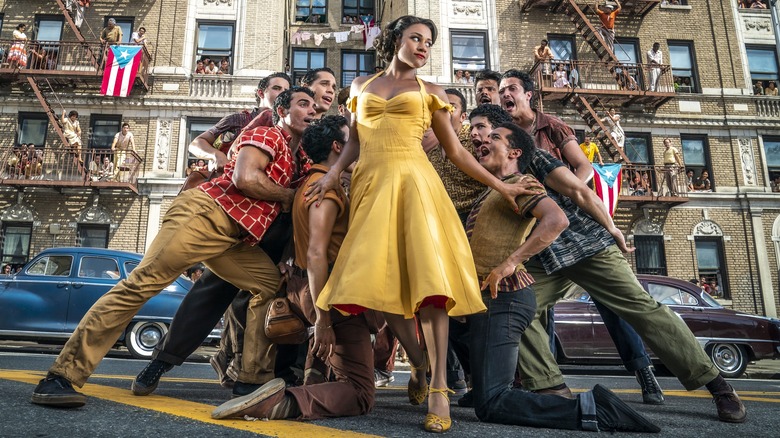 Amblin
Not only is "West Side Story" one of the best movies of 2021, it's one of Spielberg's best — and not just of the 21st century, but of his entire career. And yet, despite rave reviews, the film did not find its audience (it is worth noting that, in a bit of irony, the film had its world premiere at Lincoln Center — the place that was built by taking the wrecking ball to the Jets and Sharks' neighborhood). Is there a chance the box office returns might increase around the Christmas holiday? Perhaps. Another recent musical, "The Greatest Showman," looked like a flop at first, but word of mouth helped it become a major hit. But at this point, any hope for the film at the box office seems unlikely. There are other things to consider, now, too: there's a pandemic still going on, after all. And audiences seem to only want to return to theaters to see the latest digital extravaganza from Marvel. 
There is, of course, a bitter irony in this. Spielberg is often credited with being responsible for the modern blockbuster, and his harshest critics have always held that against him. Now, at this late stage of his career, Spielberg's movies have grown more personal and less blockbustery — and they have to struggle to compete with the modern superhero blockbuster. I try not to harp too much on box office, but I'd be lying if I didn't admit that the underperformance of "West Side Story" stings. Again: I get it. There's a pandemic on, and if you don't feel comfortable returning to theaters, that's understandable. Another argument people have thrown around is that since the film is a remake, it feels pointless. To that I say: if you can purchase a ticket for the eighth Spider-Man movie, you can purchase a ticket for the first "West Side Story" remake. It's also disappointing that Spielberg waited almost his entire career to make a musical, and now that he finally has, audiences have seemingly rejected it. 
But something tells me Spielberg will take all of this in stride. "I think great stories should be told again and again," he said. "I love the original film...I didn't want to make this movie to fix what was never in any sense broken; I wanted to make my version, the same and distinctly different, recognizably 'West Side Story' but also something new." The filmmaker also said: 
"This is one production I never wanted to see end. I have had the greatest time making West Side Story. The last time I had a great time making a movie to this level was ET in 1981, and that movie certainly put in my head fatherhood and all sorts of things I never contemplated. Maybe this movie put in my head musicals and things I always have contemplated but until this time had never really had the courage to do." 
Spielberg's "West Side Story" will survive the test of time. If audiences don't take to it in theaters, I'm sure they'll discover it via Blu-ray or digital (although to not see such a vibrant film on the big screen does feel like a mistake). And Spielberg will survive, too. He already has his next picture on the way — "The Fabelmans," which is bound to be his most personal film yet, as it's directly inspired by his own childhood with his family. 
But I can't help but feel a touch concerned. 
"The Fabelmans" sounds like the type of project for someone arriving at the end of their career. I realize Spielberg just turned 75, and the clock is always ticking. But the thought of the filmmaker hanging it up sooner rather than later is nothing short of a tragedy. I hope for all our sakes, Spielberg continues to work as long as humanly possible. I hope he continues to challenge himself. Hell, I hope he makes a musical again — just one would not be enough. If he can still deliver a borderline masterpiece like "West Side Story" this late in his career, I can only imagine what other great future work he has in him, just waiting to be made.