Raised By Wolves Season 2: Release Date, Cast, And More
HBO
(Welcome to ...And More, our no-frills, zero B.S. guide to when and where you can watch upcoming movies and shows, and everything else you could possibly stand to know.

HBO, Aaron Guzikowski and Ridley Scott's spooky nature or nurture sci-fi series is coming back for season 2, and you know Mother and Father have some insane plot lines cooked up. If you're interested in very spooky (and by spooky I mean uncanny valley-esque without technically being in the uncanny valley; it's a very specific vibe) artificial intelligence fighting humans for dominance, then you've come to the right place. And the weird place. Because I can tell they're only going to up the weird ante in season 2.
Raised By Wolves Season 2 Release Date and Where You Can Watch It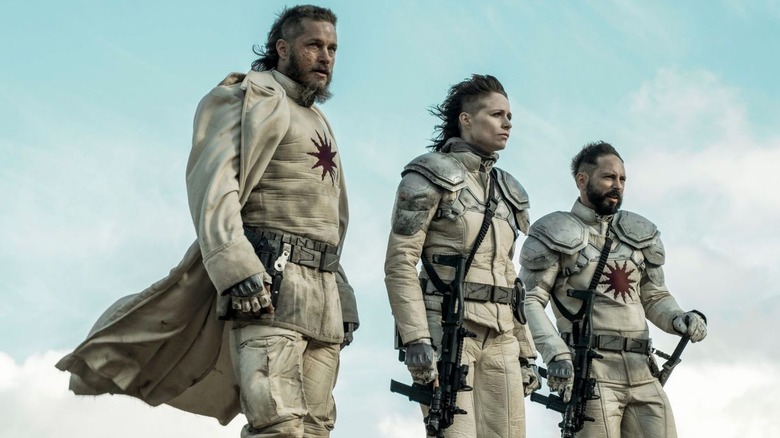 HBO
Since this is HBO's baby, you know exactly where you can find it, on one of the worst streaming apps/websites available, HBO Max! I kid, but also not entirely. HBO has a lot of money and why they're not putting it into creating a good UI experience for their customers is perplexing. Also, it feels like everything takes 100% longer to load on HBO Max. Has anyone else noticed that? Anyway, season 2 of "Raised By Wolves" will hit HBO on February 3, 2022, which is right around the corner. Nothing is more sci-fi than the passage of time.
What is Raised By Wolves Season 2 About?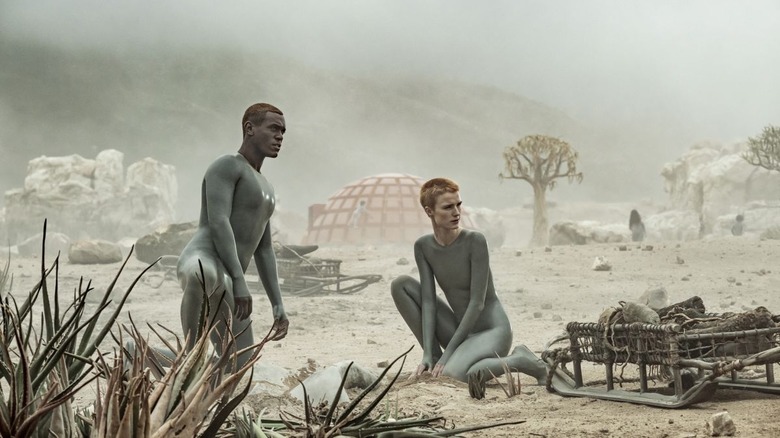 HBO
I was not kidding when I said the second season of "Raised By Wolves" was going to up the ante. While the first season focused on the past troubles of the human race, season 2 looks into how much worse it could get in the future if these androids and their creepy little child cult (I know they're not a cult, but they are very off-putting) don't check themselves. As the official synopsis says:
In season two of "Raised By Wolves", Android partners Mother (Collins) and Father (Salim), along with their brood of six human children, join a newly formed atheistic colony in Kepler 22 b's mysterious tropical zone. But navigating this strange new society is only the start of their troubles as Mother's "natural child" threatens to drive what little remains of the human race to extinction.
You know, just casual stuff.
Raised By Wolves Season 2 Cast, Crew, & More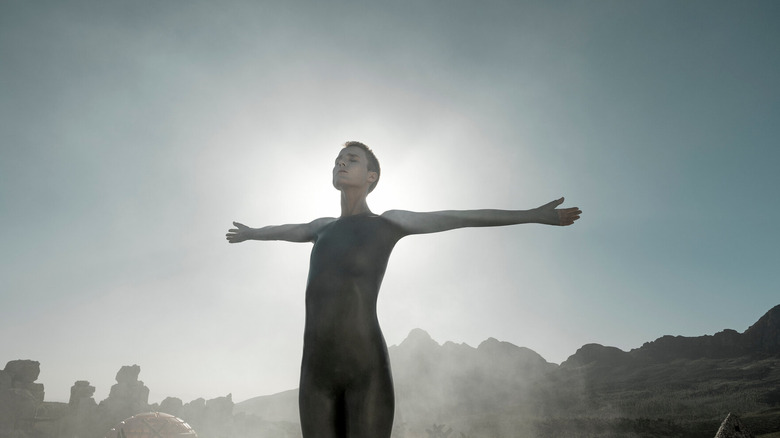 HBO
Based on the synopsis, it sounds like a slate of new characters will be introduced into the "Raised By Wolves" word, but don't worry, all of your favorite characters from the first season are returning too. And by "favorite characters" I mean the captivating, but wildly unnerving, duo that is Mother (Amanda Collin) and Father (Abubakar Salim). Joining them from the first season is Niamh Algar, Travis Fimmel, Jordan Loughran, Felix Jamieson, Ethan Hazzard, Aasiya Shah, Ivy Wong and Matias Varela. On top of that, HBO has confirmed six new cast additions, including Peter Christoffersen ("When the Dust Settles"), James Harkness ("Macbeth"), Kim Engelbrecht ("Eye in the Sky"), Jennifer Saayeng ("Cursed"), Selina Jones and Morgan Santo. Fun new friends! Fun new definitely upsetting friends. 
We don't know if Ridley Scott will be back to direct any episodes, like he did in the first season, but he seems enamored enough with the idea of the series that it's totally possible. The only bet we're comfortable making on the crew side is that creator Aaron Guzikowski will be back to write some of those sweet, weird, off-putting episodes. Sometimes the best science fiction is the science fiction that makes you hope the future never comes.