Superhero Bits: Spider-Man: No Way Home Reviews Arrive, The CW's Naomi Trailer & More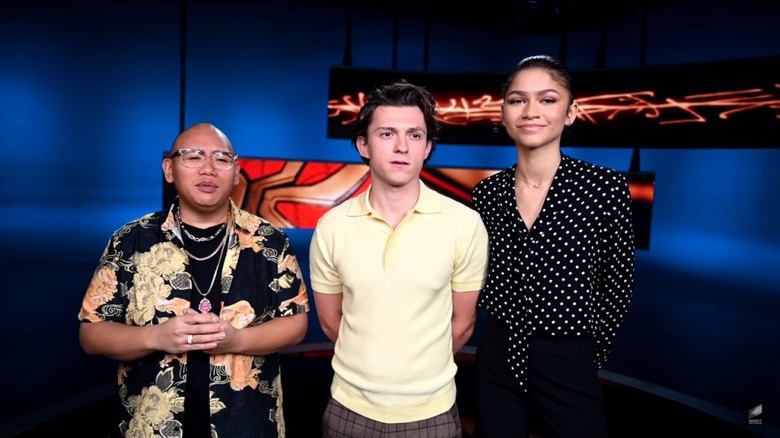 Sony Pictures
(Superhero Bits is a collection of stories, updates, and videos about anything and everything inspired by the comics of Marvel, DC, and more. For comic book movies, TV shows, merchandise, events, and whatever catches our eye, this is the place to find anything that falls through the cracks.)
In this edition of Superhero Bits:
"Spider-Man: No Way Home" reviews arrive (with spoilers!)
The Rock wants Black Adam to fight some MCU heroes.
A "Teenage Mutant Ninja Turtles" comic sold for a boatload of cash.
The CW releases a new trailer for "Naomi."
Fantastic Four: Full Circle Announced By Alex Ross
The legendary Alex Ross, known the world over for his artwork for both Marvel and DC, is making a big step. The comic book icon has announced "Fantastic Four: Full Circle," which represents the first time that he has ever both written and illustrated a full graphic novel. Speaking with Comicbook.com, Ross had this to say about it:
"This is the Fantastic Four story I have been wanting to tell for years, and visually it is one of the greatest artistic experiments I have attempted. I'm excited to share this work with everyone, as it unites the two great publishing forces of Marvel and Abrams ComicArts in a bold new collaboration."
Be on the lookout for the book on shelves in August 2022.
Naomi Season Trailer
The CW has released a new trailer for "Naomi," the upcoming series based on the very recent DC Comics title of the same name. Check it out above.
Get ready, DC fans...Naomi is on her way. From Oscar® nominee/Emmy® winner Ava DuVernay and Jill Blankenship ("Arrow"), and starring Kaci Walfall in the title role, NAOMI follows the journey of a cool, confident, comic book–loving teenager as she pursues her hidden destiny. As Naomi journeys to the heights of the Multiverse in search of answers, what she discovers will challenge everything we believe about our heroes.
"Naomi" set to debut on The CW this January.
Teenage Mutant Ninja Turtles #1 Sells For $250K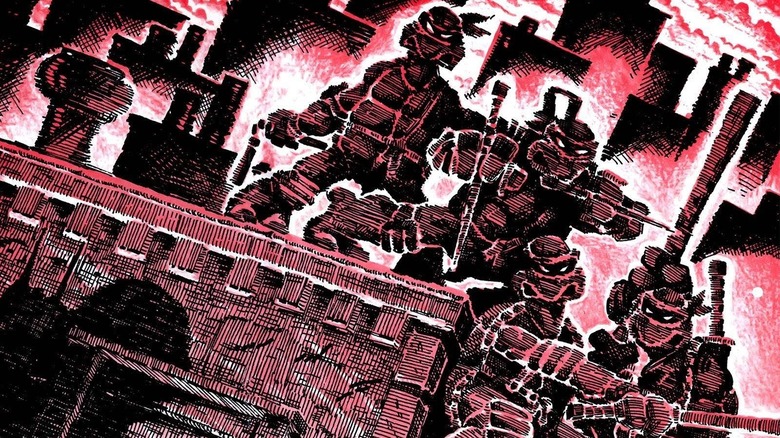 IDW
Outside of Marvel and DC, there are few superhero franchises that have endued the way that "Teenage Mutant Ninja Turtles" has. Somewhat ironically, Kevin Eastman and Peter Laird's creation started as something of a riff on "Daredevil" but eventually evolved into its own thing that is, unto itself, a multimedia empire. But it all started with "Teenage Mutant Ninja Turtles" #1 in 1984. Now, a near-mint condition copy of that book has sold for $250,000 at auction. As reported by Comic Book Resources, the auction site Comics Connect recently sold a 9.8 CGC graded copy of the issue that started it all. It's extremely tough to find in such good condition and is one of the most valuable books of its era.
The Rock Congratulates Shang-Chi's Simu Liu, Challenges Him To a Fight
"Shang-Chi and the Legend of the Ten Rings" was one of the most successful blockbusters of the year and turned Simu Liu into a bonafide star. Dwayne "The Rock" Johnson recently shared the above photo of the two together and congratulated Liu on the accomplishment. He also took the opportunity to set up a Marvel and DC crossover of sorts, suggesting his character from the upcoming "Black Adam" movie should duke it out with Shang-Chi, or any other Marvel heroes who feel up to the task. Is this actually going to happen? Not a chance, but Johnson is clearly feeling confident about his place in the larger landscape of superhero movies.
Spider-Man Sculpture Timelapse
With "Spider-Man: No Way Home" hitting theaters this week, there has been much discussion of the previous incarnations of Spidey. To help scratch that itch, artist Steven Richter has uploaded a mesmerizing video of him doing a sculpture of Tobey Maguire's version of the hero from 2002's "Spider-Man." It's neat to see it come together and it's impressive work. Check it out in the video above.
Spider-Man: No Way Home Debuts With Near-Perfect Rotten Tomatoes Score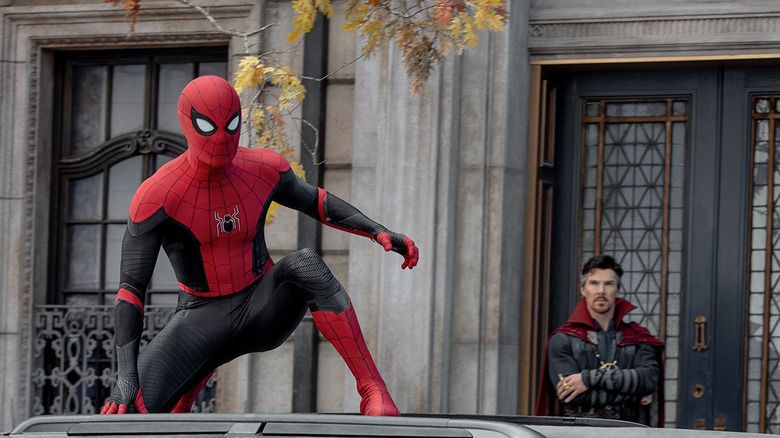 Sony Pictures
Speaking of Spidey, the first reviews for "Spider-Man: No Way Home" have arrived, and the buzz is quite good! While it's early, with 73 reviews counted, the upcoming MCU flick has an extremely solid 97% approval rating on Rotten Tomatoes. That is great news for those who have been eagerly awaiting the grand-scale flick from Jon Watts, with Tom Holland returning as Peter Parker. That said, some of the reviews floating around out there do contain spoilers, so beware as you traverse the internet, dear readers.
Hawkeye Episode 5 Promo
As Marvel fans are surely aware, the second-to-last episode of "Hawkeye" is making its way to Disney+ tomorrow, and it is poised to be a big deal. That big reveal at the end of last week's episode sets the stage for a major showdown, and that much is firmed up in this brief teaser for the latest chapter in the saga of Clint Barton and Kate Bishop. Check out the teaser for yourself and be sure to tune into the episode ASAP, or avoid social media as spoilers are surely going to be easy to come by.
Spider-Man: No Way Home - No Spoilers
Lastly, as we mentioned earlier, even in some critical reviews, spoilers for "Spider-Man: No Way Home" have been getting out there. As such, Tom Holland, Zendaya, and Jacob Batalon have shared the following video with the actors imploring fans to keep the details of the movie to themselves after seeing it, as to not spoil the fun for others. Jamie Foxx, who returns as Electro from "The Amazing Spider-Man 2," also shows up in the video, which allows them to have some fun with the idea of what does and does not qualify as a spoiler. Check it out for yourself.