Is There A Spider-Man: No Way Home Credits Scene? A Spoiler-Free Guide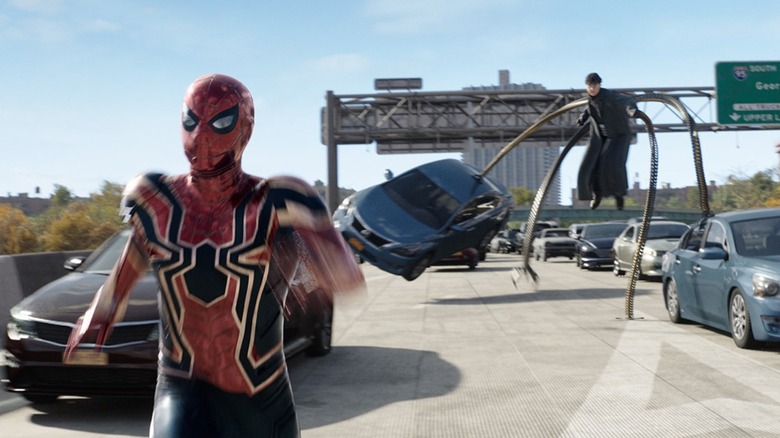 Sony Pictures
The time is upon us, folks. After months of waiting, speculation, and journalists bothering Andrew Garfield, "Spider-Man: No Way Home" is upon us. While we've seen several Marvel Cinematic Universe movies hit theaters since "Avengers: Endgame" in 2019, this feels like the biggest event in the franchise since the undoing of Thanos' deadly snap. But there is a simple question on the minds of many fans flocking to theaters to see the multiversal madness; does the movie have any credits scenes?
Here, we're going to give moviegoers a completely spoiler-free guide with answers to that very question. Seriously, we are not going to spoil anything. We are simply going to give you the information you need to know so you can set some expectations, let you know if you need to sit through the credits, and possibly help you plan a bathroom break. But seriously, I know some people say no spoilers and then kind of give spoilers, there will be none of that here. Just useful information.
Yes, There Is There a Mid-Credits Scene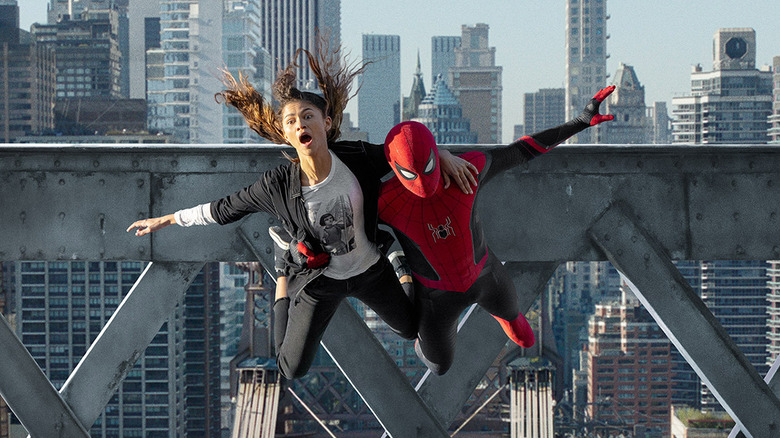 Just to get this out of the way, yes, fans can expect a mid-credits scene attached to "Spider-Man: No Way Home." Again, no spoilers, but just to set some expectations: this is not a cute little thing like the shawarma scene at the end of "The Avengers" or one of the other fun but not essential credits scenes in the history of the MCU. Rather, this one will set the stage for some big things to come in the future. We won't go any further than that here, but just know this is not the time to get up and leave your seat. Stick around for this credits scene. Then, perhaps, if you need to get up and use the bathroom, do so quickly, but then rush back because we're not done just yet.
What About a Post-Credits Scene?
Sony Pictures
So, what about a post-credits scene? What we can say is that no additional scene was attached to press screenings from yesterday. However, there is something else entirely that will undoubtedly appeal to Marvel fans. Again, no spoilers (we promise!), but this is worth sticking around for, even if it's not exactly what you might be expecting. So, in short, it is probably worth sticking it out for the duration of the credits and, if need be, slip in a very quick bathroom break after that first mid-credits scene. Now go forth and enjoy Spider-Man and the multiverse. Excelsior!
"Spider-Man: No Way Home" is in theaters on December 17.
For the first time in the cinematic history of Spider-Man, our friendly neighborhood hero's identity is revealed, bringing his Super Hero responsibilities into conflict with his normal life and putting those he cares about most at risk. When he enlists Doctor Strange's help to restore his secret, the spell tears a hole in their world, releasing the most powerful villains who've ever fought a Spider-Man in any universe. Now, Peter will have to overcome his greatest challenge yet, which will not only forever alter his own future but the future of the Multiverse.