Superhero Bits: Spider-Man Gets Torn Apart, Thor 4 Poster Causes Confusion & More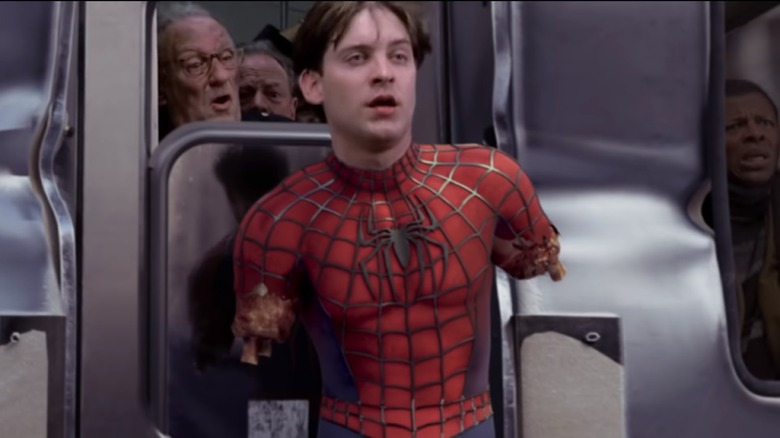 Sony Pictures
(Superhero Bits is a collection of stories, updates, and videos about anything and everything inspired by the comics of Marvel, DC, and more. For comic book movies, TV shows, merchandise, events, and whatever catches our eye, this is the place to find anything that falls through the cracks.)
In this edition of Superhero Bits:
"Transformers" and "G.I. Joe" comics are in for a shake-up
Someone decided to show us what R-rated "Spider-Man" looks like

An unofficial "Thor: Love and Thunder" poster caused a stir
Tom Holland weighs in on whether or not Spidey will be in "Fantastic Four"
Transformers and G.I. Joe Comics Find a New Home?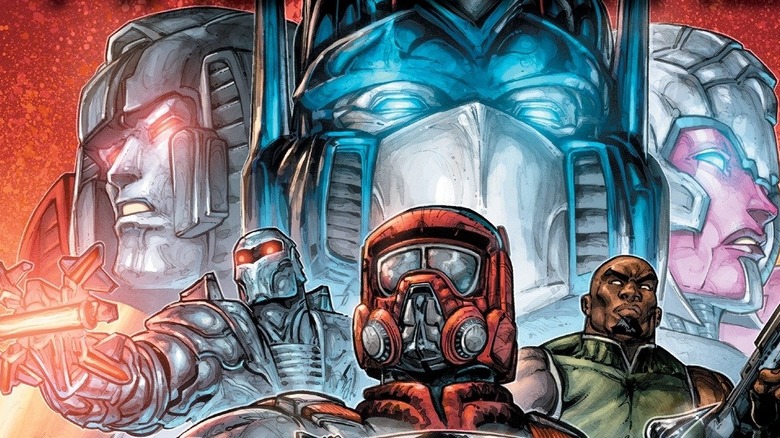 Hasbro
Starting off with something pretty big for comic book fans today, a recent report from The Hollywood Reporter states that Skybound, the company owned and operated by "The Walking Dead" creator Robert Kirkman, is pursuing the rights to the "Transformers" and "G.I. Joe" comics. IDW currently handles the titles, so if the deal closes (and signs are pointing in that direction), it wouldn't go into effect until 2023. 
This would be a big loss for IDW and a huge gain for Skybound. As is the case with all forms of media, recognizable IP helps drive sales, and these are two huge brands controlled by Hasbro. Of note, it's said that Kirkman is the one who headed up pursuing the rights, though he is not expected to actually write any of the titles himself. We'll update when/if the deal closes.
Marvel's Guardians of the Galaxy Blooper Reel
Recently, "Marvel's Guardians of the Galaxy" video game won big at "The Game Awards." As a means of celebrating the big win, the folks at Marvel have released a blooper reel showcasing some of the behind-the-scenes shenanigans that went down while bringing the game to life. It's a fun little peek behind the curtain of what is now a critically and commercially successful game.
Naomi Season Two Coming From DC Comics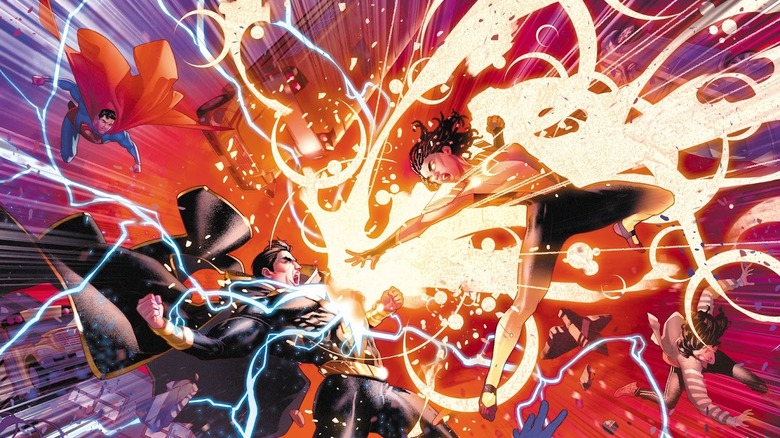 DC
Normally when we talk about a season 2, we're talking about TV shows. In this case, DC Comics is handing us a second season of a hit comic book series. "Naomi Season Two" has been announced by the publisher, conveniently timed around the release of the "Naomi" TV series on The CW, which is based on the character of the same name. The continuation of the series is Written by Brian Michael Bendis and David F. Walker, with artwork from by Jamal Campbell. A description of the book reads as follows:
NAOMI SEASON TWO will look to answer all the questions that surround Naomi, her legacy, and her place in the DC Universe pantheon. Guest-starring Black Adam, Superman, and the Justice League, plus the return of...Zumbado!
"Naomi Season Two" #1 hits shelves on March 8, 2022.
Hawkeye Posters for Eleanor Bishop and Jack Duquesne
We have just two episodes left of "Hawkeye" before the Marvel show wraps up its run on Disney+, but we're not done with the character posters just yet. Two new posters have been revealed for Eleanor Bishop, the mother of Kate Bishop (Vera Farmiga), as well as Jack Duquesne (Tony Dalton), one of the villains of the show who also happens to be engaged to Kate's mom. Drama! What other character posters await us in the coming weeks?
Shang-Chi 2 Is In The Very Early Stages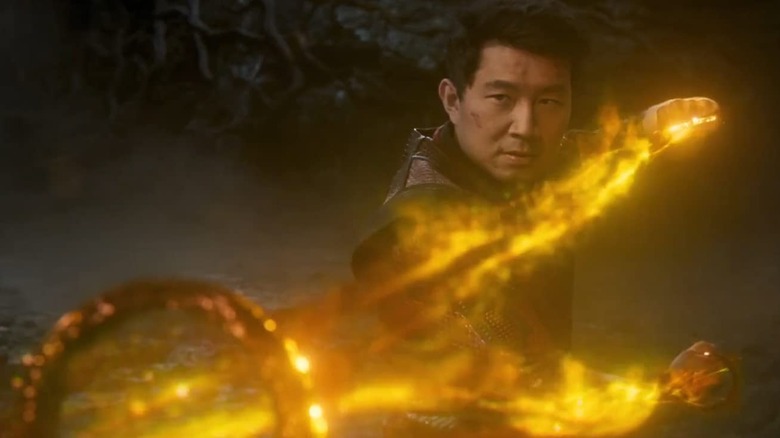 Marvel Studios
We recently learned that director Destin Daniel Cretton is going to return to the MCU for "Shang-Chi 2." Not only that, he signed a big deal with Disney that is also going to see him developing an MCU series for Disney+. But let's not get too excited just yet, as the movie is in the very early stages. Cretton recently spoke with Collider, explaining that nothing has been written as of yet:
"I've done [zero]. It's a fun place to be right now. Everything is a possibility. We're just tossing very loose ideas around and we'll start to hone in on something, hopefully."
So don't expect to see Simu Liu suiting up again anytime in the near future, unless he pops up elsewhere in the MCU before the sequel, which seems like a distinct possibility.
Thor: Love and Thunder Poster Causes Confusion
As we can see in the above tweet, an alleged poster for "Thor: Love and Thunder" (hitting theaters next year) recently started making the rounds online. It looked "legitimate" enough that it sort gained some traction on the web. There's a lot going on and it's pretty bizarre, but the internet took to it. However, director Taika Waititi decided to step in to add a little clarity to the situation.
This is so bad that I kinda wish it was an official poster. It's definitely what I would have done if I was in charge of posters. https://t.co/OnW7K2ubo3

— Taika Waititi (@TaikaWaititi) December 12, 2021
So, what's the deal here? Well, it looks like this is merely licensed product imagery and not something that is going to be used as an official theatrical poster for the film.
UPDATE: @MCU_Direct has verified with Pyramid International that this #ThorLoveAndThunder poster is an authentic, officially licensed Marvel product that was mistakenly released to stores too early! Details: https://t.co/kKatIH7U4A pic.twitter.com/vZf58Bi8T8

— MCU – The Direct (@MCU_Direct) December 13, 2021
If this is indeed going to be sold at some point, it may be tied to the movie in an official capacity, whether Waititi likes it or not. But it's certainly not one of the primary theatrical posters from the marketing team. Maybe expect to see it on a t-shirt or something like that.
Don't Expect to See Spider-Man In Fantastic Four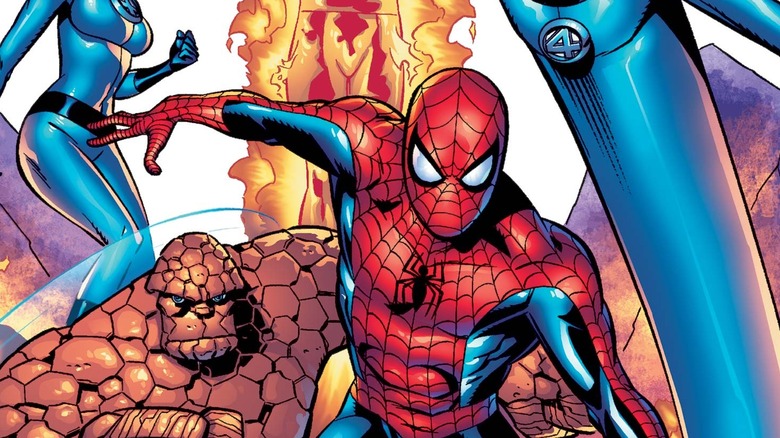 Marvel
Our current live-action Spider-Man star Tom Holland will be returning to the big screen this week with the release of "Spider-Man: No Way Home." Jon Watts has directed all three solo entries for Spidey in the MCU thus far. But Watts is moving on to the upcoming "Fantastic Four" reboot next. So are we going to see Holland join Watts on that adventure? Speaking with ComicBookMovie.com, Holland didn't make it seem like that was a major possibility.
"While I'd love to be in that film [because] I love Jon and would be really excited to see what he does with the Fantastic Four. I think what we need to do with Spider-Man is let it breathe and almost let the audience tell us what they want."
Not to say that things can't change, but it seems as though Peter Parker will be sitting on the sidelines for this particular Marvel adventure.
Spider-Man Gets R-Rated
Lastly, the folks at Corridor Crew have opted to give us a look at the "Spider-Man" franchise through a unique lens. Specifically, they have crafted a new video that takes iconic moments from the series and gives them the R-rated treatment. It's brutal but entertaining, and it even has a hook, with Mobius from "Loki" trying to clean up the timeline. Spidey gets torn to shreds, splattered, and ripped limb from limb. Yet, as violent as it all is, there is plenty of humor to go around. It's an impressive and amusing piece of work.