Aquaman And The Lost Kingdom Has Wrapped Production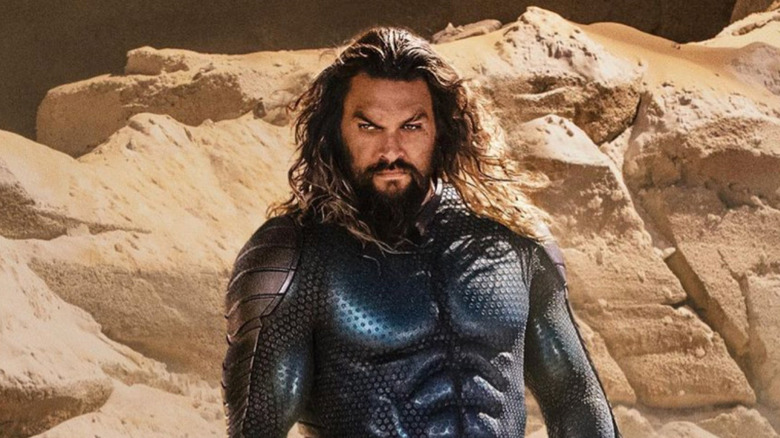 DC Entertainment
That's a wrap on "Aquaman and the Lost Kingdom." James Wan's highly-anticipated sequel to "Aquaman," which began shooting in London over the summer, is now entering post-production. The 2018 DC comics-based superhero film came in the wake of "Justice League" and earned high praise for its dynamic camerawork and dizzying action sequences (imagine watching a superhero movie and being able to tell who is hitting whom!). The film spawned a silly-but-underseen three-part animated series on HBO Max (also produced by Wan), "Aquaman: King of Atlantis," and the sequel that just finished shooting. 
Bonus: Wan, previously known for balls-to-the-wall genre entries "Saw," "Death Sentence," and this year's "Malignant," retains a touch of that horror sensibility if you look closely enough at the Trench scene in the first movie, and has said that Mario Bava's 1965 sci-fi/horror gem "Planet of the Vampires" has influenced his direction on the new joint. 
On his official Instagram account (@prideofgypsies), star Jason Momoa expressed his overwhelming pride and excitement of what's to come:
Aw man, that's a wrap. That's a wrap, "Aquaman 2." I have so much to share with you, I wish ... I could tell you so much. What an epic day. I love you. So good to have been home to finish this, so many good surprises. Love you and...it's been a long time. I'm taking a break. Aloha.
What We Know So Far
In October of this year, attendees at DC FanDome caught an early glimpse at "Aquaman and the Lost Kingdom," including the first-look sizzle reel in which Momoa promises that the movie "tackles a lot of issues environmentally, and stakes are higher." Director James Wan teases that this movie will be "more mature, but yet still retain its fun to give the audience something new, something they haven't seen before." As opposed to earlier DCEU efforts, Wan's hero picture is unashamed to lean into its rich, phantasmic world and all of the palettes and energy such a realm offers.
Plot details are still under wraps, but we do know that the sequel will expand upon the extensive Atlantean worldbuilding of the first movie. In September, fans also got images of the new suit for Momoa's Aquaman with a dark blue color, no gloves, and alternate armor patterns. Momoa reprises his starring role in the upcoming film alongside returning players Yahya Abdul-Mateen II, Amber Heard, Patrick Wilson, Dolph Lundgren, and Temuera Morrison. The film will release next year, in between "The Flash" and "Shazam! Fury of the Gods" on the DC slate.
"Aquaman and the Lost Kingdom" is scheduled for theatrical release on December 16, 2022.