Watch The Spider-Man: No Way Home Opening Scene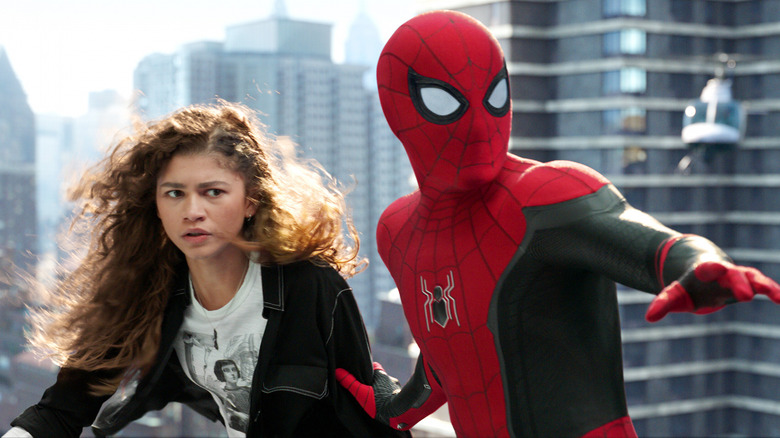 Sony
The last live-action Spider-Man film, "Spider-Man: Far From Home," ended with one heck of a cliffhanger: a mid-credits scene where the MCU's J. Jonah Jameson (J.K. Simmons, putting an Alex Jones-y spin on the blowhard newsman he first played in Sam Raimi's "Spider-Man" trilogy) revealed Peter Parker's secret identity to the world. But rather than jumping ahead in time, Tom Holland's next outing as the web-slinger, "Spider-Man: No Way Home," will pick up exactly where that movie left things.
"Spider-Man: No Way Home" will be all about Peter trying to put that figurative genie back into the bottle, so much so that he even convinces Stephen Strange (Benedict Cumberbatch) to conduct a reality-altering spell that will make almost everyone forget who's beneath the red, black, and white mask. Shockingly, this turns out to be a Bad Idea and wreaks havoc on the multiverse — causing the MCU to crash into other Spider-realities and bringing a whole slew of super-villains from the Tobey Maguire and Andrew Garfield-led "Spider-Man" movies into Holland's world.
But we're getting ahead of ourselves. First, Peter has to deal with the immediate aftermath of Jameson's bombshell report from "Far From Home," which also interrupted Pete's would-be casual date with his classmate-turned girlfriend MJ (Zendaya). The opening scene of "No Way Home" is now online, and you can see what happens for yourself. 
Spider-Man: No Way Home Opening Scene
"Spider-Man: Homecoming" and "Far From Home" director Jon Watts is back at the helm for "No Way Home," once again drawing from a script co-written by Chris McKenna and Erik Sommers. By and large, this opening scene has all the best elements of the trio's first two "Spider-Man" movies, from the character-driven humor (Peter's habit of easily panicking, MJ's fear of heights) to the zippy tempo. Question is, will the story at the heart of "No Way Home" (Peter learning that he can't have it all and be the hero he wants to be) get lost in the film's multiversal shenanigans and parade of characters from the pre-MCU "Spider-Man" movies?
Setting those concerns aside for now: Sony has wisely tapped into audiences' nostalgia for Raimi's films especially with its marketing for "No Way Home," playing up the presence of Alfred Molina's Doc Ock while slowly pulling the curtain back on Willem Dafoe's return as Green Goblin and Jamie Foxx's role as a non-blue variant on Electro from Marc Webb's "The Amazing Spider-Man 2." As for the studio's decision to continue denying Maguire and Garfield will cameo in the film, well, it certainly hasn't hurt the movie's ticket pre-sales. (Though I do pity Garfield having to constantly deny his involvement while trying to promote his effervescent work in "tick, tick... BOOM!")
"Spider-Man: No Way Home" swings into theaters on December 17, 2021.