Spider-Man: No Way Home Sets New Record For Ticket Presales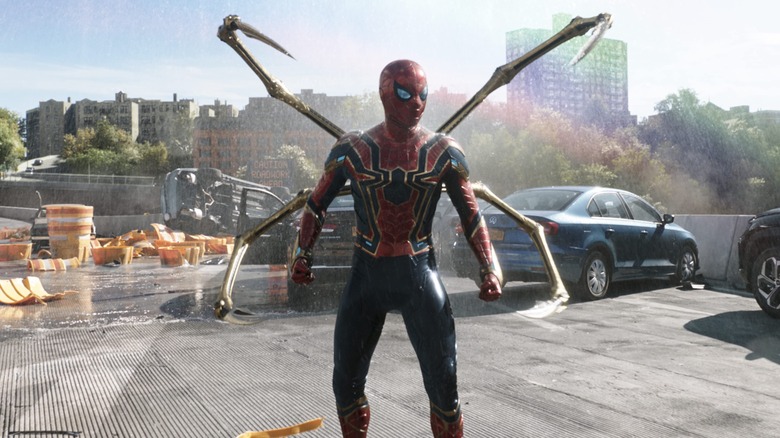 Sony / Marvel Studios
With great power comes great box office returns. Advance tickets went on sale yesterday at Fandango for Sony's "Spider-Man: No Way Home," which opens across theaters on December 1, and in a couple hours, Spidey broke the 2021 record for the America ticketing company's best first day of presales. The record knocks Marvel Studios' "Black Widow" off of her web and sees the best advance ticket sales on Fandango since "Avengers: Endgame" in 2019. This means that the latest "Spider-Man" franchise entry has bested presales by the likes of the Avengers and Star Wars, a proper honor for one of the most anticipated superhero movies of the year.
It's so hyped, in fact, that it busted the internet for a day. Ticketing websites Fandango, AMC, Alamo Drafthouse, Atom, and Cinemark were down within minutes, frustrating ticket buyers in an echo of "Avengers: Endgame" presale demands that had a similar effect. All the aforementioned ticketing sites are currently running again, but scalpers have already moved in with the aim of a big payday. Cnet reports that scalpers online are price gouging opening night tickets for thousands — one eBay listing is selling a row of opening night "Spider-Man" tickets for $24,000. 
Arrogant villains aren't just on the big screen, people. It's a testament to the J. Jonah Jameson-esque demand for (moving) pictures of the Spider-Man.
Does Whatever A Spider Can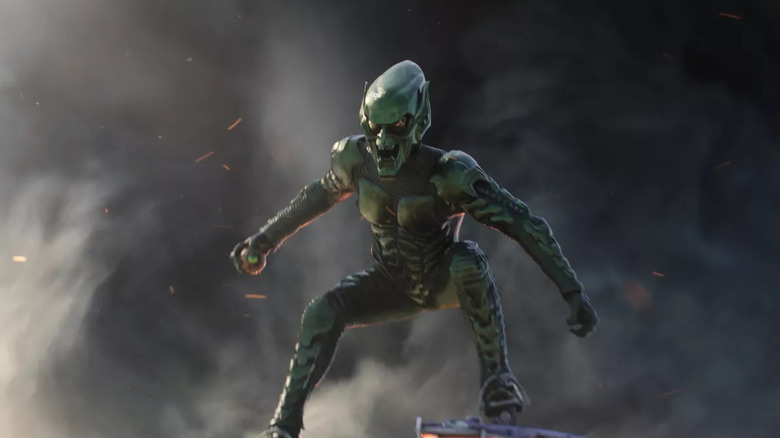 Sony / Marvel Studios
Fandango Managing Editor Erik Davis has this to say about the final entry:
"'Spider-Man: No Way Home' promises to wrap a bow around 20 years of live-action Spider-Man movies, and anticipation is through the roof with fans anxious to see how Tom Holland's 'Homecoming' trilogy concludes. The most anticipated film of the season promises to deliver surprises on every level and December 17th can't come soon enough."
"Spider-Man: No Way Home" is shared between Sony Pictures and Marvel Studios and directed by Jon Watts. The story is written by Chris McKenna & Erik Sommers, based on the Marvel comics by Stan Lee and Steve Ditko. The film stars Tom Holland as young Peter Parker who becomes Spider-Man following a bite from a radioactive spider. Rounding out the cast are Zendaya, Benedict Cumberbatch, Jacob Batalon, Jon Favreau, and Marisa Tomei. Its predecessor, "Spider-Man: Far From Home," is the fourth highest-grossing movie of pre-pandemic 2019, and the anticipation is heavy for the story to conclude in "No Way Home." 
The synopsis:
For the first time in the cinematic history of Spider-Man, our friendly neighborhood hero's identity is revealed, bringing his Super Hero responsibilities into conflict with his normal life and putting those he cares about most at risk. When he enlists Doctor Strange's help to restore his secret, the spell tears a hole in their world, releasing the most powerful villains who've ever fought a Spider-Man in any universe. Now, Peter will have to overcome his greatest challenge yet, which will not only forever alter his own future but the future of the Multiverse.
"Spider-Man: No Way Home" arrives in theaters on December 17, 2021.