How NBC Would've Completely Changed The Walking Dead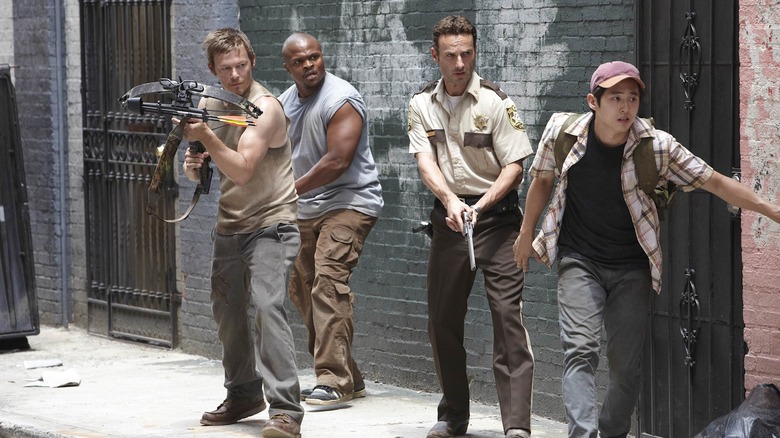 AMC
It's difficult to remember a time when not everyone had heard of "The Walking Dead," but adapting the beloved comic was initially a huge gamble for a network to take. At this point, the show seems as unstoppable as its titular zombie hordes! While the main series' 11th and final season will wrap up next year, there are multiple spinoffs, as well as film continuations in the works. It would seem that "The Walking Dead" will never die.
Based on the comic created by Robert Kirkman, Tony Moore, and Charlie Adlard, "The Walking Dead" is more than a book about the zombie apocalypse. Sure, zombies play a huge role, but ultimately, they serve as the backdrop for larger questions about what happens to people when their humanity is stripped away. It's a horror book, but it's also a thrilling character study. Zombies may be a constantly looming threat, but humans are undoubtedly the villains of the piece.
The "Walking Dead" TV show has done its best to adapt this complex series, though most fans of the comic have pretty mixed feelings about the results. Regardless of how you feel about AMC's adaptation, the show could've been much worse. Before "The Walking Dead" found a home, it was shopped to other networks, including NBC. Considering what vision they had for the series, we should all be grateful it never came to fruition.
So, Does Your Zombie Show Need To Have Zombies In It?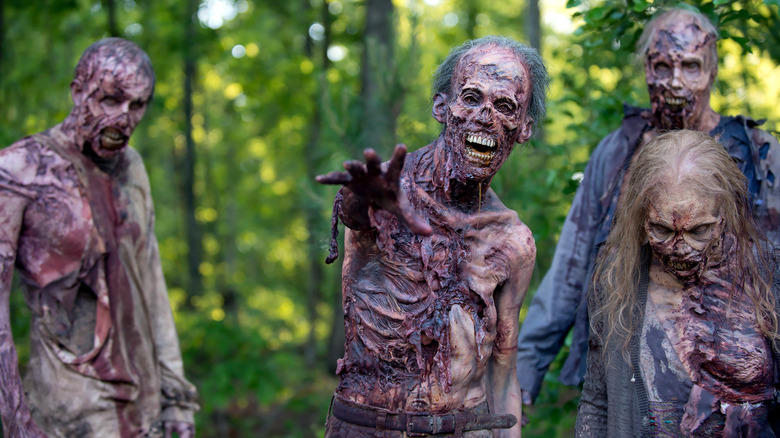 AMC
Series creator Frank Darabont had an overall deal with NBC, so he chose to bring the project to them first. Nixing the zombies from a zombie comic, even one in which they aren't really the point, seems a bit ridiculous, but that was NBC's initial take. They literally asked, "Do there have to be zombies [in it]?" Following that, the network had hopes of making "The Walking Dead" into a procedural drama in which the protagonists could solve a weekly crime involving zombies. Executive producer David Alpert told The Daily Beast that an exec passed on the initial script and later explained to him, "I can't put zombies on NBC!"
NBC wasn't the only one to balk at the extreme gore and darkness within the pages of "The Walking Dead." According to HuffPost, executive producer Gale Anne Hurd had to say "no thanks" to HBO as well because they were also hoping the TV series would tone down the violence. It would seem that AMC was the only interested party that actually wanted to keep the essence of the comic intact. Makeup artist Greg Nicotero said:
 "Thank goodness we wound up at AMC. They totally get this show. Right from the beginning, they've been completely trusting and supportive of what we've been trying to do with this series."
Look, no one is saying you couldn't make a zombie procedural. After all, it worked out pretty well for the CW's adaptation of "iZombie," which is great, despite being drastically different from the source material. That said, it seems NBC didn't actually understand what Darabont and co. were going for. I'll admit, I'm a much bigger fan of the comics than I am of the TV series, but I doubt I would've even given the show a chance had NBC gotten their way. It's also doubtful "The Walking Dead" would've become the massive success that it has, if it were just another procedural in a television landscape full of them.