NBC Wanted 'The Walking Dead' To Be A Zombie Crime Procedural (Or Maybe Even Drop The Zombies Altogether)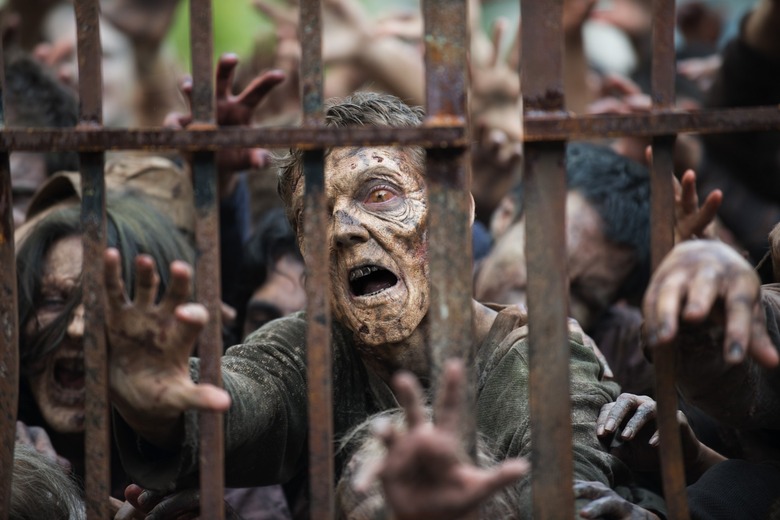 The Walking Dead has been a staple of the AMC lineup ever since it debuted to record numbers in 2010, even spawning two spinoffs, the chat show Talking Dead and the prequel series Fear the Walking Dead. But before it joined AMC, it almost made its home at NBC. And it had it wound up there, we would have seen a very, very different version of the show.
According to executive producer Gale Anne Hurd, NBC was initially intrigued by Frank Darabont's script for the show, but wondered if he might make it a zombie crime drama instead. Or even just get rid of the whole "zombie" angle altogether. Uh... what? 
Variety picked up Hurd's comments from the Edinburgh International Television Festival. At the time that he was first developing The Walking Dead, Darabont had an overall deal at NBC, so he presented them his first script for the show. As Hurd tells it, they had a question for him: "Do there have to be zombies [in it]?" Then the network followed up with another suggestion: turn it into a procedural in which two main characters would "solve a zombie crime of the week."
In fairness, there are plenty of reasons NBC might not have wanted The Walking Dead as-is, and we don't know how their version of the show would have turned out. A zombie crime drama isn't necessarily a bad idea, as we've seen with The CW's iZombie. But essentially, it sounded like NBC wanted a completely different series than what Darabont was trying to sell them. It's definitely for the best that they decided not to proceed together.
Especially since that freed up Darabont to take The Walking Dead over to AMC where it could be the non-procedural zombie drama it was meant to be. Say what you will about AMC's version of The Walking Dead (and fans have not been shy about voicing their disappointment over questionable decisions like the Negan cliffhanger), but at least it actually has zombies in it.
The Walking Dead season 7 premieres October 23, and the producers promise they'll clear up that whole cliffhanger business right away.