Extraction 2 First Look: Get Your First Look At Tyler 'Not A Soggy Corpse' Rake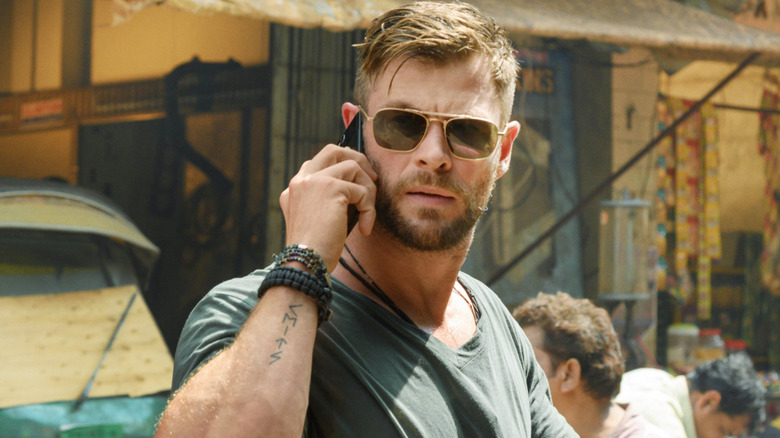 Netflix
"Extraction" dropped on Netflix shortly after theaters shuttered their doors and the global Covid lockdowns went into effect back in spring 2020 — all of which may explain how the movie, a slickly generic action-thriller that more or less amounted to the White Savior version of Tony Scott's "Man on Fire," inexplicably became the streamer's most-watched original movie ever (before "Red Notice" snatched away the title, anyway). 
The film also ended with its protagonist, Chris Hemsworth's haunted and curiously named black ops mercenary Tyler Rake, getting shot in the neck and seemingly drowning upon saving the day. (I'm going to go out on a limb and assume those of you reading this already knew that.) But, as you can see from the first image from "Extraction 2," Tyler is decidedly not a soggy corpse in the movie.
Said photo (see below) arrives courtesy of Empire and comes on the heels of "Extraction 2" starting production in Prague back in November. This time, it seems Tyler will be racking up a body count under much colder and more snowy circumstances than he did on his earlier rescue operation.
I'm Not Dead Yet!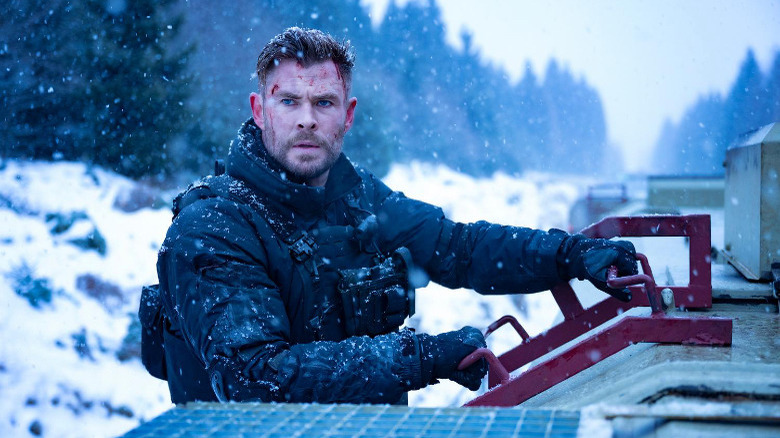 Netflix
The first "Extraction" loosely adapted "Ciudad," a graphic novel the Russo Brothers co-created with Ande Parks, Fernando León González, and Eric Skillman, with Joe Russo penning the script from the screen story he and Anthony Russo crafted with Parks. Joe Russo is once again writing the script for "Extraction 2," which also sees "Extraction" director Sam Hargrave returning at the helm and bringing his years of experience as a stunt coordinator with him.
To be fair, "Extraction" heavily hinted at Tyler's survival in its final scene, so it's not as though his return from the dead comes as a huge shock. Now, the question of how he survived and what he's doing in Prague (assuming that's where "Extraction 2" takes place), that's another matter. One assumes the sequel will delve into these matters while continuing to build on Tyler's redemption arc from the first movie and diving a little deeper into what makes the man tick (his established tragic backstory aside). It's possible the Russos and their team have even taken those White Savior criticisms to heart, which might explain why they've shifted the action from Bangladesh to the Czech Republic, giving it a fresh color palette (as /Film's Anya Stanley aptly pointed out). If so, there's hope that "Extraction 2" may yet amount to more than another polished-but-problematic shoot-em-up.
"Extraction 2" has yet to receive a release date from Netflix.