Chris Hemsworth Braces For A Much Colder Sequel In Extraction 2 Behind-The-Scenes Tease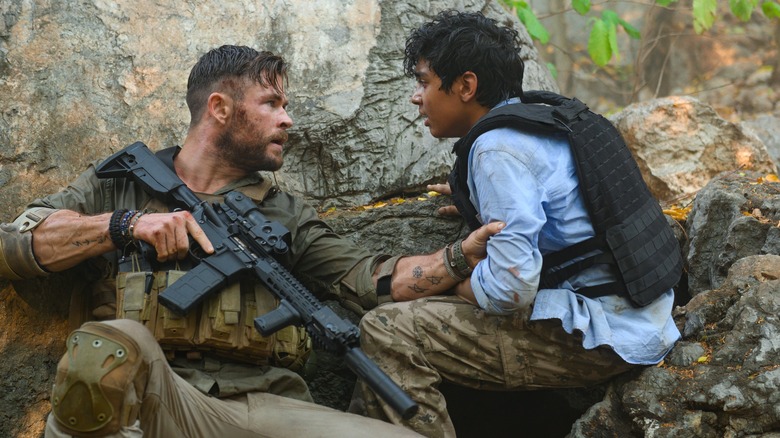 Netflix
Rake lives! Don't ask us how, but the "why" part is a little easier to explain. The return of Chris Hemsworth's Tyler Rake served as the centerpiece reveal of the new "Extraction 2" teaser at Netflix's Tudum event earlier this year, which briefly recapped the events taking place at the climax of the first film and set the stage for how he apparently survived getting shot and falling off a bridge into the river below. Having spent the past several years portraying a nearly invincible superhero in the Marvel Cinematic Universe, maybe some habits are just hard to break for Mr. Hemsworth.
In any case, we recently received word from "Extraction" director Sam Hargrave that production on the sequel was set to commence. Now, we're getting even further proof of that as Hemsworth himself filmed a brief video alongside Hargrave on a train amid the very wintry conditions in Prague. Marvel veterans Joe and Anthony Russo were respectively credited for the screenplay and story of the first film, with Joe Russo returning to write the sequel. Their official joint Twitter account posted the new video featuring Hemsworth and Hargrave, which you can watch below.
A "Very Different" Sequel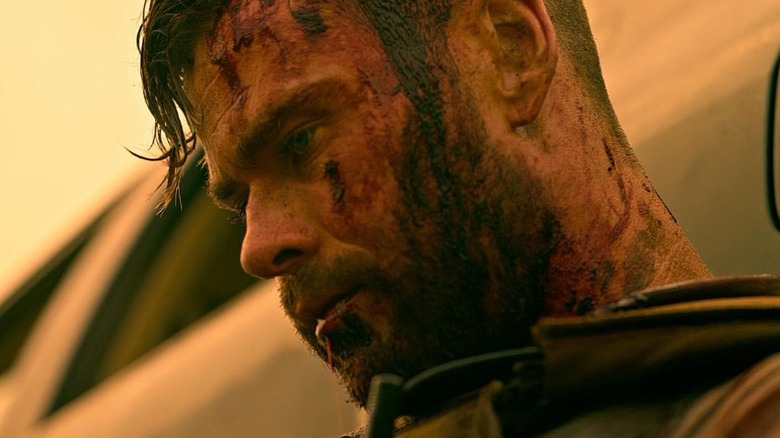 Netflix
If Netflix's less-than-transparent accounting is to be believed, "Extraction" became the streaming platform's biggest hit upon release in April of 2020 (an achievement that it has since ceded to "Red Notice"). The film focuses on Hemsworth's Tyler Rake, a mercenary tasked with recovering the kidnapped son of an Indian drug lord in Bangladesh before, naturally, he's compelled to go completely rogue. Full disclosure: I never ended up watching this movie because of the mildly uncomfortable optics on display with a premise like that, but obviously more than enough people did to justify Rake's quasi-resurrection for yet another gritty, action-heavy, globe-trotting film. This time, however, things are going to be slightly different from the steaming, yellow-filtered action set in South Asia. Filmed in Prague, the latest video from the production posted by the Russo brothers teases a beat-up Hemsworth surrounded by snow.
Extraction 2 is coming in hot…or actually, freezing cold… @chrishemsworth #SamHargrave @NetflixFilm @AGBOfilms pic.twitter.com/OYXoEOx9hn

— Russo Brothers (@Russo_Brothers) December 3, 2021
"First day shooting on 'Extraction 2.' Director Sam Hargrave, we're here in Prague. Two things are very different from the last film. 1) Very, very cold. 2) I'm alive. How? You'll have to find out. Watch the movie, stay tuned."
Hemsworth's Rake is likely more than enough to draw eyeballs to this sequel, which we still know very little about. Hargrave returns to direct "Extraction 2," with Joe Russo on board as writer and producer. Expect the film to release on Netflix sometime in 2022.