What To Expect From Winning Time, Adam McKay's '80s Lakers HBO Max Series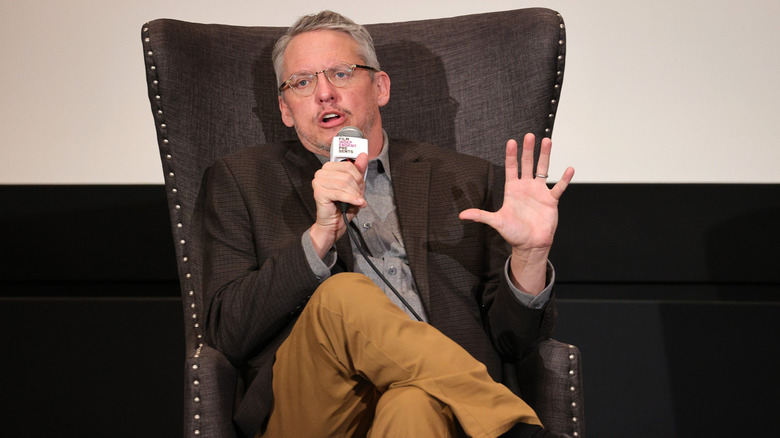 Theo Wargo/Getty Images
Adam McKay has a new movie, "Don't Look Up," coming to select theaters this week, to be followed by its Netflix release on Christmas Eve. Why sit around watching the fireplace for incoming Santas or burglars (or Santa burglars) when you could be watching a (disastrous?) disaster comedy with Leonardo DiCaprio and Jennifer Lawrence? For that matter, why even think about "Don't Look Up," this movie that isn't out yet, when you could be thinking about the next Adam McKay project after that?
As it happens, McKay's next project is an HBO series about the L.A. Lakers basketball team. The series, per its verified Twitter account, now has an official title, "Winning Time: The Rise of the Lakers Dynasty." So we don't just have to refer to it as "Untitled Lakers Project" anymore. It's based on the Jeff Pearlman book "Showtime: Magic, Kareem, Riley, and the Los Angeles Lakers Dynasty of the 1980s." However, since this is HBO, it wouldn't do to have a series called "Showtime," so the network has gone with "Winning Time" instead.
24 hours until tip-off. You might want to stretch. #WinningTime pic.twitter.com/PJGMpkA7Yv

— Winning Time: The Rise of the Lakers Dynasty (@winningtimehbo) December 8, 2021
In a recent interview with The Hollywood Reporter, McKay revealed some details about the approach that he and his co-creators, Max Borenstein and Jim Hecht, are taking with "Winning Time." Referring to team owner Jerry Buss and superstar NBA player Magic Johnson, McKay said:
"We're playing it very real. The actors all look like the characters. I mean, John C. Reilly looks exactly like Dr. Buss. Quincy Isaiah is unbelievably talented and looks just like Magic. It's crazy. There's really good acting in it, and it has style breaks. There are dramatic moments. It's about race. It's about class."
Will Ferrell and Winning Time's Series Ambitions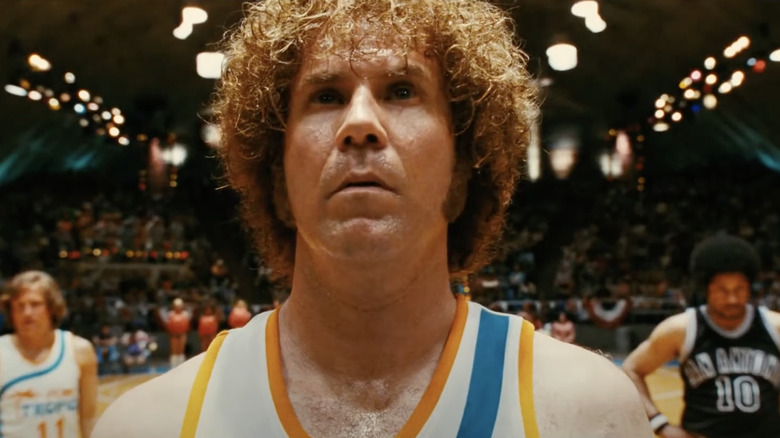 New Line Cinema
Hearing McKay emphasize how much Reilly looks like Buss serves as a reminder that his casting of this role was the final nail in the coffin of his collaboration and friendship with Will Ferrell, who made "Anchorman" and numerous other films with him. We recently learned that Ferrell was vying for the Buss role and that McKay had cast his best friend and frequent co-star, Reilly, without telling him. McKay addressed this further in his interview with THR, saying:
"It's kind of crazy to see how much has been reported on this. We made 'Don't Look Up' to hopefully get people talking about the climate crisis — literally the biggest threat to life in human history — and to see so much made about two comedy guys not talking about a TV show is a scary sign of our times. I love Ferrell. Always will. I had the best, most fun run of my life with him. Yes, I wish I had talked to him about it out of respect, but we were both focused on our new companies and life just took over."
Another revelation McKay delivered is that "Winning Time" is not just a miniseries, as some previous reports indicated. When asked how many episodes it will run, he said, "There are 10 in the first season, and then we're hoping to do a second season and maybe a third season."
"Winning Time" begins streaming on HBO Max in March of 2022.