Adam McKay's Professional Split From Will Ferrell Sounds Downright Heartbreaking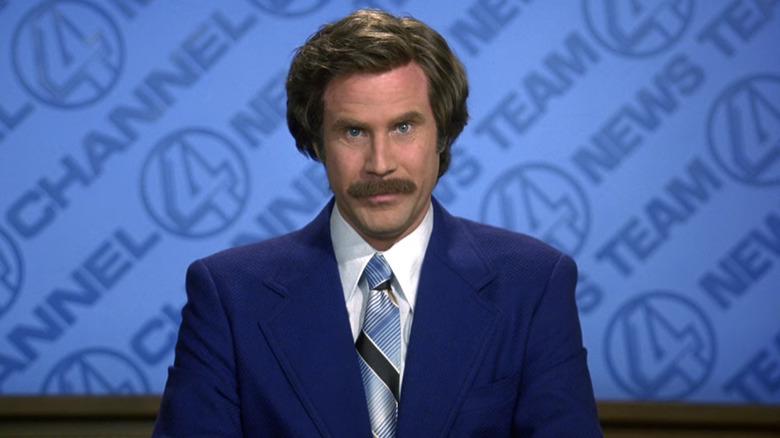 DreamWorks Pictures
Before he started directing Oscar favorites like "The Big Short," "Vice," and the upcoming "Don't Look Up," Adam McKay was known for the Will Ferrell comedies he helmed, starting with "Anchorman: The Legend of Ron Burgundy," continuing with "Talladega Nights: The Legend of Ricky Bobby," "Step Brothers," and "The Other Guys," and ending with "Anchorman 2: The Legend Continues" in 2013. He and Ferrell also co-founded the video website, Funny or Die, and co-starred in its very first video, "The Landlord."
In 2019, they officially ended their partnership after 13 years, dissolving their production company, Gary Sanchez Productions, and issuing a joint statement to the press saying: "The two of us will always work together creatively and always be friends. And we recognize we are lucky as hell to end this venture as such."
If you ever wondered why they split, however, a new profile on McKay in Vanity Fair reveals that everything was not so rosy and their personal relationship was also deteriorating behind-the-scenes. According to McKay, the last time he and Ferrell spoke was in a brusque phone conversation, which he described as follows:
"I said, 'Well, I mean, we're splitting up the company.' And he basically was like, 'Yeah, we are,' and basically was like, 'Have a good life.' And I'm like, 'F***, Ferrell's never going to talk to me again.' So it ended not well."
"It's the old thing of keep your side of the street clean"
McKay and Ferrell had been developing a Los Angeles Lakers miniseries for HBO, and that's still going forward at McKay's new production label, Hyperobject Industries. Yet it's the Lakers series, based on the book, "Showtime," that finally drove a wedge between McKay and Ferrell as friends. Ferrell wanted to play 1980s team owner, Jerry Buss, but McKay and others involved in the project couldn't see him in the role.
The person they did see in the role? John C. Reilly, Ferrell's best friend and frequent co-star. McKay cast Reilly without telling Ferrell, and it upset Ferrell so much that they haven't spoken since. McKay said:
"I f***ed up on how I handled that. It's the old thing of keep your side of the street clean. I should have just done everything by the book.

"In my head, I was like, 'We'll let all this blow over. Six months to a year, we'll sit down, we'll laugh about it and go, It's all business junk, who gives a s***? We worked together for 25 years. Are we really going to let this go away?' [But Ferrell] took it as a way deeper hurt than I ever imagined and I tried to reach out to him, and I reminded him of some slights that were thrown my way that were never apologized for."
After making people laugh together for so many years, it's sad to hear that McKay and Ferrell ended their collaboration and friendship this way. We can only hope they reconcile at some point, to give this story an ending more in line with comedy than tragedy.