Superhero Bits: Spider-Man Villains Unite, Morbius In The Marvel Multiverse & More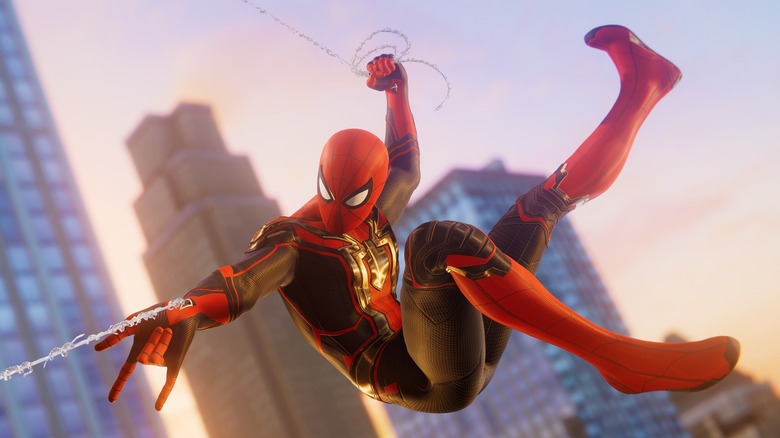 Marvel
(Superhero Bits is a collection of stories, updates, and videos about anything and everything inspired by the comics of Marvel, DC, and more. For comic book movies, TV shows, merchandise, events, and whatever catches our eye, this is the place to find anything that falls through the cracks.)
In this edition of Superhero Bits:
Villains of the Marvel multiverse gather together.
"Spider-Man: No Way Home" content is coming to the PlayStation.
Gwyneth Paltrow has no idea what "Hawkeye" is.
James Gunn teases more "The Suicide Squad" spin-offs.
Is Netflix Making a Mega Man Movie?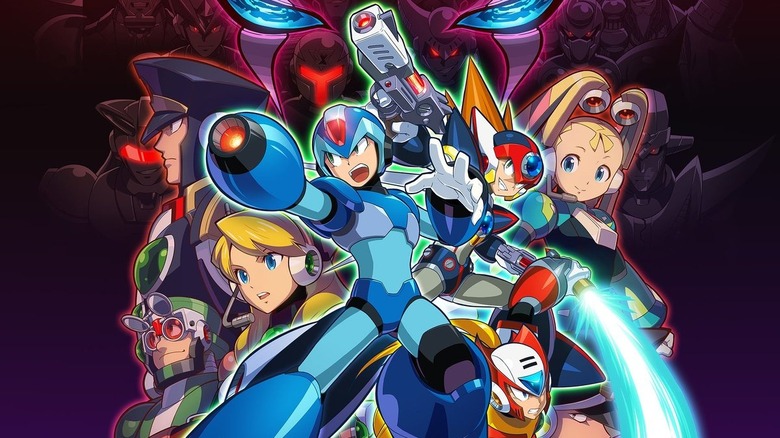 Capcom
Rumor time! As reported by Rocketman Corner, a recent update to the Supermarché website reveals some intriguing details about a possible "Mega Man" movie in the works for Netflix. Apparently, the project is being developed by Chernin Entertainment, which has a deal in place at the streaming service. The update reads as follows:
"Henry, Rel, and their in-house producer Orlee-Rose Strauss maintain an active development slate. Features in the works include: an adaptation of Capcom's MEGA MAN for Chernin Entertainment and Netflix, which they wrote and are directing; NEMESIS, based on the Mark Millar comic, produced by Jules Daly and Sue Kroll for Warner Bros.; an adaptation of Edward Abbey's novel THE MONKEY WRENCH GANG, produced by Ed Pressman, which they wrote and are directing; and RUNAWAY, a family adventure comedy based on a true story, screenplay adapted by Brendan O'Brien and produced by Matt Kaplan."
Henry Joost and Ariel "Rel" Schulman would presumably serve as directors, given this update. We shall wait for more official confirmation, but this is interesting for the time being.
WandaVision and What If...? Score Critics Choice Nominations
The accolades keep on coming for Marvel's "WandaVision." As we can see in the above tweet, the Disney+ show has now earned a few Critics Choice nominations to go along with its Emmy love and, amazingly enough, Grammy nomination. Additionally on the Marvel front, the animated "What If...?" is also getting some love from this particular awards show.
Congratulations to the cast and crew of Marvel Studios' #WhatIf on their #CriticsChoice Awards nomination for Best Animated Series! pic.twitter.com/KzIQDKHD5f

— What If...? (@whatifofficial) December 6, 2021
It is becoming very safe to say that these MCU shows on Disney+ are doing a great job of breaking through beyond the hardcore fanbase, earning critical praise to go along with a great deal of viewership. It's Marvel's world, we're just living in it.
Gwyneth Paltrow Didn't Know the Hawkeye Show Was a Thing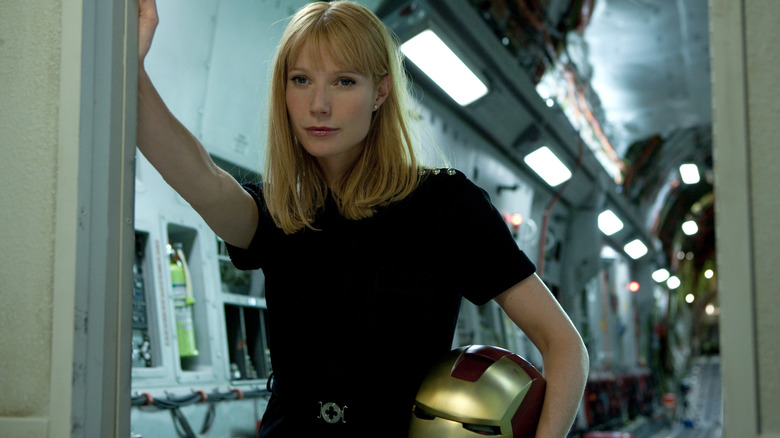 Marvel Studios
Gwyneth Paltrow recently did an AMA on her Instagram account. The actress, who has been a part of the MCU as Pepper Potts from the very beginning, having appeared in 2008's "Iron Man," was asked rather simply if she had watched "Hawkeye" yet, which is currently in the middle of its first season on Disney+.
Gwyneth Paltrow on the #Hawkeye series: "What is that?" pic.twitter.com/qHRkxsDZ7m

— Film Updates (@FilmUpdates) December 4, 2021
As we can see, Paltrow didn't even know the show exists. Granted, it's not fair to expect that actors will keep up with everything associated with a massive franchise that they are (no disrespect) a relatively small part of. But still, it's a humorous response as Paltrow clearly doesn't pay much attention to the MCU beyond when Kevin Feige gives her a call. And a paycheck.
New Spider-Man: No Way Home Spot
I am going to caution from here on out that any "Spider-Man: No Way Home" TV spot is probably going to be spoiler-y. Not so much that it's outright spoiler territory, but many fans are already sold on seeing the movie (as evidenced by the ticket sales) and some of the footage starting to trickle out is really only going to serve to spoil surprises. That having been said, we've got a newly-surfaced spot for the movie above, which does contain some choice bits of new footage. Watch, should you feel so compelled.
Batman: The Animated Series Will Continue In Audio Form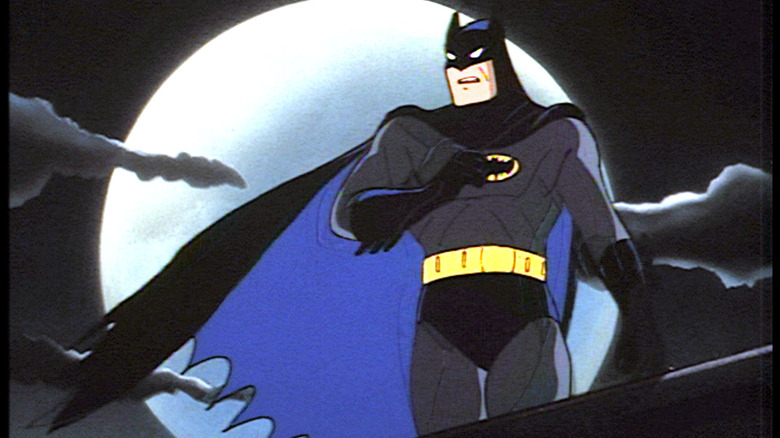 Warner Bros.
Fans of "Batman: The Animated Series" have reason to rejoice. Kevin Conroy, the voice of Batman, and John Glover, voice of The Riddler, revealed at Los Angeles Comic Con that an audio drama based on the beloved show is in the works. Writer Alan Burnett is developing the project, according to The Hollywood Reporter. "It's a great script by Alan Burnett and it brings back the original cast," Conroy said. "The Riddler's back, and he's evolved in many ways ... He understands he's on the spectrum," Glover also added. No word yet on a release date or platform, but be on the lookout.
James Gunn Teases More DC Shows Beyond Peacemaker
"Guardians of the Galaxy" and "The Suicide Squad" director James Gunn has seemingly teased that he is not done in the DC universe just yet. "Peacemaker" is set to hit HBO Max in January, and we recently got a new trailer for it. Recently, a fan on Twitter asked if Gunn had any plans for further spin-offs in that universe. As we can see, the filmmaker was coy in his response, sharing the above gif as well as a knowing emoji. For what it's worth, Gunn is pretty good about shutting down rumors, so if nothing were happening, he likely would have said so, or said nothing at all. Time to speculate wildly amongst yourselves.
The Spider-Man: No Way Home Villains Unite for a Panel
Also during CCXP 2021, we got a gathering of the main villains from "Spider-Man: No Way Home," with Willem Dafoe (Green Goblin), Alfred Molina (Doc Ock), and Jamie Foxx (Electro) having chat about the movie. Obviously, they tried to say what they could while saying almost nothing at all, but this is three different eras of Spidey villains colliding, and it's interesting to see the actors together like this. This is really happening, and it has the potential to get weird/awesome. We'll know soon enough as the movie hits theaters on December 17.
Jared Leto On Morbius Existing in the Larger Marvel Multiverse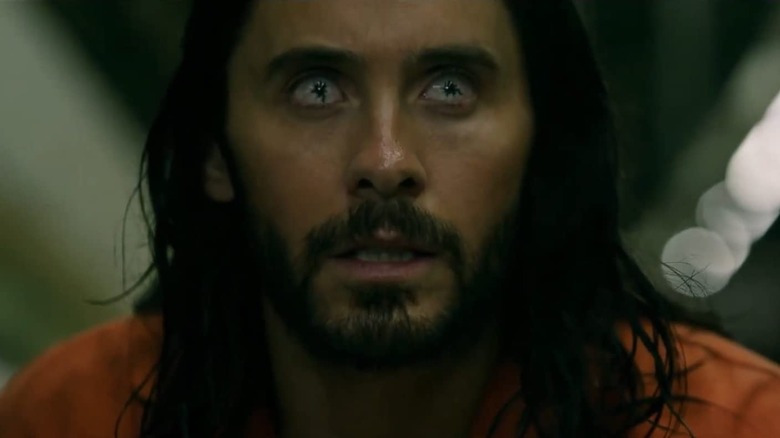 Sony Pictures
Sony is doing its own thing with "Venom" and "Morbius," which stars Jared Leto and is set to hit theaters next year. The actor recently appeared at CCXP 2021 and, as reported by The Direct, he has teased where Dr. Michael Morbius exists within the larger, evolving Marvel Multiverse.
"In the film version of Morbius that we're bringing to you now, he's also a part of a much larger universe. If you've seen the last Spider-Man: No Way Home trailer, you know the Multiverse has officially opened, and there's all kinds of opportunities for villains to meet up, thrive, and maybe even nurture their more sinister intents. That's all I'm gonna say for right now."
The fact that he made a real point to emphasize the "Spider-Man: No Way Home" trailer is key here, as that implies there is a chance he could crossover into the MCU at some point. Or the MCU could crossover into Sony's Spider-Verse, as it were. Much to discuss. Much to ponder.
Marvel's Spider-Man Game Gets No Way Home Suits
Lastly, fans of "Marvel's Spider-Man" have a whole lot to look forward to, and those who have yet to play "Spider-Man: Miles Morales" now have a great opportunity to do so. As we can see in the above tweet, some suits from "Spider-Man: No Way Home" will soon be available in the game for fans to enjoy. As for "Spider-Man: Miles Morales," which was originally released last year? Sony has released a new trailer, detailing the Ultimate Edition of the game, which is now available digitally.
The game was originally made available physically, but now fans can conveniently pick it up through a digital retailer. That may be enough to get certain fans to check it out. We've gotta d something to kill some time until "Marvel's Spider-Man 2" arrives in 2023, right?