WandaVision's Agatha All Along Picked Up A Grammy Nomination, As It Should Have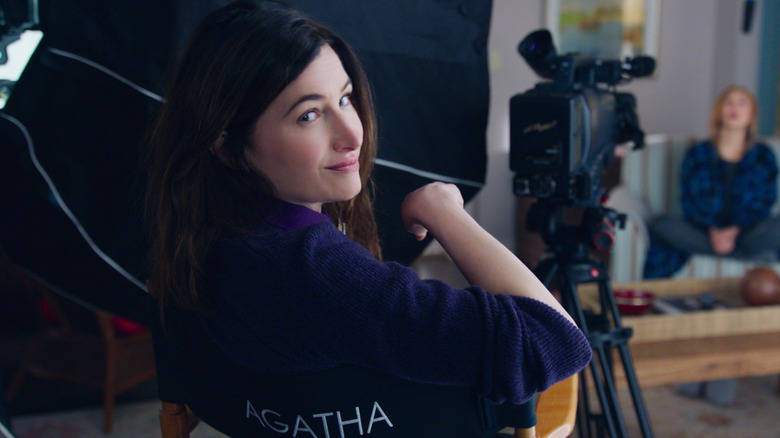 Disney+
Agatha Harkness has successfully bewitched the world. This is no big surprise coming from a sorcerer of her background, especially because "WandaVision" star Kathryn Hahn gave a magnetic breakout performance from the very second she stepped on screen. The scene-stealing sorceress managed to snag a spin-off series before the year even came to a close! Her ascendancy was inevitable and we all pretty much saw it coming — just not in the form of a gilded gramophone. Agatha's insanely catchy theme song, "Agatha All Along," just earned a Grammy nomination for Best Song Written For Visual Media.
Obviously no one will be a match for Agatha's witchy ways, but her competitors in the category are pretty fierce, including Bo Burnham's "All Eyes on Me," from his emotional pandemic special "Inside"; the Pasek and Paul-written "All I Know So Far" from the documentary, "P!NK: All I Know So Far"; "Here I Am (Singing My Way Home)" from "Respect"; Leslie Odom Jr's "Speak Now" from "One Night In Miami..."; and this year's Oscar-winning Best Original Song "Fight For You," from "Judas and the Black Messiah."
Sung by Kathryn Hahn herself, "Agatha All Along" took the internet by storm when it first arrived in February, at the end of the series' seventh episode, "Breaking the Fourth Wall." Villain songs are so often a major highlight — just think back to your favorite Disney classics — but this was a first for a Marvel project. As much as I wish Thanos broke out into song about his genocidal leanings, these villainous powerhouses tend to play it straight with monologues instead of catchy tunes. But Agatha was such a bona fide badass that she had to break the mold. It worked perfectly with the teasing tone of the "WandaVision" sitcom parody, and since they already had a Grammy-winning music duo onboard for the series theme song — why not throw in a second?
The Magic of Agatha All Along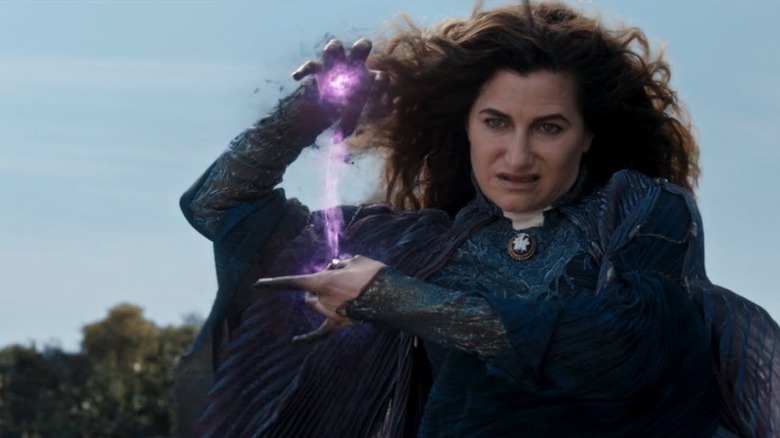 Disney+
Kristen Anderson-Lopez and Robert Lopez are responsible for many of the songs that have been rattling around in your brain after just a single listen (see: both "Frozen" movies), and kept their sparkling record going with Agatha's chart-topping theme. The nomination is certainly a happy surprise, but just glancing at their track record, its definitely not a total shock.
Robert Lopez is the only living double EGOT winner, with two Emmys, two Grammy, two Oscars, and two Tony Awards. But why stop conquering the creative world there? Three times is the charm, after all, so he might be on the verge of tripling up. As for Anderson-Lopez, she's just a single Tony away from joining her spouse in the exclusive EGOT club. The pair earned an Emmy for Outstanding Original Music and Lyrics for "Agatha All Along," and now the wave of success has brought them to the Grammys
The married songwriting duo took inspiration from some classic family friendly monster shows, "The Addams Family" and "The Munsters." Earlier this year they spoke about the creative process behind the song, and the original request from the writers room for something along the lines of the supernatural Disney sitcom, "That's So Raven." When it didn't quite come together, they turned elsewhere for inspiration. Anderson-Lopez said:
"I think at 3 in the morning one day, I was like, 'We should look at 'The Addams Family' and 'The Munsters.' We should go to that witchy kind of place that TV does have history in.' [That morning,] I ran into the shower, and I think I came out of the shower and the lyrics were written."
You can listen to the now Grammy-nominated "Agatha All Along" below. I'd say beware of spoilers for "WandaVision" episode 7, but if you've made it this far, no warning is required! Instead, beware that one listen is all it takes for this song to stay stuck in your head for many, many moons.