Peacemaker Trailer: Right Now, The World Needs A Son Of A B****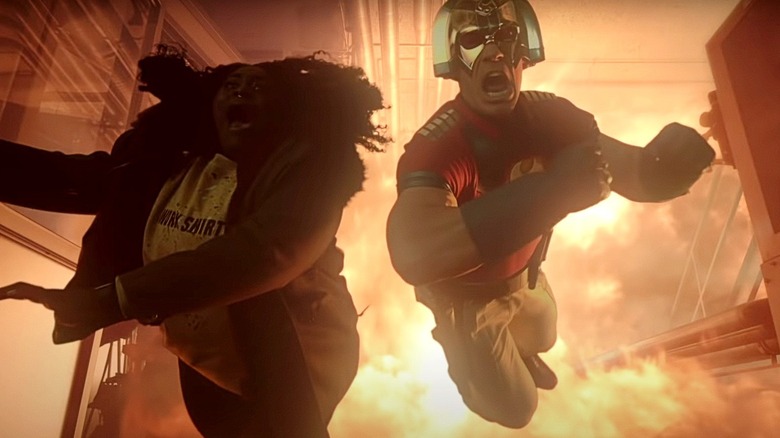 HBO Max
Everyone handles near-death experiences differently. For trained killers, that tends to lead to just more killing ... and maybe a little bit of self-reflection, too. 
After stealing the show in James Gunn's "The Suicide Squad" and making a surprise return from the dead in a post-credits scene, John Cena's Peacemaker is back and more violent than ever. The only things that can stop him now are, well, everyone who's currently gunning for his head, a sense of ennui, and a metric ton of daddy issues, to boot. In a somewhat surprising development from his remorseless murder spree in the film, however, it sure seems as if the killer has grown just a hint of a conscience in the time since, too. 
The villain/antihero is set to become the latest expansion of the DC Universe to streaming, with "Peacemaker" headed to the small screen on HBO Max early next year. You can check out the latest full-length trailer and a brand new poster for "Peacemaker" below.
Peacemaker Trailer
As it turns out, it's pretty difficult to walk away completely from Amanda Waller and her grand plans for (what's left of) her Suicide Squad. In the aftermath of surviving an entire building falling on top of his face in "The Suicide Squad," actor John Cena is back and ready for action along with James Gunn and a small cast of supporting characters, all making their return to further dive into Peacemaker's troubled story and a few of his insecurities with this streaming series. After guiding "The Suicide Squad" to immense success and critical acclaim, Gunn is back behind the driver's seat to write all eight episodes of the series and even direct many of them, too. Other directors include Jody Hill ("Eastbound and Down"), Rosemary Rodriguez ("The Walking Dead"), and Brad Anderson ("Session 9").
Cena, the man of many underrated talents, once again reprises his role as Christopher Smith, aka the unhinged, freedom-at-all-costs Peacemaker. He'll be joined by Robert Patrick ("Terminator 2: Judgment Day") as his disapproving father Auggie Smith, Christopher Heyerdahl ("Chapelwaite") as Captain Locke, Freddie Stroma ("Harry Potter") as Vigilante/Adrian Chase, Chukwudi Iwuji ("John Wick: Chapter 2") as Clemson Murn, Danielle Brooks ("Orange Is the New Black") as Leota Adebayo, and a pair of familiar faces from "The Suicide Squad" in Jennifer Holland's ("Brightburn") Emilia Harcourt and Steve Agee's ("Guardians of the Galaxy Vol. 2") John Economos.
"Peacemaker" streams weekly on HBO Max starting on January 13, 2021.