The Daily Stream: The House Bunny Solidifies Anna Faris' Legacy As A Comedic Great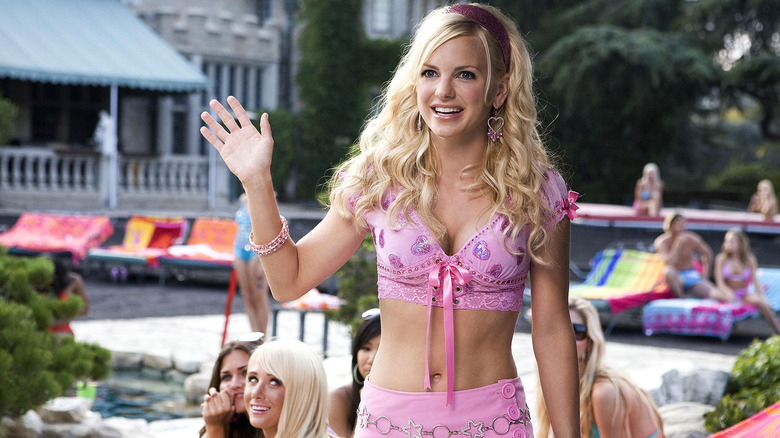 Sony Pictures Releasing
(Welcome to The Daily Stream, an ongoing series in which the /Film team shares what they've been watching, why it's worth checking out, and where you can stream it.)
The Movie: "The House Bunny"
Where You Can Stream It: Amazon Prime
The Pitch: Anna Faris is a beautiful model named Shelley Darlingson enjoying her magical life at a gigantic mansion with the only family she's ever known, her fellow Playboy playmates. In the morning that follows her 27th birthday, Shelley finds herself kicked out of the mansion for being "too old," and forced to figure out how to survive in the real world. Unfortunately for Shelley, the real world doesn't play by the same rules as the Playboy Mansion, and adjusting to a life that isn't surrounded by endless pocketbooks and celebrities proves to be a lot harder than Shelley had anticipated. She stumbles upon sorority row on a California college campus, and becomes the new house mother to a crew of sorority outcasts, the nerdy gals of Zeta Alpha Zeta who are in danger of losing their house unless they can improve their social standing on campus and convince more students to join their house.
Why It's Essential Viewing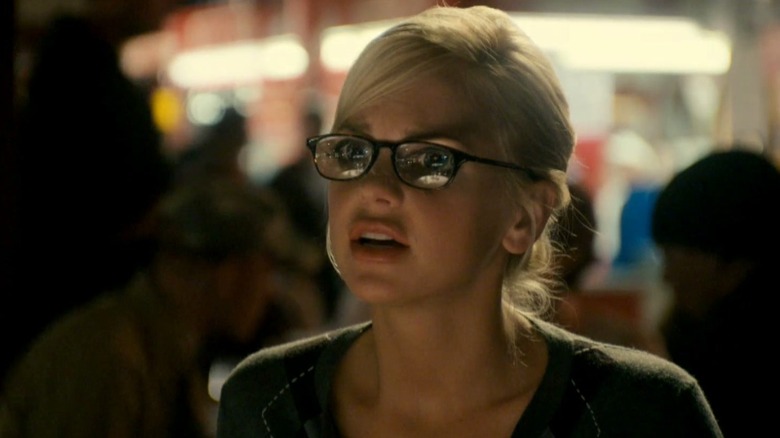 Sony Pictures Releasing
Last week I talked about how "Just Friends" is the perfect Christmas rom-com, and a major part of the success of the film is Anna Faris as Samantha James. Faris is known for her leading role in the "Scary Movie" franchise and for her eight seasons on "Mom," but in the grand scheme of things, Hollywood hasn't appreciated her comedic talents the way they have other actors. The fact that Anna Faris isn't the go-to comedic actress of a generation is a crime against humanity, because there's no one quite like her. She's just as hilarious as she is sexy, and has managed to work both angles in an industry where actresses are typically forced to choose one or the other. "The House Bunny" is the culmination of everything that makes Anna Faris great. 
Written by Karen McCullah Lutz and Kirsten Smith, the writing team behind such greats as "Legally Blonde," "Ella Enchanted," and "She's the Man," the character of Shelley was written specifically with Faris in mind, with every joke playing to her strength. Her masterful handling of vocal inflections, willingness to commit 100% to physical comedy bits, and perfect comedic timing is all on display. "The House Bunny" should have been her calling card as the First Lady of Comedy, but critics woefully misunderstood this film, and with 2008 being a year where girl-hate and anti-femme bias (See: everything that lead to #FreeBritney), "The House Bunny" hit at the worst possible time.
A Sorority of Superstar Performances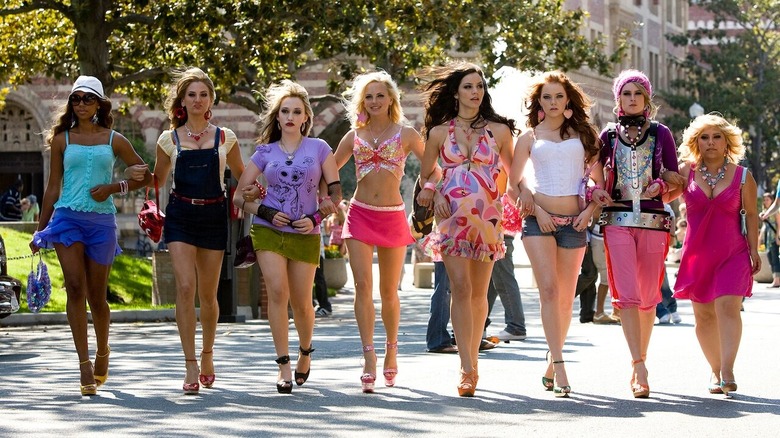 Sony Pictures Releasing
Faris' commanding comedic performance is extra impressive considering the Zeta house is filled with Emma Stone, Kat Dennings, Rumer Willis, Katharine McPhee, and Dana Min Goodman, the latter being one of the first to come forward about Louis C.K.'s history of abuse. Goodman's career was unfortunately impacted by her bravery, which is all the more reason to rewatch "The House Bunny" and marvel at her hilarious delivery of asking where the bathroom is so she can "drop off some lumber" as a pick-up line.
Emma Stone is the de-facto leader of the Zetas, an endearing bookworm who is painfully awkward around men. This is a few years before "Easy A" would prove her to be a superstar, and watching her gleefully suggest fundraisers like a "Bring Your Own Mouse" party, Battlestar Galactica watch party (with pudding), or attempt sex appeal by spraying a hose on herself for wet pants, as opposed to a wet t-shirt, is genuinely endearing. Comedic greats like Beverly D'Angelo and Christopher McDonald show up as the rival house mother and head of the Greek council respectively, both playing hilarious villany the way only they can. Sarah Wright, best known for playing Jerry Gergich's daughter on "Parks and Rec" is the perfect evil sorority girl, and her "SO NICE" passive-aggressive conversation ender will wiggle its way into your vernacular.
A Genuinely Good Makeover Movie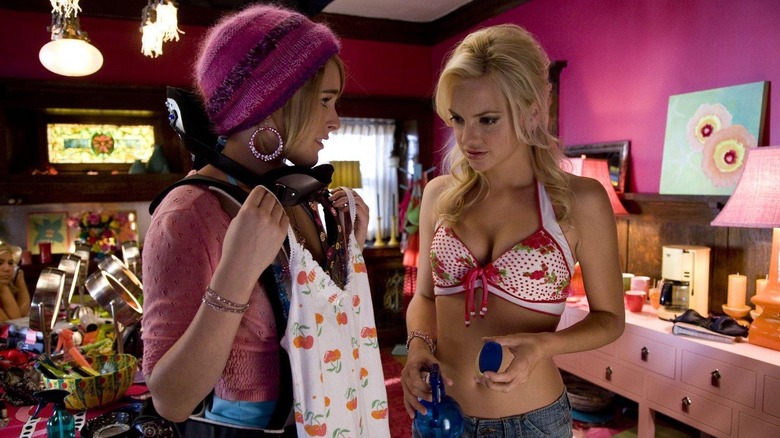 Sony Pictures Releasing
Teen movies and in particular, movies marketed for women, have been featuring makeover subplots forever, and "The House Bunny" is easily one of the best. The makeover is initially presented as a very superficial change for all of the girls, because Shelley is remaking them the only way she knows how. At the same time, though, she doesn't try to completely remove what makes them all special. Kat Dennings is introduced as a butchy misandrist, and her makeover transforms her into a sexy rocker chick with studded belts. Eventually, the girls do start falling into the traps of toxic femininity when they start acting the way they think they're supposed to act now that they're "hot," but they're acting based on how they've been treated by the world around them and from what they've learned from a lifetime of cultural socialization.
On the flip side, Shelley does her best to impress her love interest Oliver (Colin Hanks), an intellectual who works at a retirement home. She uses all her typical Playboy bunny angles, but it doesn't work on Oliver, who wants a genuine connection. Shelley then tries to turn herself into something completely different to win him over, which also fails because it's so inauthentic to who she is. Shelley helps the Zetas find confidence in who they are, and the Zetas help her adjust to the reality of building relationships not built on "Oh my god, you're in Playboy?!"
Not all of the humor in "The House Bunny" has aged well (it was 2008, y'all) but as an overall product, it's an underseen gem that absolutely deserves to be included in the brilliant canon of Karen McCullah Lutz and Kirsten Smith, and proof that Anna Faris is a comedic genius.