Louis C.K. Accused Of Sexual Misconduct; 'I Love You, Daddy' Release Officially Canceled [Updated]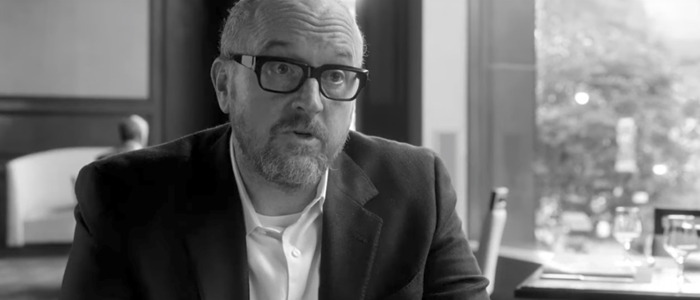 Update 3: Louis C.K. has issued a statement where he says "These stories are true" and "I have spent my long and lucky career talking and saying anything I want.  I will now step back and take a long time to listen." You can read the full statement here.Update 2: Netflix has canceled Louis C.K.'s second stand-up special. His first special for the streaming service arrived earlier this year.Update: The Orchard has officially cancelled the release of I Love You, Daddy. Buzzfeed's Alison Willmore has written an excellent article explaining just how toxic the film feels in the wake of the Louis C.K. allegations, so this decision is not a surprise. Whether the film remains in permanent limbo or not remains to be seen. Meanwhile, the stars of the film are distancing themselves from the project while HBO and FX, two of C.K.'s longtime collaborators, have released statements.
Our original story continues below.
***
In a new report from The New York Times, five women have come forward and accused comedian Louis C.K. of sexual misconduct, saying that he either masturbated in front of them or asked if he could. Rumors about the comedian's inappropriate sexual behavior have swirled in the comedy world for years, but in the wake of the Harvey Weinstein scandal, these women were willing to come forward and go on the record about what happened to them.
Things are moving quickly. In the wake of these allegations, the New York premiere of C.K.'s movie I Love You, Daddy has been cancelled, and the distribution of that film is in jeopardy. Read more about the Louis CK allegations of sexual misconduct and how it could impact his new film below.
In The New York Times article, comedians Dana Min Goodman and Julia Wolov explain how, at the U.S. Comedy Arts Festival in 2002, Louis C.K. invited them up to his hotel room after a show. Then things took a turn for the worse:
As soon as they sat down in his room, still wrapped in their winter jackets and hats, Louis C.K. asked if he could take out his penis, the women said.
They thought it was a joke and laughed it off. "And then he really did it," Ms. Goodman said in an interview with The New York Times. "He proceeded to take all of his clothes off, and get completely naked, and started masturbating."
Abby Schachner, a writer, illustrator, and performer, told the paper that C.K. masturbated during a phone call with her in 2003, and then called her six years later to apologize, saying, "That was a bad time in my life and I'm sorry." The encounter caused her to avoid pursuing a career in comedy. You can read the details of the accounts from these and other women in the full Times piece.
Variety reports that the release of I Love You, Daddy – C.K.'s film that premiered at this year's Toronto International Film Festival – is being "reconsidered" by The Orchard, an independent distribution company. The Orchard released the following statement:
"In light of the allegations concerning Louis C.K. referenced in today's New York Times, we are cancelling tonight's premiere of 'I Love You, Daddy.' There is never a place for the behavior detailed in these allegations. As a result, we are giving careful consideration to the timing and release of the film and continuing to review the situation."
The film was originally set for a limited release on November 17, 2017. C.K. stars in the film, and even before this piece, the movie seemed intended to be controversial: his character's daughter (played by Chloe Grace Moretz) ends up getting together with a much older man (played by John Malkovich), "a character pretends to masturbate at length in front of other people, and other characters appear to dismiss rumors of sexual predation."
Louis C.K. was also slated to be a guest tonight on The Late Show with Stephen Colbert and be interviewed for a profile by journalist Glenn Whipp; both of those engagements were cancelled when word came out that the Times was about to publish their story.
It should go without saying that the alleged behavior mentioned here is abhorrent and unacceptable, and that /Film believes these women who have come forward. Personally, I'm a fan of C.K.'s comedy, so I admit that hearing these stories stings. But my discomfort in hearing them pales in comparison to the women who experienced them, and we have to continue to foster a community in which women feel emboldened to speak out against abusers in the hopes of creating a safe and reasonable working environment for all genders in Hollywood.