The Reason Ben Affleck Passed On Directing Man Of Steel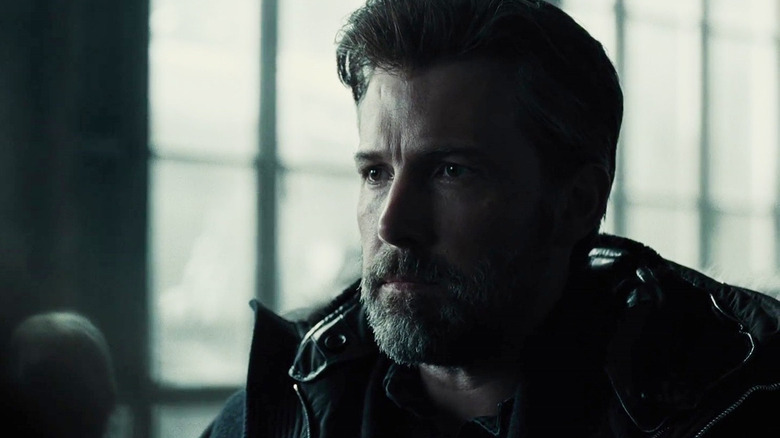 Warner Bros.
Once upon a time, many eons ago, directors could pass on making a superhero movie or admit the genre doesn't interest them, and it didn't need to be a Big Deal. Such was the case back in 2010, when Ben Affleck affirmed that he declined to helm "Man of Steel," unaware the film (which was known as merely "Untitled Superman Reboot" at that point) would launch a franchise that he would eventually become a major part of.
Affleck made his directing debut in 2007 with "Gone Baby Gone," a critically-acclaimed crime drama that even landed an Oscar nod for Amy Ryan's turn as a single mother whose young daughter is mysteriously kidnapped. He would follow it up by both starring in and helming 2010's "The Town," an equally well-received crime thriller that, like "Gone Baby Gone," unfolded against the backdrop of working-class Boston. It was also the latter film, which Affleck directed for Warner Bros., that put him in the running to bring Kal-El back to the big screen, prior to Zack Snyder (then best known for "300" and "Watchmen") landing the job instead.
Don't Fly Before You Can Run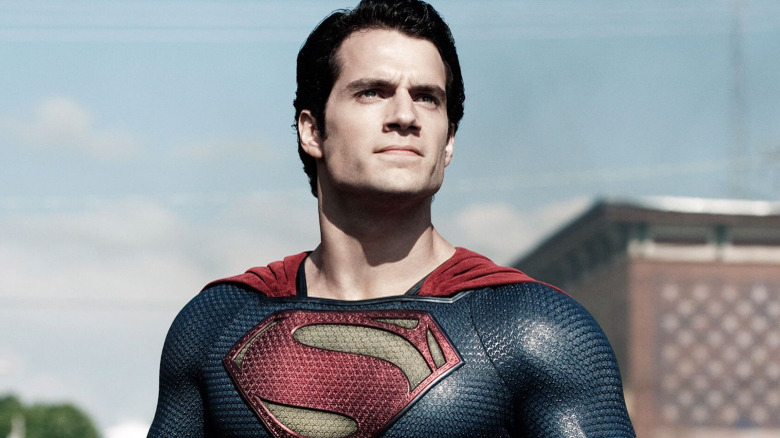 Warner Bros.
In a Q&A with Deadline in November 2010 (via MTV), one month after Snyder boarded "Man of Steel," Affleck explained his reasoning for not taking on the challenge:
"The one benefit of having done all kinds of movies as an actor is, you learn the pros and cons of being tempted to do a really big movie because it costs a lot of money. With Superman, I think they're going to do a great version. [Producer] Chris Nolan is brilliant and they've got a great director for it. I'd love to do something like Blade Runner, but a lesson I've learned is to not look at movies based on budget, how much they'll spend on effects, or where they will shoot. Story is what's important. Also, there are a lot of guys ahead of me on the list to do epic effects movies."
One can see where Affleck was coming from. When directors on the up and up helm a nine-figure tentpole after only making one or two smaller movies (as opposed to those with more experience), there's reason to worry they're not getting a chance to refine their voice and skills before diving into the blockbuster pool. After starring in 2003's "Daredevil," a film that earned unflattering reviews before getting a far warmer reception for its R-rated Director's Cut, Affleck knew first-hand about the creative limitations and drawbacks that come with agreeing to work on an expensive superhero comic book adaptation.
The Other DCEU Movie Affleck Didn't Direct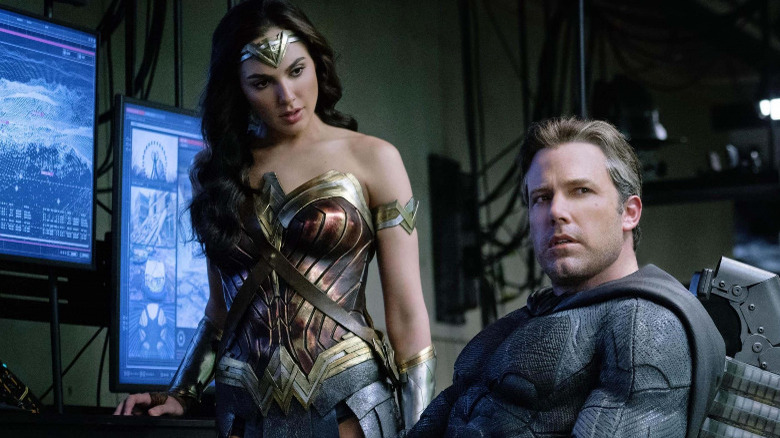 Warner Bros.
After declining "Man of Steel," Affleck went on to direct and star in 2012's "Argo," a true story-based historical thriller that won three Oscars, including one for Best Picture and another for Chris Terrio's script. Affleck and Terrio's success would then pave the way to the pair collaborating with Snyder on "Batman v Superman: Dawn of Justice" and "Justice League," with Affleck starring as Batman and Terrio co-writing both films as part of what's become known as the DC Extended Universe — a series of interconnected DC Comics movies that, yes, began with "Man of Steel."
It was at this point that Affleck got a second shot at directing a superhero movie in the form of "The Batman," a solo vehicle for his iteration of the Caped Crusader. But, as is widely documented, he ultimately stepped away from the film due to a perfect storm of factors that included his alcoholism relapse and his divorce from Jennifer Garner, as well as (to a lesser degree, according to Affleck) the infamous "Justice League" reshoots draining his interest in reprising his role as Bruce Wayne at that time.
By all accounts, though, this was a good decision, and Affleck is doing better now, personally and professionally. Moreover, Matt Reeves ("Cloverfield," "War for the Planet of the Apes") replaced him as director on "The Batman," having once been in the running to helm "Man of Steel" as well. How's that for things coming full circle?