'Justice League' Reshoots Added Some 'Sexual Tension' Between Batman And Wonder Woman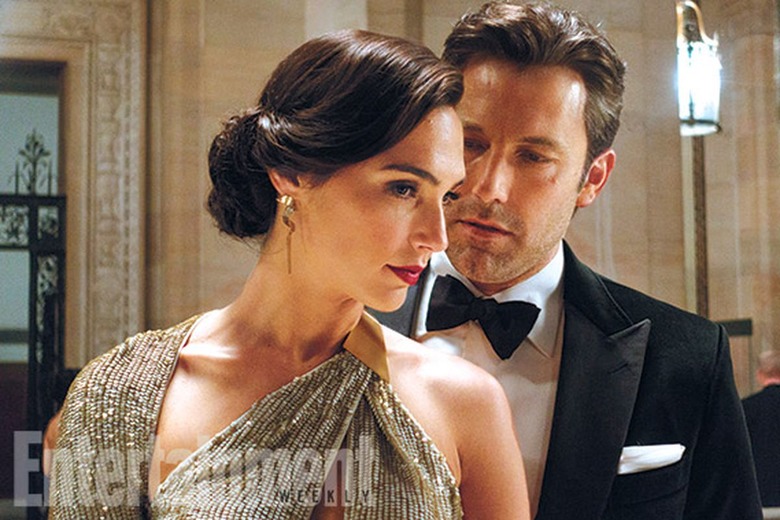 Justice League will finally unite the world's finest DC Comics superheroes, played by capital "f" Fine actors. And because this is a group of beautiful, superpowered people fighting to save the world, there will inevitably be some sexual tension between the men of the team and the lone female member. Basically, Batman and Wonder Woman are going to be flirting up a storm.
The reshoots of Justice League reportedly built on the hint of romance between Bruce Wayne (Ben Affleck) and Diana Prince (Gal Gadot) that we got a glimpse of in the princess of Themyscira's introduction in Batman v Superman: Dawn of Justice. We got another hint at their budding relationship in Wonder Woman as well, which was bookended by Bruce sending Diana the lost picture of her first love, Steve Trevor (Chris Pine), during her stint fighting in World War I. But can Ben Affleck beat out the best Chris? That's yet to be seen.
Justice League has a lot of work to do: uniting the five separate members of the superhero team, introducing new members Aquaman (Jason Momoa), Cyborg (Ray Fisher), and the Flash (Ezra Miller), solidifying a cinematic universe, and now giving Batman and Wonder Woman more to do than just play Mom and Dad to their team of misfits. All in under two hours.
We've learned over the course of the past few months how Joss Whedon's reshoots of Zack Snyder's film have changed some character dynamics and heightened Wonder Woman's presence, among others. And while the changes could have easily led to a hot mess of a movie, it luckily hasn't. And now we're learning that another change came about during the Justice League reshoots, one that may plant seeds for the next few movies. No, it's not Mother Boxes or Superman's mustache — it's a possible budding relationship between Batman and Wonder Woman, Affleck revealed.
According to Entertainment Weekly, Whedon's reshoots allowed Affleck to "play the dynamics, the sexual tension with Wonder Woman, the regular old tension with Flash."
This is not a huge surprise, considering Batman and Superman's seductive introduction of Diana, and the somewhat clunky inclusion of Bruce Wayne in Wonder Woman. And the two of them have a history of will-they-won't-they tension in both the comics and Bruce Timm's Justice League animated series from the early 2000s. They even kissed in Joe Kelly and Doug Mahnke's JLA run, but decided to stay friends. I confess I was a Bruce-Diana shipper in Justice League, but those characters are world's away from Affleck and Gadot's depictions of them on the big screen, so this could be entirely new territory. And I'm guessing Snyder won't have Bruce serenading a lounge out of love for Diana.
But there's a chance that we may be reading too heavily into Affleck's quote, because the actor later quips, "You can't be around Jason Momoa and not have sexual tension."
Justice League hits theaters on November 17, 2017.