Ben Affleck No Longer Directing Batman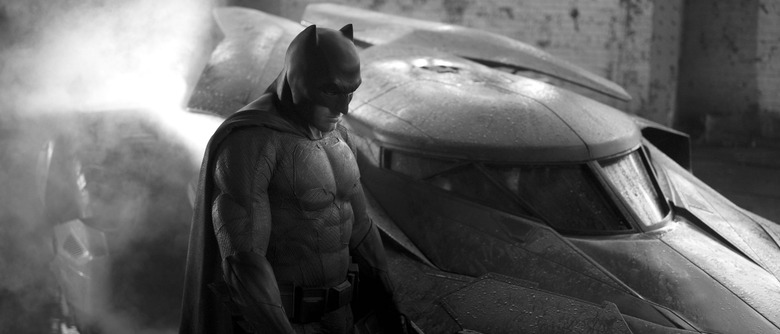 Even before Ben Affleck made his DC debut in Batman v Superman: Dawn of Justice, the plan has been for him to direct and star in a solo Batman movie. Over the past few months, talk about the project really began to heat up, and we were wondering if he was gearing up to get behind the camera sometime this year. But it looks like that's no longer happening.
Affleck has officially announced that he no longer plans to direct the movie — although he still plans to star as the Caped Crusader, just under a different director. Read Affleck's comments below.
Affleck explained his decision in a statement:
There are certain characters who hold a special place in the hearts of millions. Performing this role demands focus, passion and the very best performance I can give. It has become clear that I cannot do both jobs to the level they require. Together with the studio, I have decided to find a partner in a director who will collaborate with me on this massive film. I am still in this, and we are making it, but we are currently looking for a director. I remain extremely committed to this project, and look forward to bringing this to life for fans around the world.
For their part, Warner Bros. has said it "fully supports Ben Affleck's decision and remains committed to working with him to bring a standalone Batman picture to life."
Affleck's Batman movie has been plagued by rumors of trouble for a while now. In November, Bret Easton Ellis let slip that he'd heard some not-so-promising things about the script for the movie, though he quickly clarified that he'd only heard the information secondhand. Meanwhile, Warner Bros. and Affleck have engaged in some odd back-and-forth about the timing for the project, with the studio insisting it'd be out before Justice League 2 and Affleck insisting he was in no rush and just wanted to get the screenplay right first. He's expressed exasperation at being asked repeatedly for status updates on the movie, and even hinted that he might not direct it at all if he couldn't get a "really great" script (only to walk back the suggestion that he might drop out).
We're sure to hear more details at some point, but for now what's clear is that this is another big blow for Warner Bros.' DC franchise. Although Man of Steel, Batman v Superman, and Suicide Squad all did big business at the box office, they've been met with increasingly skeptical reactions from fans and critics. Warner Bros. has attempted damage control, following up Batman v Superman with assurances that Justice League would be more fun. But they haven't always been successful. Efforts to punch up Suicide Squad, for example, just seem to have resulted in a messier movie.
And even their upcoming films have had a rough go of it. Wonder Woman lost director Michelle MacLaren before going with Patty Jenkins, and The Flash has parted ways with not one but two directors in the past year. None of this is to say these movies — or the Batman solo film, for that matter — are destined to be disasters. But all together, they paint a worrying picture of the future of this franchise.