West Side Story Clip: Rachel Zegler Sings One Of The Great Musical Numbers Of All Time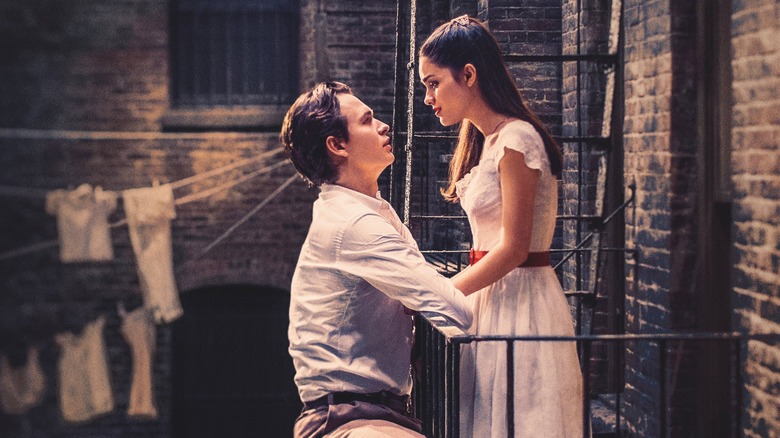 20th Century Studios
The original 1961 "West Side Story" is widely considered to be an untouchable classic, and for good reason. Only a genuine master like Steven Spielberg — who's made no secret about wanting to finally direct a musical of his own (not counting the opening to "Temple of Doom," at least!) — would be bold enough to take on the immense responsibility of living up to such an enduring touchstone. That appears to have paid off considerably, at least based on the glowing reactions out of the early press screenings for Spielberg's "West Side Story." /Film's own Chris Evangelista put it this way on Twitter: "WEST SIDE STORY is *phenomenal.* Steven Spielberg has been talking about making a musical for almost his entire career, and this was worth the wait. This is top-tier Spielberg."
Naturally, every famous musical number and memorable line of dialogue is going to be compared to the original. That's where this newest clip from the remake comes in, which recreates the legendary rendition of "Tonight" that was originally created by Leonard Bernstein with lyrics by the late, great Stephen Sondheim. Check out the clip below.
West Side Story Clip
The legacy of the 1961 "West Side Story" hangs heavy over Steven Spielberg's remake, especially in light of Stephen Sondheim's recent passing. Even before the premiere of the film, Spielberg himself made sure to pay tribute to the incredible songwriter for all his invaluable contributions to the artform, the medium, and pop culture in general. Considering how personal this project has been for him from the very beginning, it should come as no surprise that Spielberg's take on this material would remain every bit as reverential and imaginative as fans could've hoped for.
In "West Side Story," actors Rachel Zegler as Maria and Ansel Elgort (who, it must be noted, is currently under a cloud of sexual misconduct allegations) as Tony step into the roles made famous by Natalie Wood and Richard Beymer. In the original, the balcony-set musical number "Tonight" has always been held up as an unforgettable sequence that wouldn't easily be recreated or even surpassed in the future. As tempting as it may be to rush to compare the two versions with this new clip and with the movie itself once it releases, it certainly appears as if the best way to enjoy this remake is to treat it as a companion piece to the original, rather than a competitor. We'll find out for ourselves soon enough, as "West Side Story" is scheduled for its theatrical release on December 10, 2021.
Directed by Academy Award® winner Steven Spielberg, from a screenplay by Pulitzer Prize and Tony Award® winner Tony Kushner, "West Side Story" tells the classic tale of fierce rivalries and young love in 1957 New York City. This reimagining of the beloved musical stars Ansel Elgort (Tony); Rachel Zegler (María); Ariana DeBose (Anita); David Alvarez (Bernardo); Mike Faist (Riff); Josh Andrés Rivera (Chino); Ana Isabelle (Rosalía); Corey Stoll (Lieutenant Schrank); Brian d'Arcy James (Officer Krupke); and Rita Moreno (as Valentina, who owns the corner store in which Tony works). Moreno – one of only three artists to be honored with Academy®, Emmy®, GRAMMY®, Tony® and Peabody Awards – also serves as one of the film's executive producers.