Steven Spielberg Explains Why He Had To Make West Side Story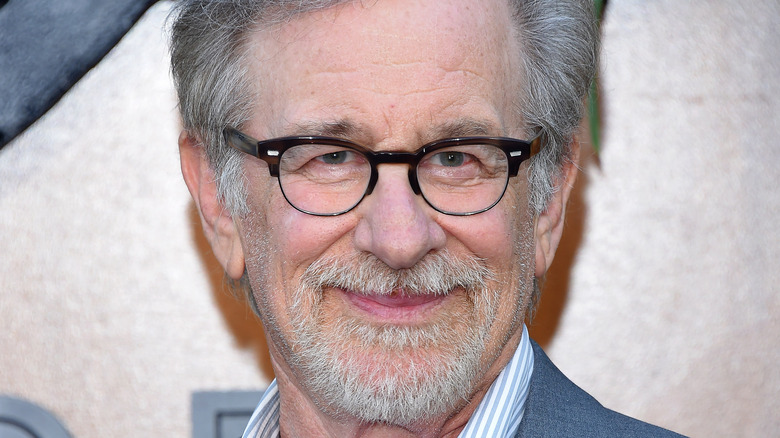 DFree / Shutterstock
"West Side Story" is likely to be a big hit this coming holiday season. The film premieres in theaters (and only in theaters) on December 10, 2021, and director Steven Spielberg has spoken about why he felt compelled to do this film. If you're not familiar with what we're getting in this version of "West Side Story," here is the info for you: 
Directed by Academy Award® winner Steven Spielberg, from a screenplay by Pulitzer Prize and Tony Award® winner Tony Kushner, "West Side Story" tells the classic tale of fierce rivalries and young love in 1957 New York City. This reimagining of the beloved musical stars Ansel Elgort (Tony); Rachel Zegler (María); Ariana DeBose (Anita); David Alvarez (Bernardo); Mike Faist (Riff); Josh Andrés Rivera (Chino); Ana Isabelle (Rosalía); Corey Stoll (Lieutenant Schrank); Brian d'Arcy James (Officer Krupke); and Rita Moreno (as Valentina, who owns the corner store in which Tony works). Moreno – one of only three artists to be honored with Academy®, Emmy®, GRAMMY®, Tony® and Peabody Awards – also serves as one of the film's executive producers.
The Inspiration of Childhood
"West Side Story" tells the tale of two young people from different groups who fall in love, but are pulled apart by the divide between their cultures and circumstances. The book it was based on was inspired by William Shakespeare's "Romeo and Juliet," if that helps you get a mental picture. 
Spielberg explains in the above video how this musical spoke to him as a child. The script was influenced by how things have — and haven't — changed since the time the musical was made. He said:
"So, I have been challenged by what would be the right musical to take on. And I could never forget my childhood. I was 10-years-old when I first listened to the 'West Side Story' album. And it never went away. I have been able to fulfill that dream and keep that promise that I made to myself; you must make 'West Side Story.'

"Divisions between unlike-minded people is as old as time itself. And the divisions between the Sharks and the Jets in 1957, which inspired the musical were profound. But not as divided as we find ourselves today.

"It turned out in the middle of the development of the script, which took five years, things widened. Which, I think in a sense, sadly, made the story of those racial divides, not just territorial divides more relevant to today's audience than perhaps it even was in 1957."
'Love Bridges Every Divide'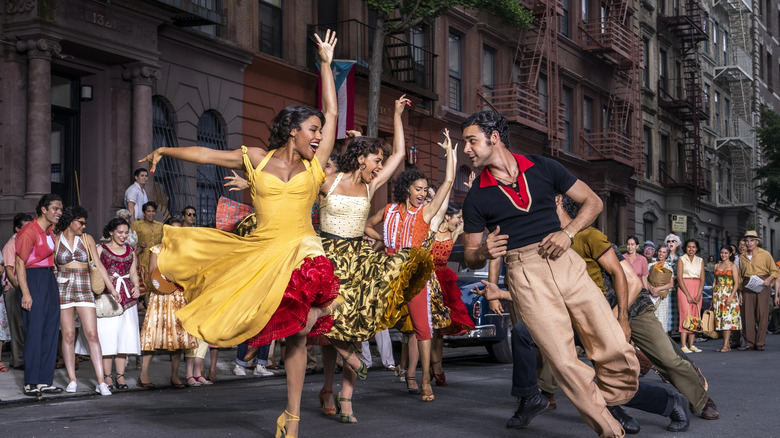 Disney UK Press Site
The message of the film, ultimately, is that love can give us understanding about people who might be different from us, a message we could all use right now. Spielberg said:
"It's such a profound story, it speaks to every generation. It's just that love bridges every divide. It's timeless in the sense that we'd be reminded of that story as often as possible."
Not only does the video give us a lovely message from Spielberg, but it shows some footage from the film. We're not only getting a chance to see what we will in theaters, but there is also a glimpse behind the scenes with some production video. 
Steven Spielberg's version of "West Side Story" will be out in just over two weeks on December 10, 2021. Fun fact: I was told as a kid that the "West Side Story" song "I Want to Be in America" was a sure cure for an earworm (a song that is stuck in your head on repeat). It's always worked for me.