Hawkeye Clips: Clint Barton Deals With The Tracksuit Mafia And An Unusual New BFF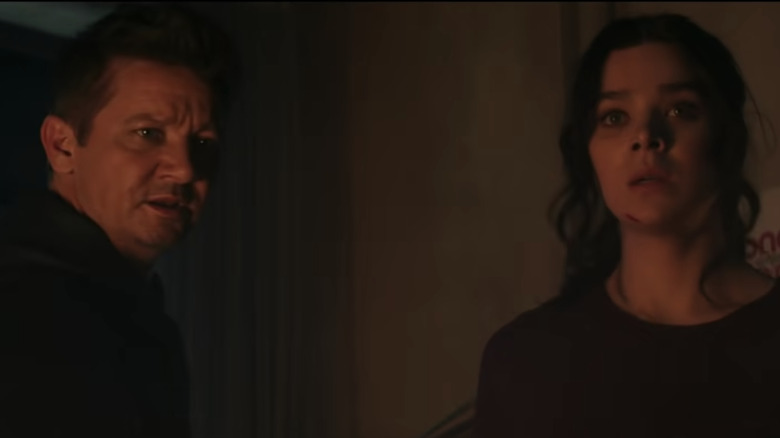 Disney+
Hours away from its Disney+ debut, "Hawkeye" is still teasing out the season with sneak peek clips and special featurettes. And who are we to complain! Any glimpse of Hailee Steinfeld's Kate Bishop in all her arrow-wielding glory is a net win for MCU fans. So far we've seen her at Clint Barton's (Jeremy Renner) side — not kicking criminal butt like you might expect, but sitting down for a friendly chat with her parents. They've also been spotted wandering Times Square, while Clint suffers a brutal ego burn delivered by a little kid. But enough of that emotional stuff — now we get to see the pair in action! Even if it's very brief.
Our latest look at "Hawkeye" involves a criminal attack, a blazing fire, and some quick one-liners. Explosive action and witty banter is, after all, a Marvel specialty,
Hawkeye Clip: Meet The Tracksuit Mafia
After many months of speculating about the Avenging Archer, we finally get to see Clint Barton take on some villains. Though he's known for his ability to hit any target with his souped-up bow and arrows, this clip shows that Hawkeye is also pretty accurate when it comes to molotov cocktails. This might come in handy, especially when facing off against the Tracksuit Mafia. Is it just me or do they seem an awful lot like a big group of NPC enemies in a video game, growling and screaming up at Clint through the window, but also staying pretty neatly in one place? Seriously, all it takes is one molotov and the whole group manages to catch fire.
These street-level criminals will be familiar to all those who read the Matt Fraction and David Aja comic run that the series takes inspiration from. In the comics, the Tracksuit Mafia, aka Tracksuit Draculas, have a grudge against Kate Bishop and make an enemy of Hawkeye too. Though we don't get to see how the fight shakes out, I'm guessing out dynamic duo can handle a couple of thugs. Clint will probably have a snarky comment locked and loaded about Kate's attempt to grab the fire extinguisher, but that kind of biting humor is just built into their relationship! From what we've heard of the series so far, the relationship between Kate and Clint is a major series highlight.
What little we've seen of Hailee Steinfeld so far really spells out a bright future for her character, and she clashes wonderfully with Clint's whole grumpy mentor schtick. Marvel clearly wants us pumped about all the banter they're about to deliver, because they've also released a featurette delving into the unlikely partnership and the fact that these two are now BFFs.
Hawkeye Featurette: Clint Has A New BFF
Unsurprisingly, both looks at the series are pretty light on plot details and mostly hint at the vague fun that lies ahead. Clint and Kate are teaming up to take down the Tracksuit Mafia, but they're also beholden to a clock. Clint needs to get back to his family for Christmas, so their mission has to be wrapped in a matter of days — or, if you prefer an exact count, six episodes.
"Hawkeye" debuts on Disney+ on November 24, 2021 with its first two episodes.
Former Avenger Clint Barton has a seemingly simple mission: get back to his family for Christmas. Possible? Maybe with the help of Kate Bishop, a 22-year-old archer with dreams of becoming a Super Hero. The two are forced to work together when a presence from Barton's past threatens to derail far more than the festive spirit.